JoomConnect Blog
JoomConnect is the Marketing Agency for MSPs. We strive to help IT companies get more leads and grow. We rock at web design, content marketing, campaigns, SEO, marketing automation, and full marketing fulfillment.
Save Time By Automating These 7 Things in Your Marketing & Sales Efforts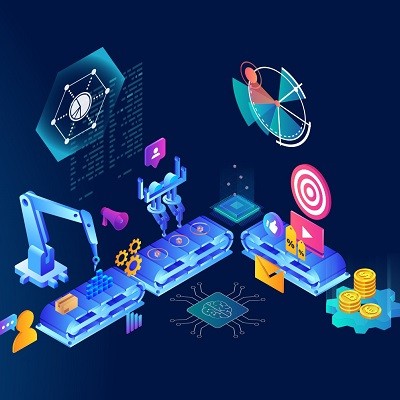 Automation has always been something that is important to us. Fortunately, it's easier than you think to automate away many of your routine marketing and sales processes, freeing up time and allowing your team to focus on serving customers and closing sales.
Back to Where It All Started
Before we were the full-fledged MSP marketing agency that we are today, we were an MSP who began an internal project to integrate and automate our website with our PSA: ConnectWise. Today, JoomConnect is a deep automation platform capable of integrating your website with ConnectWise and Autotask. It allows for further integrations with third-party services like Mailchimp, Constant Contact, and thousands of additional website add-ons. JoomConnect is more than a sales tool; with it, you can easily automate your marketing and services too!
Our tool, along with some of our recommended third-party marketing tools, can help you save time and reduce the effort it takes to drive sales. Below, we present you with seven different marketing and sales-related tasks, and tell you how you can automate aspects of them.
Entering Leads into Your PSA
This is probably one of the least favorite tasks of your sales team that they have to do; this necessary evil is so tedious!
How to Automate: Quick Capture allows you to drastically decrease the time you spend entering basic information about your leads. To use this tool, just set up forms on your website for your staff to complete with the contact information you require, then select what the interest is from predefined Automation Templates, then let JoomConnect do the rest. This will drastically reduce the time that your team needs to spend inputting important information about your leads.
Responding to and Following Up with Leads
No doubt, you've heard the saying that "time is money." This mindset is valued in the business world, and failing to respond to prospects who inquire about your services via a form on your website in a timely manner won't look good for you. You're probably not the only MSP in your local area that they're looking into partnering with. If that MSP responds first, you're more likely to lose that sale.
How to Automate:
JoomConnect's Quick Forms builder allows you to easily create and configure forms for your website in a way so that you don't forget to follow up with anyone who filled out a form on your website. You can set up your forms to do the following:
Create the company and inject leads into your PSA - Did someone who is not currently in your PSA (either the company, or a specific contact, or both) fill out a form? Let JoomConnect do some of the work for you and put that basic info in!
Send an automated response to the person filling it out - You can configure your forms so that when a user fills it out, they are sent a confirmation email. You can customize this email to include any information that you want. Keep in mind that this is fine as a first touch to ensure that those who contact you know that their message will not be ignored. After this automated email, a member of your sales team should be giving this lead a call if you want to close the sale.
Email members of your team - When someone fills out one of your forms, an email can also be sent to members of your team as a way to let them know a form was filled out. This email can include key pieces of information you'd want at a glance based on the information you asked for and how they accessed your form (e.g, what device / browser).
Create tickets, activities, and sales opportunities in your PSA - Make sure nothing gets missed. You can generate a service ticket to the service board of your choice regarding your form submission. Additionally, generate, assign, and schedule an Activity to occur, create a Sales Opportunity with products, and apply Marketing Groups and Tracks based on the answers users provide on forms.
This is only some of what you can do; check out our service page to see more of JoomConnect's features.
Scheduling Follow-ups for your Sales Team
The initial email touch mentioned in the previous section is important, but not the only response they should be getting: within a short enough period of time, you need to have a member of your sales team contact them to turn that inquiry into an actual sale.
How to Automate: In addition to sending out automatic messages to prospects when they submit an inquiry, JoomConnect can do numerous other useful tasks to ensure that your sales team remembers to follow up as needed. This can be done by sending them an email, generating a service ticket to a service board of your choice, generate, assign, and schedule an Activity, create a sales opportunity with products, and more. Features like this can be used to ensure that a prospect receives an actual, human response from a member of your sales team.
Collecting Referrals
As you know, the referral process can be very tedious. When you receive one, you have to stay on top of things to ensure that the company referred receives the attention needed to move them through the sales funnel and is (hopefully) converted into a paying customer. If they do, you need to reclassify them as a client and provide the referrer and the referred what you promise in your referral program. Failing to move the process along may damage your relationship with your client and prevent you from starting one with the potential prospect.
How to Automate: Our Quick Referral add-on allows you to inject referred prospects into ConnectWise with tracks, marketing groups, tickets, and activities applied. This tool also allows the referrer to track the process from start to finish with the client portal. Using Quick Referral helps you keep the process moving along and provides more transparency regarding the referral process to the referrer.
Sending Marketing Emails
Your email marketing campaigns need to be properly timed if you want them to receive adequate open and click rates. After determining what time that is for your particular target audience, that time might come and go when you start to get busy.
How to Automate: Popular email marketing platforms like Mailchimp and Constant Contact allow you to pick a time and date to schedule the emails that you send out so you don't have to worry about doing things manually when the time comes. You can even schedule your emails to resend to those who don't open them after a set number of days to increase the chances that your recipients view your content.
Managing Your Email Lists
Depending on the PSA that your MSP uses, you may or may not have email marketing capabilities built into it. Even if you can send emails through your PSA, it may not be your preferred choice when it comes to your marketing emails. Many companies choose to go with a popular email marketing platform such as Mailchimp, or Constant Contact that provide greater flexibility and ease of use. The problem then becomes ensuring that your lists are up-to-date on BOTH platforms when someone subscribes or unsubscribes from them.
How to Automate: We created Quick Campaign Pro to solve this issue. Subscribers can be added or removed from either side, and can be synced between your PSA and your email marketing platform of choice. As a bonus, Quick Campaign Pro also syncs your marketing campaigns in ConnectWise and the number of sent emails, clicks, opens, and bounces. Save even more time with our eNewsletter Service where we send out a monthly eNewsletter to your chosen list and handle the syncing of it for you.
Social Media Posting
We've mentioned before that if you want your social media marketing to be effective, it's best to post once per day to the major platforms: Facebook, Twitter, LinkedIn, and Instagram. This is a task that is tough to manage when you consider weekends, holidays, and other busy periods that your MSP encounters.
How to Automate: Many social media marketing management platforms allow you to schedule your social media posts in advance. Our preferred tool, Hootsuite, allows you to upload a CSV file that contains the text of your post and the link in which you want to send your social media followers to. You will have to take the time to compose, review, upload, and add images to these posts, but this beats having to go in every day to post something and can save your team time when you need it most.
We suggest uploading your posts one month at a time to make things easy to plan out and manage. You can also let us do the work for you (write the posts with links to your website/images and schedule them through Hootsuite) with the help of Social Media as a Service.
Get the Gears Turning
Whether you'd like assistance in automating some of your routine marketing processes in the ways previously discussed or want someone else to handle your marketing to free up more time, JoomConnect is here for you. Reach out at 888-546-4384 to learn more about how we can help.
Comments
No comments made yet. Be the first to submit a comment