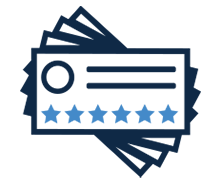 Tech Feedback Cards

Improve Customer Satisfaction with Tech Feedback Cards

Have you ever considered ways that you can improve customer relationships and improve the quality and quantity of customer feedback? Tech Feedback Cards are a great way to improve the likelihood of customer feedback and make internal development more effective.
How Do the Tech Feedback Cards Work?
When a member of your team completes an on site service visit, he or she will leave behind a tech feedback card.
The standard tech feedback card includes:
Company Contact Information
Technician Information
Ticket Number for Reference
QR Code/Link to a Customer Satisfaction Survey
Links to Social Media Accounts for Social Proof
Ability to leave a testimonial
Custom Notes/Comments