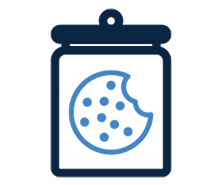 Branded Cookie Tins
Reaching out to your contacts has never been more delicious.
With Branded Cookie Tins, you can give the sweetest personalized "thank you" to the people that really deserve it. These cookies are made to order, so you can be sure that your tin will be filled with only the freshest goodies when it arrives at the recipient's door.
Make a Lasting Impression

There's just something special about cookie deliciousness that brings a happy feeling that little else can.
Now you can capitalize on this near-universal appreciation of a cookie by utilizing our Cookie Tin Service. Send your clients, your prospects, or whomever you want a branded tin of freshly baked cookies to emphasize how much they mean to you and your MSP. Just imagine the benefits of associating the gift of a cookie with the action of returning to your business!
With your logo on the tin, you'll be sure to make an impression that lasts much longer than the cookies will! Each tin comes filled with a dozen gourmet cookies, baked to order and delivered to your target on your behalf.
It takes approximately 7 days to screen print your cookie tins.
Each tin is $60 with a $4.95 shipping fee (within the continental US)