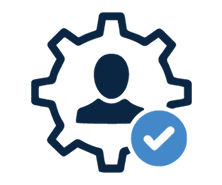 MSP Marketing Materials
Keep your target audience "in the know" when it comes to marketng the MSP eervices you provide in an educational, no-pressure way.
Information overload is a real thing, and in order to combat it, you need to make sure that your marketing materials have laser focus on the service you are trying to push. A Service Highlight can help!
Start Marketing Your MSP Services...the Right Way
As a professional, you already know all about how helpful the services you offer your clients are. The thing is, you're not the one who needs to know… that information needs to be known by your prospects, and possibly even your existing clients. Think of how much easier it would be to sign a hesitant contact up for a service if they really understood the benefits that service would bring, and had seen this message enough to give it more than a second thought.
With this supplemental marketing package, you'll be able to leverage additional content meant to draw your audience's attention to a specific service, whether it's your offering for business continuity, network security, cloud services, or unified threat management.
Every month, you will receive:
A newsletter article detailing your chosen service and its benefits
Two social media posts to draw your followers to your service page
A postcard for direct mail
Email copy you can use to send to your list
Interested? Fill out the form on this page to start promoting your selected service!