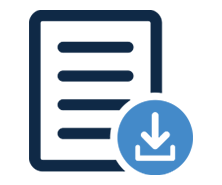 Whitepaper Creation
Leverage a No-Nonsense Resource to Lead Your Audience to their Own Conclusions
A whitepaper is an excellent, 5 to 10 page educational resource to explore a particular topic or service without pushing for a sale. Get your own branded whitepaper to promote your chosen MSP service offering!
Education is a Crucial Part of Your MSP Marketing Strategy
If your audience doesn't have as deep an understanding of your topic as you, they simply aren't going to be as impressed as someone with some subject familiarity. To counter this, you need to focus less on convincing your audience that your solution is the right one for their needs. Instead, you need to educate them about the situation as a whole, and let them see for themselves that you have the best solution for them.
A whitepaper allows you to do exactly that. In essence, you are preparing them to better understand your sales efforts later by giving them the perspective they need to recognize your service's benefits.
We Can Help You Out
Our whitepapers serve as a highly applicable piece of marketing collateral. Not only do they educate your prospect on the intricacies of a given subject, they cement your reputation as a knowledgeable, trustworthy provider of solutions. They can be shared on your website and social media, left behind at a prospect's place of business as an in-hand reminder of your expertise, and distributed in countless other ways as well - all establishing you as the subject matter expert, and the best option for the reader to turn to for help.
Features
A fully researched, written, and edited whitepaper, delivered to you as both Publisher and PDF
Landing page copy to promote the whitepaper
The whitepaper added to your Ultimate MSP Website with a form
Fill out the form to let us know that you're ready to get started!