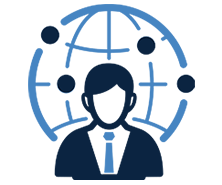 Virtual Marketing Manager (VMM)
MSP Marketing is a LOT of work! Let our team be a part of YOUR marketing team.
With our Virtual Marketing Manager Service (VMM), our team will help take on the administrative tasks that are required to run a successful MSP marketing strategy, while you focus on running your business.
Marketing Your MSP is a Full-Time Job
You understand the importance of marketing to your MSP's success. However, understanding its importance is one thing; actually implementing and managing it is quite another. After all, you still have to run the business that you're marketing, too.
What if you could take all the managerial responsibilities that MSP marketing creates and outsource it to trustworthy professionals, allowing you to focus on business operations?
With our VMM Service, you can do just that!
The VMM service includes a single point of contact for all of your project and service tickets, with weekly meetings to keep you up-to-date on your marketing initiatives. Additionally, your VMM will let you know when our team needs your input.
Features
Single point of contact - assumes role of (or assists your current) Marketing Manager
Oversees ALL Service and Project tickets
Resource management, scheduling and driving processes
Weekly update meetings and as needed
Maintaining and reporting on marketing metrics
What Your VMM Can Assist With
Live event campaigns
Direct mail campaigns
Social media management
Content creation
Social proof initiatives
Prospecting list consulting
Branding and design initiatives
Public relations pieces
...And more!
Let our MSP marketing team be yours! Get started taking control of your marketing by filling out the form on this page.