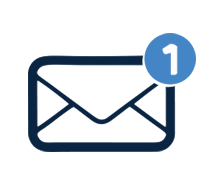 Blog Tip Emails
Drive traffic back to your MSP website's blog!
Educate your email list by providing them with technology tips and tricks right in their inboxes. Our Blog Tip Email Service will take care of this for you every month, helping to drive traffic to your MSP blog!
Promote Your Blogs Via Email as Part of Your MSP Marketing Efforts!
Every month, two blogs from your Ultimate MSP Blog Service subscription are chosen and used to create your Blog Tip Emails. These emails will contain tips and tricks that relate to common technology needs, issues, and uses for small and medium-sized businesses. Recipients of your emails are encouraged to learn more about the particular topic covered by heading to your blog on your website.
Once the blogs are chosen and your emails have been written and designed, we then send your emails out to your marketing list via your chosen email marketing platform.
Give our Blog Tip Postcards a Try Too!
Blog Tip Postcards combine the use of traditional and inbound marketing methods to drive readers to your blog and increase engagement. To encourage recipients to visit your website, the postcards contain both a QR Code and a shortened URL that will bring them directly to the blog. By combining digital and traditional marketing, you'll get the best of both worlds! Visit our
Blog-Tip Postcards
page for more information.