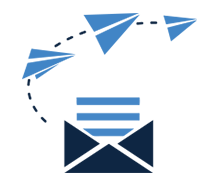 Direct Mail Campaign
Give Your Prospects and Clients a Tangible Reminder of Your MSP
There are times when it pays to do things the old-fashioned way, there are times when it pays to be modern, and sometimes, it pays to incorporate a little bit of both. Our Direct Mail pieces combine the physical presence of print marketing with the enhanced capabilities of digital - allowing you to leverage the best of both worlds for your MSP marketing strategy.
Direct Mail Isn't Dead
With so much emphasis put on using digital for MSP marketing, sometimes we forget how important it is to take advantage of all available marketing tools. While digital marketing has taken over many advertising mediums, it has certainly not killed print marketing's ability to attract leads for your MSP services.
There's something special about getting something in the mail that resonates with people, even if it's "just" marketing materials. It seems to imply a greater investment into the communication on the part of the sender, delivering a more personal touch that rings with more sincerity.
Of course, there are also benefits that are delivered directly to you and your marketing. Not only can you target a specific subset of your audience and customize your MSP marketing exclusively for them, your return on investment can be calculated along with a given MSP marketing campaign's response rate and efficacy.
We Can Do All of the Work
You want your direct mail campaign to make an impression, and we'll make sure that it does. We spend the time designing and branding your pieces, and get them professionally printed so they're sure to impress. From there, we offer complete fulfillment. This means that any printing, folding, envelope stuffing and stamping, addressing, and mailing out can be handled for you so you can be completely hands-off. We can even provide you with a marketing list of new leads to send your direct mail pieces to through our Lead List Service.
Provide a Direct Line to Your MSP Website
We preach that your marketing should always lead back to your website. We bridge the gap between your physical marketing and your MSP website through the use of QR codes and shortened URLs printed on your materials. Including both gives readers multiple ways to arrive on your website. Consider our URL Shortener and get your own branded URL shortener, integrated with your Ultimate MSP Website.
We have a variety of direct mail pieces in our wheelhouse that we can produce for your MSP marketing efforts.
Letters - Letters are a great way to include a lot of information about a product or service your MSP offers, or to introduce your company to a new prospect.
Postcards - One of the biggest benefits of a postcard is that they command the attention with their oversized image, drawing in the recipient to read the marketing message. We can help ensure that message is yours.
Newsletters - A printed newsletter not only draws the eye like a postcard can, it also has a tendency to stick around an office as it is read. As a result, your target is effectively hanging on to your marketing and generating more impressions for you! Check out our Ultimate MSP Newsletters for more information.
Deliverables - We can provide you with literature that represents your services and their benefits, allowing you to send it to your promising prospects with an accompanying letter. Whether you're interested in sending a piece from our Ultimate MSP Brochure Kit, showcasing a customer success story through the help of our Case Study Creation Service, or something else entirely, we can fulfill your needs.
1% Kit - While getting a letter or other such piece of mail is fun, getting a package full of swag feels like a holiday. With a box of branded goodies and in-demand office supplies like mousepads, calendars, and mugs, you have another chance to linger in your prospect's awareness. Consider our Branded Cookie Tins for a delicious and memorable touch.
It's Time to Get Started!
Increase your chance to reach more potential clients by supplementing your digital MSP marketing with direct mail. For more helpful information about direct mail campaigns, or to get started, reach out to us!