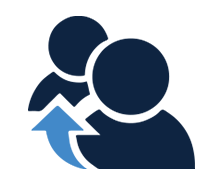 Referral Campaign
Referrals are one of the best ways to generate new leads.
Use our Referral Campaign to promote your MSP's referral program and encourage your clients to send referrals your way!
Asking For Referrals Has Never Been Easier!
When it comes to lead generation, you might feel the need to be subtle, as not to annoy the potential lead. And - despite having a business relationship - you might feel the same way about your clients. This definitely makes asking for referrals somewhat complicated, right?
To help simplify this process, we created a Referral Campaign that makes asking for referrals a breeze!
What's Included
This referral campaign comes with:
Email copy
Postcard
Letter
Landing and Success page copy
DIY and Fulfillment Options
Prefer to do it yourself? You can run this campaign on your own time, and at your own pace. Or, if you prefer, we'll handle the fulfillment, the set up.
What Fulfillment Includes
Landing page setup
JoomConnect or basic form
Branding / mailing of direct mail postcard and letter
Email sent to your contact list
You choose what works for you! Get in touch today!
---