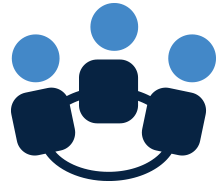 Social Media as a Service
Use Social Media Posts to Raise Brand Awareness for your MSP. Build Authority, and Give B2B Buyers the Information They Need to Choose Your MSP Services.
"Social media is your opportunity to reach a massive number of people with transparency, honesty, and integrity." Brian E. Boyd, Sr.
Expand The Reach of Your MSP Business
The success of MSP content marketing for B2B lead generation is irrefutable. B2B buyers will look at a business' educational information, social proof, and transparency before they even consider a partnership. Studies show that most prospects are 70% of the way through the buying process before they reach out to you. Social media is one of the first methods a buyer will employ when researching your company.
In fact, 85% of B2B buyers believe companies should present information via social networks.

By regularly posting to social media, your company is able to demonstrate their expertise as a MSP to prospects (and to the public at large). Educating current clients may improve your overall brand recognition... and maybe even show up your competition.
---
By the Numbers
Studies show that a B2B buyer is approximately 70% of the way through the buying process before they reach out to the company they're interested in partnering with.
92% of marketers believe that social media is the best way to distribute content to their target audience.
84% of marketers found as little as six hours per week dedicated to social media was enough to generate increased traffic. (This number should be significantly higher if a company is new or struggling with lead generation.)
90% of users trust peer recommendations on social media.
70% found inbound site traffic from social media activity to be "valuable" or "very valuable."
Companies that invest a weekly minimum of 6 hours on social media marketing see:

Increased lead generation (64%)
Increased search rankings (60%)
Increased website traffic (78%)
Our Social Media as a Service
With Social Media as a Service, our marketing/content teams create and publish posts tailored to specific social media platforms. The service includes 1 post per platform: Facebook, Twitter and LinkedIn.
To help our clients get the most out of social media marketing, our social media service is built with the target audience of a managed IT company in mind. Posts may include links to your service pages, blogs, events calendar, landing pages, and more, information and statistics about technology that is relevant to small and medium businesses, IT related trivia, blogs/articles from the web that targets pain points of business owners, news/current events, and much more.
---
Social Media as a Service Add-ons
To further enhance social media, there are a few options available for an additional cost.
Birthday/Anniversary - Clients share their employees birthday and anniversary which is added to their social media calendar.
Pay for Additional Viewers - Clients have the option to boost or pay for their posts to be seen by a larger audience.
Custom Posts - For those who are looking to relay a very specific message, custom post creation is available for an additional fee determined on a case-to-case basis.
---
Requirements
In order sign up for Social Media as a Service you must also sign up for, or already receive the following services:
The Ultimate MSP Blog Service - Clients must have our Ultimate MSP Blog Service before they're eligible for Social Media as a Service.
Hootsuite Pro - Hootsuite allows our team to managed multiple social media accounts from a single dashboard. Hootsuite Pro is $29/month with a yearly subscription or $45/monthly. Note: This fee is NOT included in the pricing of Social Media as a Service. For more Hootsuite plan options visit: https://hootsuite.com/plans