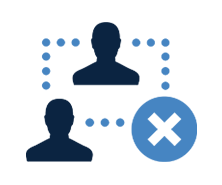 The IT Playbook
The go-to deliverable to maximize lead generation and conversion.
Our IT Playbook is a foundational piece for a managed service provider to include in their marketing strategy. Meant to educate the reader about your IT solutions in easily absorbable summaries, this fully-branded deliverable allows you to provide a hands-on, in-office reminder of your valuable services. In addition to the Playbook itself, we also include marketing collateral designed to complement the Playbook and maximize your lead nurturing activities.
What the IT Playbook package includes:
The IT Playbook Itself:
Branded with your logo and company color scheme, the IT Playbook comes packed with articles detailing your most popular services with QR codes and shortened URLs linking back to corresponding pages on your site. These pages include:
IT Management
IT Security
Cybersecurity
Physical Security
Business Continuity
Cloud Computing
… and other highly-demand services that your clients may or may not know they need.
The Playbook also contains content to show a business when they should bring in an outsource provider to support their IT, and all the different ways an IT company can do so. Minor revisions may also be made to the Playbook copy, if they're necessary to accurately represent your company's offerings and values.
Included Tools to Supplement Your Sales and Marketing Activities:
Of course, we aren't going to just give you such a powerful tool without helping you to utilize it to its fullest potential. We will also provide you with assorted pieces of marketing collateral as well, including:
A document that outlines How to Market your IT Playbook, giving you advice and best practices to follow as you present it to your prospects.
A prospecting letter to send from the desk of the company CEO
A fully-written 3 email drip, as well as a Playbook Request landing page to put on your site
An oversized postcard
A letter to a prospect
For online marketing; a LinkedIn email, 2 Facebook ads
Five exclusive deliverables with links back to your website and appropriate landing pages.

Five Benefits of Moving to the Cloud Deliverable
Complete Business Continuity Planning Guide for SMBs Deliverable
10 Questions to Ask Yourself When Reevaluating Your IT Blog Article
The Fundamental Business IT Defense Plan Blog Article
7 Critical Factors to Consider When Choosing IT Solutions Blog Article
---