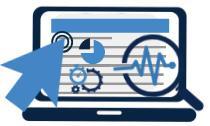 Websight Tracker
Get greater insight into your website's traffic and your visitors' behaviors.
Websight Tracker Provides Key Website Analytics!
Wouldn't you like to know more about how your web visitors reached your website, and what they did once they got there?
Websight Tracker offers a clear and customizable interface that lets you track exactly that. What pieces of content are most popular? What links are being used to reach your website? What are your current visitors doing at the moment?
With a quick-glance interface and more granular information available in a few clicks, Websight Tracker can inform your strategy in real time.
Understand More About Your Visitors
With Websight Tracker, you will be able to learn a lot about your visitors and where they are located, with comprehensive mapping of your traffic patterns and the regions your website is accessed from. You'll be able to track which links were most effective in attracting visitors, and when a visitor has clicked on one of these links for the first time. Again, this is just a brief sample of what Websight Tracker is capable of.
View Your Websight Tracker Via a Customizable Interface
Your Websight Tracker Dashboard can be rearranged and organized to your liking. Do you first want to see a live overview of your current website interaction, or do you want to see where your traffic is most commonly sourced from? With the ability to customize your dashboard, you can arrange the modules to your preference.