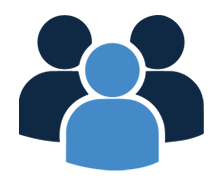 Quick Referral
Let your clients help you with your sales! Automate the collection of referrals from your clients with the help of Quick Referral and enable tracking for you and your customers.
How it Works
When a client submits a referral through the referral page on your MSP website, that referral is injected into ConnectWise Manage as a prospect with the proper Tracks, Marketing Groups, Tickets, and Activities applied. This helps ensure that referrals don't fall through the cracks. Even better, your client is able to track the process from start to finish within the client portal.
Benefits of Quick Referral
Stay on Top of Referrals - Quick Referral helps to ensure that referrals submitted aren't lost and forgotten about by your sales staff. With Tracks, Marketing Groups, Tickets, and Activities automatically applied, these potential clients that were submitted to you on your referral page can be guided through your sales funnel.
Automation - Reduce the time that your sales team has to spend managing your referral process by automating away tedious tasks and routine processes.
Not Just for Clients - Quick Referral can be used by your own team to submit referrals for your MSP. Like your clients, your team members can track the referral process through the client portal.
Improve your Referral process with the help of Quick Referral and start generating new leads for your MSP! Take advantage of our Referral Campaign at the same time to get more referrals coming in.
Contact us today to add Quick Referral to your JoomConnect!