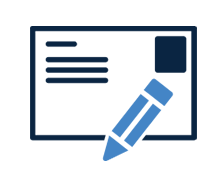 Blog Tip Postcards
Increase the effectiveness of your MSP Marketing and stand out from the crowd by using a direct mail postcard to drive readers to your MSP website's blog!
By promoting your MSP blog using a direct mailing, such as our Blog Tip Postcards, your audience will be more likely to read and retain the information. Moreover, a printed piece can keep your business top of mind longer than an email might and adds to the authority needed to define your experience as a MSP.
Promote Your Blogs as Part of Your MSP Marketing Efforts!
Some studies indicate that direct mail gives the prospect/client the impression that you value your customers more, compared to those who only employ emails when marketing your MSP to the same group. Despite the reasons to use direct mail to market, more than 50% of B2B marketers use direct mail to generate leads.
Blog Tip Postcards combine the use of traditional and inbound marketing methods to drive readers to your blog and increase engagement. Our marketing team selects the two of the most informative and valuable blogs to feature on your fully customized postcards. They will contain tips or hints that relate to common technology needs, issues, or uses of small and medium businesses.
Drive Traffic to Your MSP Blog
Once the blogs are chosen and your postcards have been designed, we then completely fulfill the service, including printing, addressing and sending your postcard to a list of recipients that you have selected.
To encourage recipients to visit your MSP website, the postcards contain both a quick response code (or QR Code) and a shortened URL that will bring them directly to the MSP blog content.
---
By the Numbers
When it comes to marketing your IT business, having a blog is a great way to increase brand exposure and gain authority as an expert. In fact, in terms of business-to-business marketing, it's estimated that blogs generate 67% more leads. According to a study published by the Direct Marketing Association 56% of postcards are read by recipients, making them the direct mail piece most likely to be read. By combining digital and traditional marketing for your MSP, you'll get the best of both worlds!
What's Included?
2 postcards per month
Branded for your MSP
Content from Ultimate MSP Blog Service
Complete printing and fulfillment
No postcard quantity minimum