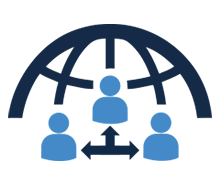 Third Party Website Templates
Your MSP website should be as unique as your MSP.
Templates are a great way to save money, allowing you to focus on your MSP Marketing Campaigns. If you don't want to use one of our MSP Website Templates, there are several companies that design quality templates that we can use as a starting point for your website.
Get a New, Quality Website at a More Affordable Rate
There are hundreds of thousands of pre-existing website templates and themes available to get you started with a basic framework.
Our team can customize the template, add/remove/change design elements to your liking, and make the template match your company's branding. This delivers a custom website with a shorter turnaround, and a more affordable rate.
Need Custom Content/Graphics? Our content team can work with you to write custom content or create graphics for your products and services, which can also translate over to your other MSP marketing initiatives.
Or, Use One of Our MSP Website Templates!
The Ultimate MSP Website comes with pre-built SEO ready content, images, and all of the bells and whistles you'd expect on a great site, and probably some you wouldn't: e-commerce, testimonial listings, blog, events calendar, job board and much more - all bundled into a flexible design.
This fully loaded MSP template boasts a quick and easy color chooser which allows you to customize your website from top to bottom. Simply click and choose your company's colors and create a stylish and unique theme instantly!
Third Party Templates Site List

RocketTheme has an extensive collection of premium templates available for purchase and download.

YOOtheme is a premium provider for themes and extensions.

Hogash has a selection of premium templates built for your needs that are cross-browser and SEO optimized.

Shape5 has fresh, beautiful, and diverse templates and themes for your next website. With their large collection of templates and themes, you are sure to find a design you like.

Gavickpro has professionally designed and functional templates that are easy to use and suit every need.

JoomShaper one of the leading Premium template providers, serving thousands of happy clients worldwide. They understand their customers needs and what type of theme they desire to show for their business or brand.

JoomlArt has awesome design templates that come packed with free bonus pages and built-in extensions.

Envato Market is an ecosystem of sites to help you sell your digital assets. Themeforest is a section of the site that has a series of templates that are ready and easy to use.