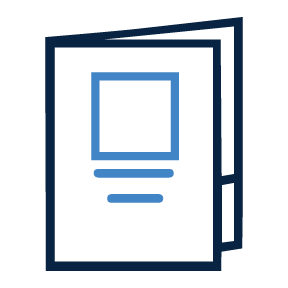 Sales Presentation Folders
Your Brand is Your Business' Identity—Showcase It!
You've invested a lot into developing both your business' sales pitch and the services that it promotes. As such, it only makes sense that you would want to make a great first impression. Give your sales team a powerful way to present their sales collateral through branded folders!
Branded Folders with Pockets are in Indispensable Business Tool.
A professionally printed folder provides valuable space to organize and distribute information to clients, customers, sales prospects, and more. Use these folders to improve your business communication. Use your folders for marketing materials, sales literature, business presentation, direct mailing, project management, trade show kits, portfolio samples, and promotional press kits!
Branding, sales, and client relationships can be simplified and strengthened by using business pocket folders.
Make a Professional Presentation of Your Products and Services
With four professional design options available for you to choose from, these 9x12 professional folders with two pockets are printed in full color with a high gloss UV coating, a business card slit and your company branding.
Use the form on the right to have a team member reach out to you to discuss your options or place your order today!