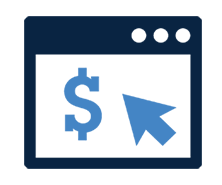 Pay-Per-Click Campaign
Take advantage of search engines' paid advertising options to help prospects find you
71% of B2B purchase decisions start with a search via search engines and 75% of users never click past the first page. If your MSP ends up on the 2nd page, your ability to be seen is limited. It's clear why most businesses will do just about anything to climb their way to the top slot, but only JoomConnect has the experience and vision to deliver.
What is Pay-Per-Click (PPC)?
Pay-Per-Click, or paid search marketing, is a surefire way to boost your search engine rankings, and it only costs you money when someone clicks on your ad. Unlike SEO, PPC isn't about increasing the quantity of traffic to your site or increasing your site's ranking; it's strictly about funneling quality traffic to your site, resulting in increased leads.
Why Should You Use PPC Ads to Promote Your MSP?
Organic search results, or website ranking, fluctuate rapidly providing no guarantee as to where you will be listed when someone is searching for your services. With PPC, your ad will be listed at the top of the search results if your bid is high enough and you have a proper budget set up.
Get a Complete Pay-Per-Click Solution
Managing and optimizing your PPC campaigns for best results is tedious and time consuming.You need to ensure that every time someone clicks your ad, they're going to find what they're looking for. This takes research, proper implementation, and constant monitoring, which is exactly what we offer!
What We Do
With our PPC service, our Content Marketing team will take care of everything. From setting up your account to continuous monitoring and improving, you'll get the maximum return on investment (ROI) for your budget and the opportunities to promote your MSP services.
Features
2 Fully managed campaigns with 1 ad group per campaign, 5 ads per ad group, and 1 custom landing page per ad group
Proactive monitoring and maintenance
Monthly flat-rate management fee
You set your monthly budget
Benefits
Increased lead generation
Maximum return on investment
No surprise costs
Complete control over your online marketing budget
Increase in quality web traffic
Gain advantage over local competitors