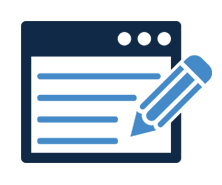 SEO and Content Marketing
Stand out, increase organic traffic, and get conversions
SEO isn't about pining after that number one ranking for your keyword of choice anymore. It's about organic growth and driving qualified traffic to your website from all angles with the goal of getting conversions. It's about providing the best experience for your visitors, and getting out there in as many ways as possible.
If You Want to Compete, You Need to Stand Out
Search engines take hundreds of factors into consideration when determining where your site shows up amongst competitors. How active are you compared to your competitors? How often are you talked about? Who's talking about you? What are they saying? What makes you stand out? These types of signals weigh much heavier than the traditional technical SEO standards (we call these SEO Basics), and while having a site that's compliant with the search engines is important, it will only get you so far when your competitors are also compliant. After that, it's all about content marketing.
Custom Content Marketing
We work with you to build heavily targeted, custom content about your specific differentiators, your specific service area, your specific offerings, and your specific audience. We build custom service content that we'll use to drive traffic to and monthly customized blog content. We measure and track this content specifically and monitor for organic conversions so you can clearly tell how successful the content is.
Plain-English Reporting
It can be frustrating trying to glean insight from most SEO reports, especially at a glance. We tailor our SEO reports focusing on the two most important KPIs - organic growth and conversions. The rest of the data we report is to help you make educated decisions on marketing opportunities, and everything is explained in plain English to eliminate guesswork on your end.
Business Directory Listings and Monthly Promo Push
We set up and manage over 70+ business directory listings on sites like Google, Bing, Amazon Alexa, Yelp, YP, TripAdvisor, and more, ensuring the data on them is relevant and accurate. On top of that, each month we will push out a promo ad to the directories that support it, highlighting your company and helping drive referral traffic back to a landing page or blog post.
Megaphone Targeting and Promotion
When high-ranking, popular sites like Chambers of Commerce, peer groups, and local news sites post relative content and links to your website, you can gain more authority with Google and the other search engines. We actively seek out opportunities to newsjack local, IT-related topics and write your take on them. Then, we help you promote this content to your list of megaphone contacts - a good contact from your chamber or peer group, a contact from your local news, etc., and we kick out the post or press release in the hopes to get them to talk about you. When one of these contacts influences traffic to visit your site, we even have options to kick them a thank you card, box of cookies, or other treat to thank them and encourage more.
SEO Basics Features
Monthly Maintenance - Title, Metadata, Heading Optimization
Content Adjustment/Suggestions when Applicable
Analytics/Search Console Issue Monitoring
You-Write-It Content Optimization
Local Business Directory Listing Management
Monthly Plain-English Reporting
Content Marketing Features
Includes Everything in SEO Basics
Initial Creation of Custom Page Content
Custom Promo Landing Page
Monthly Custom Blog Content
Custom Blog Content is Measured and Tracked
Monthly Promo Pushed to Directory Listings
DIY Branded PR Template
Local News/Opportunity Monitoring
Influencer Promotion Email Template
Optional Influencer Reward Program
Ready to Start Improving Your Search Engine Ranking?
SEO Content Marketing Tiers
$1800
x
x
x
x
x
x
5 Service Pages
x
2 Posts
x
x
Quoted
$3300
x
x
x
x
x
x
10 Service Pages
x
3 Posts
x
x
Quoted
$4700
x
x
x
x
x
x
15 Service Pages
x
4 Posts
x
x
Quoted