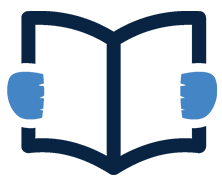 Ultimate MSP Brochure Kit
For marketing to be effective, it needs to 'touch' its audience… many times, and in many different ways.

While the Ultimate MSP Website is the pinnacle in MSP Marketing, it's only one method of communication. With the Ultimate MSP Brochure Kit, you have another opportunity to let your brand shine and for your MSP Marketing efforts to continue. Effective marketing requires you connect with your audience in as many ways as possible.
As much as the world has shifted to the digital format, there's still something to be said about having the information literally at your fingertips, ready to be highlighted, stuffed in a pocket and taken back out time and again, scribbled on, and otherwise interacted with. One of the biggest problems with using a website as your marketing focus? You can't really scribble all over a website, at least, not in the way that leaves an impression with your targets.
Plus, despite appearances, your audience isn't always going to be online - so, why not let them take the pieces you want them to read with them?
With the Ultimate MSP Brochures, they can do just that.
Here's how it works: Your website's service pages are given supportive content in the form of a branded deliverable, which your visitors can download. If they so choose, they can then print out this deliverable to view at their leisure. You could also use these pages as a great addition to a direct mail campaign in support of one service or another. The MSP Brochure Kit contains all of the pre-built service content of your Ultimate MSP Website, and if you need us to make some text tweaks, we'll make sure they are tuned perfectly for your offering. Customized with your logo and colors, yet very conscious on ink consumption, these brochures are designed to print on any printer and look fantastic on standard paper or heavier stock.
---
Custom, easy to print, and easy to distribute!
Wouldn't you like to be able to erect a miniature billboard on your prospect's desk, constantly there are reminding them of your services as a managed service provider? That's pretty much what the right brochure can do for you. Built to align perfectly with the content included in the Ultimate MSP Website, the MSP Brochure Kit is stuffed with content that supplements that information, emblazoned with your company logo and brand colors. Furthermore, we design them to be printable from any printer, on any paper quality, without sacrificing quality (or too much printer ink, for that matter). This allows you to produce your brochures to correspond with your sales cycle and increase potential lead generation.
What You Get!
75+ Brochures in digital format
Call to action graphic for web pages
Setup on 20 service pages of your choice*
Business Card Template File
Branded BDR Whitepaper
Managed IT Tri-fold Brochure
*Additional brochures can be posted for a charge
---
Downloadable Brochures
On each service page on your website, add a call-to-action button offering a download of the corresponding PDF brochure.
Let your website visitors download a PDF based on the IT service they are considering. Each time a brochure is downloaded, you'll receive an email notification. This allows you to identify and track which of your IT solutions are generating interest among your audience, allowing you the opportunity to leverage that interest into further focused marketing campaigns and initiatives for your MSP.

*Call To Action Button