JoomConnect Blog
JoomConnect is the Marketing Agency for MSPs. We strive to help IT companies get more leads and grow. We rock at web design, content marketing, campaigns, SEO, marketing automation, and full marketing fulfillment.
Simplify Your Social Media Marketing Strategy with Scheduled Posts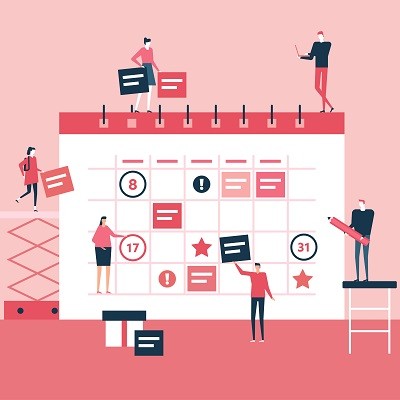 It's important to have active social media accounts, but generating posts for your social media business pages is a LOT of work. You don't want to be rushing to write some posts during a busy time of the quarter or trying to scramble to push out a post on a holiday in which you're not in the office.
That's why it helps to plan out your social media posts in advance.
How Should You Plan Your Social Media Posts?
Planning out your posts so far out in advance can seem a bit daunting. How are you supposed to know what you want to post about so far in advance?
It's actually not as scary as you think if you know the general process of how to do so. To give you an idea, we like to plan out posts for the entire month all at once before that month starts. It's more than doable! The best part is, it frees up a lot of our time and makes social media marketing that much easier.
Here is how we do it.
Step 1: Plan Out Your Topics
The first thing that you will need to do is to get a general idea of what you want to share through social media. Here are some ideas to keep in mind of things you can schedule posts about:
Any holiday posts, including official holidays, tech-related holidays, or fun holidays
Any internal company things that you want to feature that you can plan for in advance
The services that you want to focus on
Other pages on your website that you want to send your social media followers to (e.g., your testimonials page, referral page, newsletter archive page, etc.)
Any deliverables on your website you want to link to
Advertisements for an event that you will be hosting
Any specific blogs that you want to share
Educational information that you want to include that comes from sources other than your website (e.g., technology fun facts, birthdays of historical figures in technology, anniversaries of a major tech event that happened, etc.)
The more variety you have in your post topics, the greater benefit that your followers receive if they follow you.
Step 2: Write Your Posts
After you plan out your topics, you have to actually write posts to go with your topic. This is for social media, not a blog, so your posts need to be short and to the point. No post should be more than a couple of (short) sentences. Also, keep in mind that you're writing for those who are using a social network and don't want to be bombarded with overly sales-y messaging. Most of your posts shouldn't be pushing for a hard sell; focus on educating instead.
Many of your posts will probably link to your website, and that link should be at the end of your post. Your post itself should encourage the person who sees it to click that link. This can be done by writing in a call-to-action or writing an intriguing post that - if the reader wanted to learn more - they would have to go to the link to learn more.
With this in mind, it makes sense for the text of your posts to end in a colon or punctuation such as a period, question mark, or exclamation point.
Step 3: Pick Your Images
The next step will be picking an image to go with each post. This will typically involve going through your internal library of images, or using ones from a stock image website. The individual image that you choose should relate to the post that it is going to go with.
Make sure the images that you choose are eye-catching and are large enough/sized properly for the platform you are pushing to. For example, Instagram's images must be square or have an aspect ratio of between 4:5 and 1.91:1. We also suggest having your images be at least 400x400 pixels so that they don't appear too pixelated.
Depending on your preference, you may choose to switch steps 2 and 3 and pick your images first. Doing it this way would allow you to tailor the text of your post to the image that you choose. It may even help you find inspiration in your post writing! Try it both ways, and pick the order that works best for you.
Step 4: Pull Your Links
After writing your posts, you want to pick where you are going to link to. Often, it's going to be your website, and you may have already gotten these links when you planned out your topics. You can link to other places as well, such as an educational blog on another website. Mixing things up every now and then will keep your social media followers interested.
We sometimes find that after writing a post and picking an image to go with it, it would make better sense to link it somewhere else. For example, we may have intended to link it to a service page, but there could be a new blog that fits the post perfectly. There's nothing wrong with that! This is why we usually wait to pull links until this point in the process.
Step 5 (optional): Add In Hashtags and Emojis
Next, you can look for ways to incorporate hashtags and emojis into some of your posts. This isn't something you HAVE to do, but it can enhance your social media marketing: adding hashtags to your posts for platforms that use them heavily (Twitter and Instagram) can increase your reach, and adding emojis can help make your posts stand out in followers' feeds.
When picking the hashtags and emojis to include, you need to think smart about it. Don't try to pack multiple emojis in all of your posts - you are a business after all! Also, do your research on what hashtags perform well before picking your own to use. Or, make your own company-branded hashtag to make it easier for people to find your posts. Just make sure that hashtag isn't in use yet by anyone else.
Step 6: Proofreading
Like any content writing, you need to make sure that you proofread your social media posts so that you can catch any grammatical mistakes that were made during the writing process. It helps to have someone other than or in addition to the writer be a part of this process to make sure that nothing is accidentally missed.
Step 7: Pick Your Post Times
After your posts are all done, you have to determine when you want them to go out. We recommend making them "predictably unpredictable" by platform.
By this, we mean that for each individual platform, you want your posts to go out at around the same time every day, but not the exact same time. If they go out at the exact same time, it's going to make them seem very robotic. If they're going out around the same time your followers will have an idea of when to see your post, and it will make it easier for you to monitor for engagement.
You can assign a window of 2, 3, or 4 hours for each platform, and make your scheduled posts for that platform go out between those times. Ideally, this will all be within a reasonable timeframe within or not too far outside of business hours.
Step 8: Schedule Your Posts
There are multiple Social Media Marketing Management platforms out there that allow you to schedule your posts by uploading a CSV file that details the date/time of your post, the post text, and the link. Our preferred choice is Hootsuite.
Through Hootsuite, you are able to upload your CSV file through their "bulk composer." You just have to select the platform you want your posts to push to, choose whether or not you want to use Hootsuite's shortened "ow.ly" links**, then review your scheduled posts.
When reviewing your posts, you will need to upload the image to go with each post. You may also have to do some minor formatting fixes. Hootsuite will sometimes have trouble reading quotation marks and apostrophes, and will put a "⬜" in their place. Their software has gotten much better at detecting the correct character, so you will not have to fix too many of your posts in this sense. However, you will have to re-add in any of your emojis.
**We very highly suggest using some form of a shortened URL in your posts; longer URLs will cut into your character count limit, which can be especially concerning for Twitter's lower limits. You should only select the option "do not shorten links" if you have your own shortened URLs in there already.
Not EVERYTHING Has to Be Planned
You don't have to include every post that you're going to share through social media through these scheduled posts. It wouldn't make sense to; if you're going to share pictures from an office birthday celebration on the day of the birthday, you wouldn't have those pictures a month in advance!
The point of scheduling some of your posts in advance is to make sure that every day, you're getting at least SOME content added to your social media channels. It's perfectly acceptable to write more posts whenever you get a good opportunity to.
We Can Plan So You Don't Have To!
As you can imagine, all of this takes a LOT of time and effort to do all of this, which is why so many managed service providers don't.
This is why we created Social Media as a Service: to give these small to medium-sized MSPs a much needed relief. Before the start of each month, we will write posts for your Facebook, Twitter, LinkedIn, and Instagram - many of which will link to your website. These posts are written with managed service providers like you in mind, and will educate your followers about the world of IT, fun tech facts and holiday messages, and what your services can do to support their businesses. After you review them, we schedule them to go out for you and pair them with an image related to the post itself.
Reach out to us here or at 888-546-4384 to learn more.
Comments
No comments made yet. Be the first to submit a comment