JoomConnect Blog
JoomConnect is the Marketing Agency for MSPs. We strive to help IT companies get more leads and grow. We rock at web design, content marketing, campaigns, SEO, marketing automation, and full marketing fulfillment.
Conquering MSP Marketing Problems (Part 1): The Competitive Atmosphere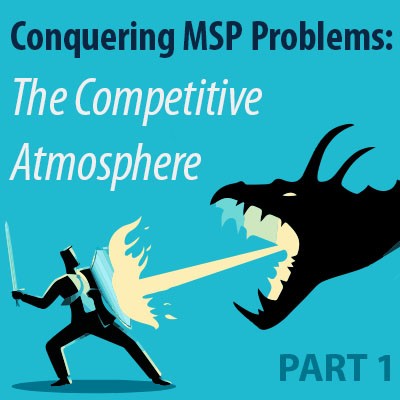 As an MSP marketing agency, we have gotten to know managed service providers from around the world. Through the many relationships that we have built over the years, we have noticed some common hardships that these businesses experience on a regular basis in relation to their marketing - some of which we even experienced ourselves in the early years of running our own IT company!
If you're reading this, your IT company has probably experienced quite a few hardships yourself, and are looking for the answer(s) needed to make them disappear. Our job is to find MSP marketing solutions to solve these problems for each and every one of our clients, and we do our best to make sure that with the help of our services, these hardships can fade away.
Wouldn't you like to know how to conquer the problems you face?
This first part of our blog series will cover how you can conquer the businesses that are targeting the same clientele as you are: your competition.
The Competitive Atmosphere
If you're like most managed service providers, you probably are faced with competition from multiple different areas. Whether this competition is direct or indirect, they pose a threat to your business because they can take away current and potential customers from you.
Let's take a look at five common sources of competition for MSPs, and how you can use your marketing and communication efforts to come out on top.
1. The Battle Between Old and New
Break-fix IT was the standard IT solution for local businesses for a long time. Many businesses, especially ones who have been around since break-fix IT was in its prime, are very reluctant to make the switch to managed services or any related recurring monthly IT service because they still have a "if it ain't broke, don't fix it" mindset.
Conquer this Problem: The trick to converting prospects that have been trapped in the break-fix world for so long is to prove to them why recurring IT services would be better for them in the long run.
To do this, think about the many issues that these businesses face when subscribing to this model: EVERYTHING about the downtime of their technology is unpredictable. This includes the duration of the downtime, the time it's going to take to get things up and running again, the cost it's going to be to fix things, and the cost the business incurs from not having their technology operational during that downtime. Keep in mind that those issues encompass managed service-related issues, and don't take into account various other IT-related issues related to network security, data backup, and business continuity that can occur to businesses not taking advantage of managed services.
How should you be showing these prospects that your solution is better? By proving it in your marketing!
You can run campaigns targeting these leads that focus on either showcasing the benefits these businesses would receive by switching from break-fix to managed services (e.g, reduced downtime, predictable billing, etc.), or by highlighting the downsides to the break-fix model (e.g., unpredictable downtime, unexpected costs, etc.) that the managed service model can correct. It depends on how you prefer to frame your campaign.
2. An 'Office Techie' is No Substitute
When you're marketing to a small business, it's inevitable that you'll run into a suspect or prospect that employs an amateur 'techie' that handles all of the technology-related issues that come up within the business.
For a lot of the businesses that you're going to be targeting, their internal resource is going to have other responsibilities on top of these tech-related ones. This is important to keep in mind when you work to successfully convert these businesses into paying customers.
Conquer this Problem: Your marketing content must clearly demonstrate the value of your services to compete. An employee who acts as part-time tech support for their employer is bound to make mistakes. Even if they aren't making mistakes, they aren't actively managing company technology 24/7. Because of this, issues can develop, and problems can go unnoticed for quite some time.
Your company can provide additional support to companies who have an internal resource similar to this. You don't have to tell these companies that their internal resource is incompetent. Doing so would likely deter these businesses from doing business with you. Instead, through your marketing, demonstrate that your services can complement and work in conjunction with their internal resources to make sure that nothing compromises their network.
3. Big Business, Big Problems
Similar to the way that amateurs can encroach on MSP territory, the same is true with big corporations. Many large companies like this have recognized the revenue potential that recurring monthly billing IT services can bring. Others have developed a hybrid break-fix and semi-managed services model that can be appealing to businesses that are hesitant to switch from break-fix to managed IT services.
Because these businesses are larger corporations, they often have the name recognition and the marketing budgets to attract small businesses in your area to accept their IT help.
Conquer this Problem: Your marketing has to make a case as to why you can provide superior service, security, and features that those giant companies looking to get into the SMB market cannot.
These larger box companies such as Best Buy's Geek Squad or Office Depot may have the brand recognition, but they also have a large assortment of clientele with different needs and requests. This hinders them from getting to know their clientele on a personal level. Therefore, they can't provide as customized of an approach as you would be able to.
Make sure you are showcasing your client satisfaction and retention through your marketing. Focus on collecting and showcasing social proof on your website and through targeted campaigns.
4. Niche Bundlers
For many of the industries that you likely work with, you will likely come across vendors that have begun to offer some MSP services those who purchase their industry-specific business applications; this bundled deal can be initially appealing to those businesses looking for IT support because they are typically bundled at a discounted rate.
Conquer this Problem: Similar to big business, these vendors are unable to provide personalized service that a business like yours would be able to. These vendors also often have the additional weakness of not being able to provide on-site visits on a moments notice. The lack of any face-to-face interaction depersonalizes the business relationship, and isn't likely to drive any loyalty to that vendor.
As a company who works with local businesses, you are likely not located too far from your clientele. As such, if they were having an issue and needed someone to come to their location, your technicians would be able to accommodate that request.
If you want to stand out from these niche vendors who bundle MSP services, make sure you showcase your ties to your local community.
5. You're Probably Not the Only One
In addition to the competition from outside sources, you also likely will have to compete with other managed service providers that have service areas that overlap with yours. This source of competition will be the toughest to beat, especially if you are located in an overly saturated area with a lot of MSPs.
Conquer this Problem: A lot of your service offerings are going to be nearly identical to other managed service providers in your area. Because of this, you need to find what makes your company stand out from these businesses. What can you do better? What makes you unique? Why would you be a better business partner?
The more competitive your service area is, the more marketing you need to be doing. This means running targeted campaigns, maintaining an information-rich website, developing an active social media presence, getting involved in the local community, and more. In your messaging, you need to focus on what makes you different - and better - than the other MSPs if you want to attract new customers.
Need Help Conquering Your Competition?
Do you need help conquering your own competition-related problems that you face? With help from JoomConnect's marketing services, it's not as difficult as you think.
We can help you discover businesses who are in your local area who would be a match for your business requirements, and create the marketing materials you need to convert those prospects into customers. See for yourself by scheduling a demo.
In the meantime, keep an eye out for the next part of this blog series, which will cover how to conquer
Comments
No comments made yet. Be the first to submit a comment