JoomConnect Blog
JoomConnect is the Marketing Agency for MSPs. We strive to help IT companies get more leads and grow. We rock at web design, content marketing, campaigns, SEO, marketing automation, and full marketing fulfillment.
Conquering MSP Marketing Problems (Part 2): Finding the Time to Market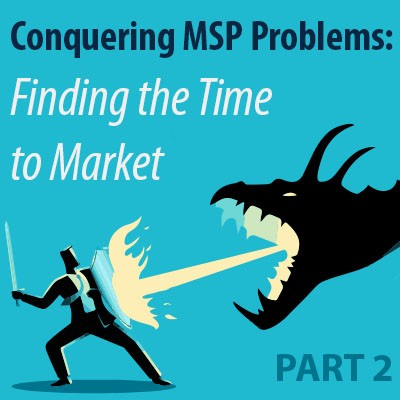 Businesses of all sizes and all industries recognize at least in part that they need to promote themselves if they want to find new customers and grow their company. However, even if they recognize this, it doesn't mean it is actually happening.
Marketing takes a lot of time and effort; those businesses that are on the smaller size tend to let marketing fall on the wayside, which hurts their companies in the long run. To prevent your MSP from doing this, this blog will talk about how to be proactive with your marketing efforts and take care of the very important (but somewhat time-consuming) tasks that need to be done if you want your marketing to be effective.
Finding the Time For Marketing-Related Tasks
Most managed service providers can be classified as a small-to-medium sized business. Businesses of this size will often put marketing on the backburner due to not having the time or resources to handle marketing on top of handling day-to-day operations.
When it comes to marketing-related tasks that take longer to manage and perform, certain things that are EXTREMELY important for your overall marketing success were at one time overlooked by many of the managed service providers that came to us for assistance.
Let's review what those things are, and what you can do to make sure that your MSP stays on track.
Maintaining (and Growing!) Your Email Lists
You probably have emails from the clients that you work with contained in your company's PSA. You may also have emails collected from trade shows you've attended, local chamber events, from people who have filled out forms on your website but haven't yet become a client...the list goes on.
There are two problems that tend to arise regarding your lists.
First, no maintenance is done regarding the emails in the list. There may be emails from companies that no longer exist, or they may be improperly organized in your marketing lists (e.g., clients may still be in your prospect marketing lists, or businesses you no longer work with may still be getting emails you send out to your clients). You could even be still emailing people who have unsubscribed from your emails altogether, which could land you in legal trouble!
Second, often no effort is put into growing these lists.
Conquer this Problem: Let's first tackle what you can do to maintain your lists.
If this is something you haven't been proactively doing, it might take you quite a bit of time to clean things up, especially if you have a lot of different marketing groups to segment your clientele. Once you correctly classify individuals as you need to, you can use the tool BriteVerify to better weed out which emails you shouldn't be attempting to contact.
To grow your list, you can do so through your marketing! This can best be done by running campaigns that direct individuals to a landing page with a form, in which that person would provide their email. Having an incentive for them to fill out that form such as a discount on a service or a free deliverable can help you increase the number of people that fill it out.
If you want some help growing your list, our Lead List Service can help provide you with a list of potential prospects. However, you will need to gain their permission before you can start emailing people from that list.
Maintaining Active Social Media Accounts
Something we often see amongst most B2B companies is that they won't bother to promote themselves via social media because they don't think it gives them enough value based on the work they have to put into it. They usually create their pages on the appropriate platforms, but leave them there with no content and don't bother to monitor them in case people reach out via one of the social networks.
Social media is actually a great way to engage with the people interested in your business. If you're using it as you should be, it can also help direct traffic to your website.
Conquer this Problem: The easiest way to make sure that you're actively pushing out content is to schedule it ahead of time. We set aside a block of time to write posts for the whole month - 1 per day for Facebook, Twitter, LinkedIn, and Instagram - and schedule them via Hootsuite. These pages are checked every day so that we can make sure no comment or question goes ignored. If you would be interested in something like this but don't have the time to write your own posts and find images to go with them, we do this through Social Media as a Service.
Not Enough New Website Content
After getting your website design to a way that you like it, it can be very tempting to just leave it as-is. Maybe this will involve updating a couple of pages, like your Employment page when you have a new position open, or your About Us page with the picture of and information about a new hire. For some smaller companies, that's all they'll do.
If you let your website grow stale, it's going to hurt your search engine ranking, and won't give people an incentive to visit your website.
Conquer this Problem: When looking at things from a time perspective, this is one of the things that can be the most difficult to manage.
If time is your concern, try to prioritize blog writing over other content types. Blogs allow you to provide an educational resource to your website visitors, and are a great tool to drive traffic to your website via search engine results and the marketing efforts that you utilize. If you're too pressed for time, consider our Blog Service, which provides you with three IT-related blogs per week.
To make sure that you are still providing your website visitors with other things that they'll be looking for (social proof, and something they can download to keep with them after they leave your website), make sure you are still fulfilling those desires.
If you're taking care of things yourself, you can prioritize the things that take less time to do, like focus on adding testimonials that you collect from your clients instead of case studies. Or, you can have us do the work for you through one or more of our many service offerings.
Forgetting About Video Marketing
One of the best ways to market is to use video. Unfortunately, because of the costs associated with producing a high-quality video (not to mention the time needed to plan out, write a script for, shoot, and edit together), many smaller managed service providers won't even attempt to market themselves in this way.
Conquer this Problem: What if we told you that it's not as expensive and time-consuming as you think to market with videos?
Not every video that you do has to be one that you have to spend hours shooting and editing. You can shoot videos from around the office featuring your team, or something from when you attend an event. Another affordable option is to do screen-capture videos from your computer.
If you're looking for another option, we also have multiple animated videos available for purchase on topics that include cloud computing, managed services, VoIP, backup and disaster recovery, spam & virus email protection, and more! These videos are priced at a rate that is even affordable for smaller MSPs, and they come with a mini campaign that you can run to promote it. Feel free to check out our selection.
Need Help Finding the Time for Marketing?
Marketing is a full-time job. The topics we discussed today can be solved by determining someone to handle all marketing-related tasks. However, as a small business, it's often not feasible for most managed service providers to hire a marketing employee. Sometimes one - or multiple - people may be assigned to complete certain marketing-related tasks, but this is usually on top of their other work.
We created our Virtual Marketing Manager (VMM) service to solve this problem. This service partners you with a single point of contact from our marketing team who assumes the role of your company's Marketing Manager. This Marketing Manager will help oversee the marketing services that you have through us, take care of all of the administrative tasks that are needed to market your company, assist you with any campaigns that you want to run, and more!
If you're not ready to have us take over your marketing at this level, we have a lot of MSP Marketing services that can supplement what you're already doing. Feel free to check them out, and be sure to contact us at 888-546-4384 if you have any questions. You can also schedule a demo to see first-hand what our services are like to determine if they will suit your needs.
Comments
No comments made yet. Be the first to submit a comment