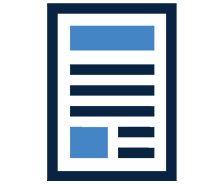 Ultimate MSP Blog
When was the last time you updated your company blog? Don't let your MSP blog get stale and stagnant - use it to build authority!
Establish Yourself as the Local IT Expert! A blog can serve many functions from SEO, to providing great marketing content to prospects, to providing current clients information about other services.
What You Get
3 relevant IT-related blog articles per week
OPTIONAL: Blog articles can be set to unpublished if you'd like to review and customize them first
Automatic social media posting available
Content comes with images
No copyrights, no links back to us, no royalties, just great content!
Complete Content Aggregation
Ultimate MSP Blog Content is more than just 2-3 blog articles per week.
Blog articles are automatically posted 2-3 (mostly 3) times per week and automatically dished out to your social networks that you provide for us. Content is often comprised of several tags that automatically get replaced with your information, such as your company name, phone number, and the local area that you serve.
The Ultimate MSP Blog Content is also used for our Monthly Printed and eNewsletter solutions.
GeoProtection
We offer GeoProtection with our Blog and Newsletter services, meaning we have multiple streams of content to attempt to prevent your nearest competition from having the same content stream.
Why Blogging Is So Important
With more and more emphasis being placed on content marketing, it is important for businesses to use blogging to demonstrate their expertise. Recent statistics estimate that the majority of business-to-business decision makers are 70% to 90% of the way through the buying process before they contact a company.
By providing your community with a high quality, informational, and relevant blog on a regular basis, you'll establish authority as an IT expert, improve your relationship with current clients, increase engagement, and improve your search engine rankings.
Unfortunately, finding time to research, create, edit and post a blog can be a difficult task for an MSP. That is why the Ultimate MSP Blog Service is a great remedy for the busy schedule of a managed IT service practice that still wants to provide great content.
Our content isn't outsourced to copywriters, but is written by our experienced in house team who work with MSPs everyday. Blog content varies from article to article, often directed towards business owners, although user tips and tutorials and some consumer content is also created.
---