JoomConnect Blog
JoomConnect is the Marketing Agency for MSPs. We strive to help IT companies get more leads and grow. We rock at web design, content marketing, campaigns, SEO, marketing automation, and full marketing fulfillment.
Five Ways to Market Your MSP During The Holidays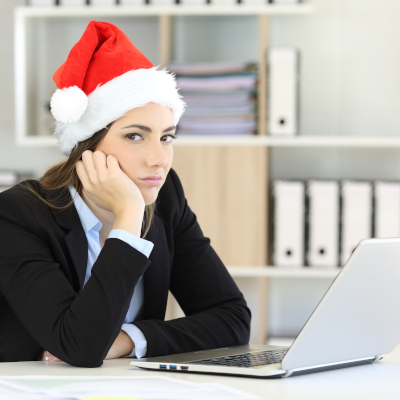 Do you stop marketing your MSP during the holidays or wait until the last week of December to even begin? The holiday season is here, and the time to start showing up in front of prospects to lay down your 2021 sales goals is now. Don't enter into competition with retailers trying to gain customers' attention; learn how to create a marketing strategy designed to get your MSP noticed.
No One Wants to Find an MSP Agreement in Their Stocking
While it is undoubtedly true that there aren't many people hoping to pay for IT work for the holidays, you can still participate in holiday cheer. Seasonal events and promotions keep your business top of mind and offer your business opportunities to remain in contact with your customers. Even though the current crisis makes hosting face-to-face events difficult, you can still market your MSP during COVID.
Yes, while it is unlikely you will sell a UTM on Christmas day, you must continue to communicate with your audience instead of going silent from Thanksgiving to New Year's. Successful marketing is all about maintaining momentum, and being out of sight (and mind) for three months will drive your marketing to a standstill. It may seem to make sense to scale back your marketing during the holiday season, but doing so is the worst marketing strategy you can make.
Understandably, you may feel you may not compete with all those retailers with their flashy ads and deep discounts. As we all know, many business owners have Christmas bonuses and other expenses to worry about, so IT budgets are tight. On top of that, Managed IT services aren't an impulse purchase. We're not trying to sound like a Scrooge or a Grinch—most of the time, this is the pushback we hear from MSP owners when it comes to marketing around this time of year. Instead of trying for the elusive 'quick' sale, your holiday marketing should focus on long term goals, such as name recognition (branding), proof of expertise, and local business connections.
Seasonal marketing can allow you to get in front of new potential customers while reminding existing customers of your services and how you can help them grow their business. One thing to consider is that this is the first holiday season businesses are facing in a coronavirus world. Many such companies may encounter unexpected issues, with no solution except to 'wing it,' which is never a good place to be in.
While it may be too late for them to address those issues before the year's end, they can plan for next year, and that is where your marketing pays for itself. By investing in seasonal marketing now, you will be top of mind when they are ready to address the issues later.
Five Ways To Market Your MSP During the Holidays
Use email and social media to send out helpful seasonal tips that are relevant to your services. For example, you could send alerts or write blogs about the increase of phishing attacks during the holidays or prepare potential customers for next year with a campaign such as: "Ruin a Cybercriminal's New Year, get a Security Audit!" Social media is an incredible promotional tool, especially during the holidays.
Display your tech chops and review technologies that make popular gifts: computers, smartphones, IoT devices such as fitness trackers, and even game consoles. As technology professionals, your opinion has value, and by offering helpful advice, you increase the confidence potential leads have in your ability to solve their concerns. Don't worry that you don't sell Fitbit. The goal of an 'off-brand' blog is to provide information that people would be interested in and use it to expose them to your expertise, and then your managed IT services. For example, a blog about the top ten IoT devices should also include a warning about how many of them are unsecured and can expose your network to cybercriminals. Additionally, you should provide a solution and why you're the best MSP to offer it.
Share the holiday cheer and send gifts to your customers to show your appreciation for their business or special offers that can be redeemed after the holiday season. Go the extra step and personalize the special offer to address their existing pain points. Doing so increases the chance they will recognize the importance of addressing their problems and act upon it.
Run a holiday sweepstakes in partnership with local businesses. Many local businesses have been challenged due to coronavirus, and they can use some support. By offering gift cards, or gift certificates, you can help your fellow business people. A side benefit is that you receive backlinks to your website from a local business, which can increase your opportunity to have your MSP website result from a local search.
Don't ignore the 'smaller' holidays. While the big three holidays get most of the attention, there are many non-major holidays you can frame your MSP marketing around. Doing so may allow you to get more bang for your marketing bucks because, unlike the major holidays, you have less competition from retailers' flashing signs and slogans.
Continue to Promote Your MSP
While it is true that the holiday season slows down business for most industries, this is typically a temporary situation. Instead of stopping your marketing and waiting for things to pick up, continue to market your MSP to keep top of mind (successful marketers never take a break). Doing so is critical to being the MSP they call once the holidays are over. Finally, if you're concerned about your budget during the seasonal slowdown, here are some tips to promote your MSP on a budget.
If you're unsure how to develop your marketing plan, whether seasonal or long term, we can help. JoomConnect is the premier marketing agency for MSPs; we understand what it's like to watch business grind to a halt at the end of October. We also know it doesn't have to be this way. Call 888-546-4384 today and let us show you how to keep the phone ringing regardless of the time of year.
Comments
No comments made yet. Be the first to submit a comment