JoomConnect Blog
JoomConnect is the Marketing Agency for MSPs. We strive to help IT companies get more leads and grow. We rock at web design, content marketing, campaigns, SEO, marketing automation, and full marketing fulfillment.
Telling Stories (3): Deciding How to Tell Your Story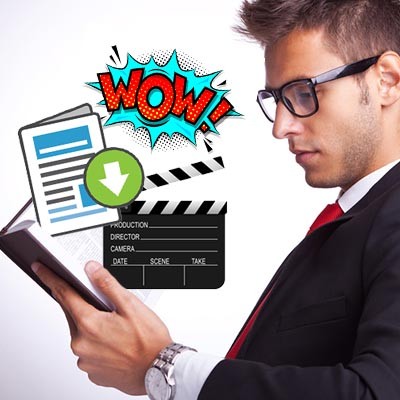 Businesses everywhere are learning what many cultures have known for millennia: one of the most powerful tools for creating a lasting impression is a simple story. In our Telling Stories series, we'll explore why stories are such a powerful inclusion to a B2B marketing strategy, and how you can incorporate them more into your own efforts. Below, Part 3 covers how many new methods you have to tell your story, with the assistance of today's solutions and technology.
Similarly to the plotline considerations discussed in Part Two of this series, you need to take all of your available options into account when deciding upon a medium. There are many mediums to leverage for your different marketing initiatives, as we referenced in Part One as well.
Written Word Content
Books and other written media are some of the most familiar conduits of storytelling that we have. As you are marketing your business, you can take advantage of this in many ways. Blogs, case studies, whitepapers, and many other materials all require some skill with the written world to properly leverage - but when leveraged successfully, can provide a solid foundation to build your content strategy around.
For instance, including written content on your website not only provides consistent proof of your expertise, but also can assist your search engine optimization efforts.
Hard copies of this content can also add the benefit of a physical reminder for your clients and prospects. That way, they don't even need to access social media or your website to review your materials - your letters, case studies, and/or whitepapers are sitting there on their desk.
Much like a child's storybook, your written content has the potential to change your audience's worldview. As it illustrates the situation that your customer very well could find themselves in, they learn the solutions needed to get rid of the Big Bad Business Obstacle in their way, and find out that you can be their knight in shining armor. Speaking of illustrating things…
Infographics and Images
Pictures are incredibly useful to incorporate into your marketing materials, and there are considerable scientific conclusions to support this statement. With numerous studies leaning toward similar results, there are some clear benefits that you can, well, see to impressions and memorability by adding visuals into your content strategy.
This is because, in layman's terms, these two kinds of content are fundamentally different. Because images can very clearly show what you're trying to tell with your content, it not only adds additional context to what you say, it also adds the benefits of double reinforcement.
This is especially useful when you're trying to make a point - sure, we all realise that one million is larger than, say, ten thousand, but when you see these two numbers represented visually, side-by-side…
...the real difference is much more pronounced. This is also true of how the content is processed by the human eye.
Furthermore, your use of images can also impact the view your audience has of your brand and your company culture.
For instance, you wouldn't expect a service provider that focuses on high-end, prestigious firms to suddenly begin marketing themselves with an animated dinosaur, would you? Probably not, because that doesn't communicate the prestige that a respected firm wants to associate with their brand, regardless of how well the service provider performs.
On the other hand, many MSPs that target SMBs will want to be seen as helpful and reliable, so an approachable character is often an okay choice, whether that's a mascot, or more likely, a logo.
Videos
We have discussed the effectiveness of videos extensively in the past, with no signs of stopping… mainly because there's no indication that we should. Videos of all kinds have proved useful in all parts of a marketing strategy - from the point where someone first learns about a company, all the way to retaining a loyal client with entertainment through company culture and added value through handy how-tos and tips.
It also doesn't hurt that video content can cover a wide range of topics and follow a wide range of approaches. As described above, it can be used for company culture and how-tos, but it can additionally be used to promote or explain services or solutions, present service benefits in a more accessible way, or tell any kind of story you really want to tell.
Again, we've talked about the use of video in depth before, so make sure you take a few moments and explore more about how an MSP can leverage it here.
Live
In the age of digital marketing, it can be easy to overlook the benefits of a great many options that aren't the most high-tech, but haven't lost any of their effectiveness in their age, either. One of these options is old-fashioned networking: going where your audience is and getting involved.
Let's face it… a story without an emotional investment isn't a story, it's a series of facts. While facts may be enough to appease the business sense of your audience, you can't forget that you're still marketing to the human decision-makers within that business. Therefore, your story needs to touch on the emotional points that matter to them.
One of the easiest ways to gauge this is to rub elbows with the people you're trying to market to, and making the most of these opportunities by stepping up and addressing them, either face-to-face or presenting to an audience. Speaking at live events is a great way to not only share the benefits of your solutions, but to show how passionate you can be about assisting others with them.
Combining These Options to Make More:
Some of your options are actually combinations of these other mediums. Leveraging everything that makes these other methods so powerful and combining them into one approach makes these marketing formats very effective, assuming that they're done correctly.
Comics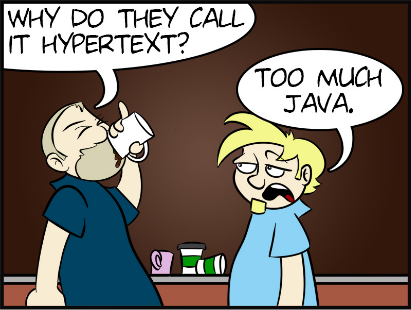 For example, instead of propping up written content with images, you can use them in tandem to illustrate this content in a more influential and impression-generating way. Instead of describing a hypothetical scenario to your audience, an everyman character can experience it before their eyes.
By putting your everyman (a character that is easy for an audience to empathize with and replace with themselves in their mind) through a realistic version of events, your audience will be engaged and ready to see themselves experiencing the same kinds of things, while still following the story arc we describe in part two of this series.
Infographic Videos
Technically speaking, we've already touched on these, but it still warrants repetition. Videos and content go exceptionally well together, so it only makes sense to combine them into one impression-generation machine. Creating a video that provides visual input as the blog is read aloud makes the lessons the blog teaches 'pop' out a little more, which only helps your audience retain them.
Webinars
One of the nicest things about hosting a webinar is that it isn't a one-and-done action (or at least, it doesn't have to be). While the initial event is clearly that, an event, the footage is very easy to recycle as evidence in other pieces of content.
Sharing it later as a part of your social media is almost a flashback in the narrative that your social media creates, and you can embed the same video into written content that discusses the same ideas. As a result, your message is repeatedly communicated to your audience, generating the impressions needed for them to continue on their way to your services.
Again, these are all just suggestions, a list of the ways you could potentially diversify the way you tell your stories. Just like some readers prefer the book to the movie, and vice versa (and we haven't even mentioned audiobooks yet) some of your prospects will respond to one type of content over another. Plus, improvements in technology are always creating new ways for you to tell your story.
This means that there will almost always be something new to continue dabbling in, which will only require your business to create new stories to tell.
Have you experimented with different ways to tell your story before? Want to learn more about these different methods? Reach out to our team! We can help you determine how you want your story to take shape, and provide the marketing tools and services to help you do it! Give us a call at 888-546-4384 to learn more!
Comments
No comments made yet. Be the first to submit a comment