JoomConnect Blog
JoomConnect is the Marketing Agency for MSPs. We strive to help IT companies get more leads and grow. We rock at web design, content marketing, campaigns, SEO, marketing automation, and full marketing fulfillment.
Choosing the Best Live Event for Your Marketing Goals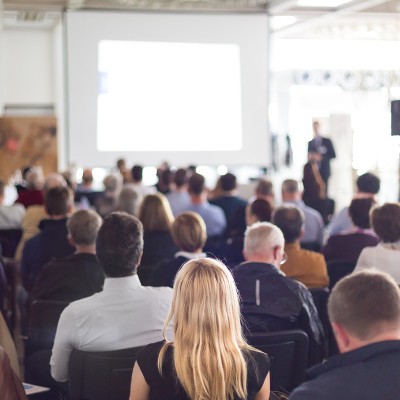 Few marketing endeavors are as nerve-wracking as hosting and/or attending a live event. Lunch and learns, webinars, podcasts, and trade shows are four events that have proven to be successful initiatives for managed IT service providers. Each type of event has different attributes that must be considered when deciding on which event is right for your MSP's marketing goals. Here's a breakdown of these four events to help you make the best choice.
Lunch and Learn: A lunch and learn is a presentation given over a lunch, catered and paid for by an MSP for a group of prospects with the intention of educating them about solutions to a pain point with the secondary goal of the MSP selling their services. They are free to attend and do not require attendees to purchase anything.
Who: For the most part, you're going to want 10 prospects and 2 current clients in attendance. For MSPs who have multiple service areas or cover a huge territory, realize that people aren't going to want to drive 3 hours to a Lunch and Learn.
When: Lunch and Learns can be tricky to time well. For the best chance of a good turnout, try to avoid days close to the holiday season, pretty much eliminating Thanksgiving through New Years. With so many people out of the office or too preoccupied with the season to really consider adding new services, it's best to just put your efforts into planning an event earlier or later. Oh, and for those of you who live in the north, you might want to avoid January through March lunch dates. There is nothing worse than having a bunch of people who want to attend your event but are forced to cancel last minute due to a snow storm.
Where: Depending on your situation, you'll want to host your lunch and learn in your company's conference room. If you don't have the right setup for your event in your building, a small room at a hotel or a reception area will have the facilities you need for presenting.
Why: Lunch and Learns are a great way to become personally acquainted with a prospect. It is a face-to-face meeting, making it easier to gauge how your presentation is received. Another consideration is that lunch and learns require the most effort from your prospects. You'll want to make sure that lunch and learn topics should be educational, covering an issue or challenge that is a major priority to your target audience. Business continuity and network security are two strong topics.
Webinar: Hosted using one device and shared to others via a web-based platform, webinars are electronic, live presentations used by many B2B marketers to educate their target audience about overcoming challenges. They are generally free but require attendees to register.
Who: The goal of webinars is to get as many people in attendance as you can. Of course, you're going to send invitations to suspects, prospects, and leads. Since you likely have current clients that would benefit from the information you're going to be presenting, it's worth it to include them in your webinar invitation.
When: Unlike with lunch and learns, webinars only require your target audience's time. This means you don't really have to worry about inclement weather. Next thing to keep in mind is that like with most events, you'll want to avoid holidays and Mondays. Thanksgiving through New Year's aren't quite as taboo as with lunch and learns but you'll get better attendance when people aren't preoccupied with the holidays.
Where: Most webinars are presented from the comfort of your own office, using the webinar platform of your choice - some of the most popular of which include Google Hangouts, GoTo Webinar, Adobe Connect, WebEx Event Center and AnyMeeting.
Why: Because of the visual component, IT service providers should choose webinar topics that are important to your audience and educational in nature. Since webinars are so easy to leave if you're not feeling the presentation, MSPs must avoid a sales-pitch at all costs. Webinars require users to register, making it a great way to turn suspects/prospects into qualified leads.
Podcast: Usually a regularly scheduled series, podcasts are audio files that are recorded and shared to listeners who can either stream them or download them.
Who: Similar to webinars, you'll want to invite suspects, prospects, leads, and current clients. Also, you'll want to try and get the word out to anyone who is interested in listening. Social media is a great way to share podcasts. Even more convenient for users to attend than a webinar, podcasts can be downloaded and listened to at a later date.
When: Picking a time and day that works for every episode is going to be a challenge. Since Monday and Friday are the days usually involved in long weekends, Tuesday through Thursday are good. Ideally, you'll want to avoid lunchtime or too close to the end of the day. The most important thing about 'when' for a podcast is maintaining a schedule and updating subscribers on new releases.
Where: This might vary a bit based on the resources available to those creating it. Depending on the situation, you may either have the equipment to record a podcast or look into renting a professional studio.
Why: Because most podcasts have multiple episodes in a season, you have the opportunity to touch on a challenge or a few challenges each episode. Unlike single events, like webinars and lunch and learns, podcasts allow you to increase your audience over time. Also, you can format your podcast differently from one episode to another. For example, one week can be a Q&A session and the next one, an interview with a peer. The possibilities are numerous!
Trade Show: Generally grouped by industry or market, trade shows are exhibitions that allow attendees to further their education on specific aspects of that industry. They often offer vendors/sponsors who attend the event to raise awareness about their services or products.
Who: Trade shows generally only have attendees that are members of the industry/channel that is hosting the trade show. If your MSP has prospects/clients in that industry, you can promote your attendance and ask them to visit your booth, if you have one. For the most part, however, the hosts of the event handle invitations.
When: Trade shows are usually held annually or semi-annually. The exact dates depend on the event, size, and location.
Where: In general, trade shows are for a given region or metropolitan area.
Why: Trade shows are different than the other live events because it is not really a presentation on your part unless you're asked to speak at the event. Instead, you'll have educational literature and promo items. Remember, the coolest promos definitely make you memorable. In most cases, there will be a list of attendees and registrants given to the businesses that sponsor the trade show which can give your prospect list a refresh.
The majority of the time, the success of an event is a direct result of proper planning. For example, in order to host a lunch and learn, you'll need to make sure you have a marketing list. Do you have permission to email the target market? If not, you might want to consider how you're going to reach them before booking caterer or putting a down payment on a hotel meeting room.
Events like this take a lot of time and effort, but when executed properly, can be extremely effective. Just think about your goals for the initiative, then pick the event that you feel would be best for the topic and the target audience. If you're unsure as to which event is right for your MSP's marketing, you can contact us at: 888-546-4384.
Comments
No comments made yet. Be the first to submit a comment