JoomConnect Blog
JoomConnect is the Marketing Agency for MSPs. We strive to help IT companies get more leads and grow. We rock at web design, content marketing, campaigns, SEO, marketing automation, and full marketing fulfillment.
How Marketing Your MSP is Like Baking a Cake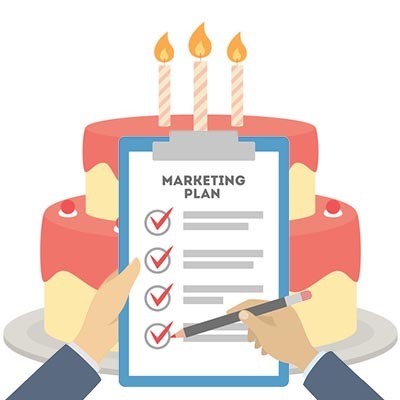 "Marketing… how hard could it be, right?"
This is the position that many business owners take when they decide that it is time to market their services. They figure if they just have a website, a few social media accounts, and keep their doors unlocked during business hours, they'll be set. Unfortunately for these business owners, they don't have someone to show them the right way of marketing - having a plan.
Why is a MSP Marketing Plan So Crucial to Success?
There are tons of reasons that your marketing needs to be shaped around a carefully constructed strategy. We'll get into the specifics in a moment, but for now, I want you to consider a grocery shopping trip.
One of the key components to any truly successful grocery shopping trip is the list that one makes of the items that they need to buy. Out of milk? Put it on the list. Running low on eggs? List. Something special that you want for dinner? Add it to the list. In many ways, a marketing plan is to your business' initiatives as your grocery list is to your shopping trip - it helps to keep you organized and on-task.
It does so in multiple different ways, as well.
Planning a Winning MSP Marketing Strategy
There are many advantages to creating a comprehensive marketing plan before you undergo your marketing activities.
For instance, by fully planning how your marketing will take shape, you are better prepared to make decisions using fact-based analysis, mitigating risks brought on by your own preconceptions. As a result, you will more effectively be able to optimize a variety of other crucial decisions that you will have to make.
Let's return to our grocery list analogy for a moment, assuming that you want to bake a cake for your staff. This will take some doing.
Understanding Your Audience
First, you need to do a bit of research. It simply wouldn't do to bake a peanut butter lava cake if one of your team members had a crippling peanut allergy. You need to make sure that you are using the right tools to present the right message to your audience - otherwise, your efforts will be misplaced. Just as when selecting the right kind of cake recipe, you need to carefully match your marketing efforts to your audience… which will require you to understand what makes them tick. Check out our blog on how to do so!
Identifying Your Business and Marketing Goals
It is also important to recognize why you want to accomplish one particular goal over another. Why is it that you are making this cake? Has your team been particularly effective at their jobs and you are trying to reinforce that efficacy? Are you trying to cultivate loyalty through a positive experience? Should your team see this cake as a simple perk of the job, or is there another reason that you want to treat them to cake?
These are the questions you need to ask yourself for every marketing effort you put out. Otherwise, it could be easy to inadvertently set these efforts back You may also find it helpful to keep these goals side-by-side throughout this process to collect insights into how each can be accomplished. Learn how to come up with better, smarter goals by reading this series!
Spending Smarter
Of course, budget is always going to be a concern, whether you're baking a cake for your staff or planning your next marketing initiative. It simply wouldn't do to expend all of your available marketing budget and resources all at one point during the year. Staggering out and pacing your endeavors to ensure funding lasts throughout the year will allow you to make the most out of your available marketing budget, in turn.
The same can be said of your cake and its ingredients. Sure, you could buy some really fancy flour, edible gold leaf, or buttercream frosting that has been sung to in an ancient language, but would this be a sustainable route to take? Investing in these ingredients might make one heck of a cake, but again, that's just one cake… and as good as that cake might be, is it going to have as much impact as more, pretty good cakes?
In your marketing, you need to always have your potential return on investment in mind - otherwise, your activities won't be worth the financial toll to your budget. Need to measure your ROI? Check out this blog!
Keeping Track
Okay, so you've identified the best kind of cake to make, procured all the ingredients, and have enough funds for at least three more cakes this year. Your job is far from done, however, as you need to make sure that your future marketing initiatives are as effective as possible. An excellent means of doing so is to evaluate how well-received your cake was - did your recipients truly enjoy it, or would they have actually preferred a pie?
This is one of the most important points of any marketing campaign: when you review it, revise it, and re-run it. How can your efforts be focused to be more effective? Try it out on the next run of your campaign, note any changes, rinse, and repeat.
What If I Don't Know How to Do Some of This?
This is a pickle that many business owners find themselves in. Marketing isn't as easy as it looks, as we have just established. Fortunately, you have a few other options.
We can assist you with our MSP Marketing Plan Service, paired with our Virtual Marketing Manager service. Not only can we design a winning strategy for your marketing to follow, your VMM will handle the fulfillment of your marketing needs on your behalf, allowing you to focus your energies on running your business.
Interested in learning more about these services? Reach out to our team at 888-546-4384, or request a demo.