JoomConnect Blog
JoomConnect is the Marketing Agency for MSPs. We strive to help IT companies get more leads and grow. We rock at web design, content marketing, campaigns, SEO, marketing automation, and full marketing fulfillment.
YouTube 101 - Curating Your Playlists [Social Media 101]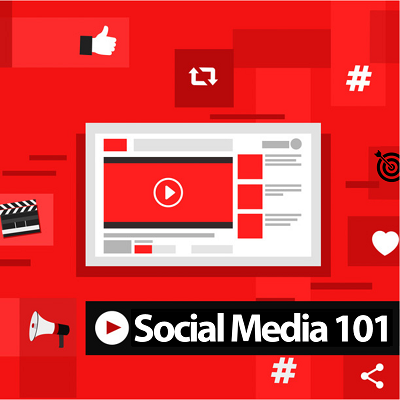 Video marketing is an extremely powerful tool for managed service providers to take advantage of. If you're using videos as you should be, you'll have a large collection of videos throughout your website, all housed on your company's YouTube channel.
If you want your videos to get more views and be noticed by your target audience, you need to be creating YouTube playlists, then featuring those playlists on your channel's homepage.
Modern Binge-Watch Culture
To understand why YouTube playlists are so important, we first need to talk about the cultural shift towards "binge-watching".
Streaming services such as Netflix have changed the way that we consume content. Instead of waiting every week for our favorite show to come on TV at its designated time slot, individuals can stream entire seasons back-to-back after they air and are posted online - all at their own convenience. Because of the automatic setting on many of these streaming services to automatically play the next episode of a television show, it actually takes more effort to STOP watching a show!
Amongst younger generations who have all but turned away from cable television, binge watching is the new norm. A survey conducted by Deloitte of individuals 14 years and older found that nearly three-fourths of Americans binge-watch videos (defined by the survey as watching three or more episodes in a single session). When looking at only Millennials, that number jumps to about 90%. Through this survey, they also found that the average watch time in a single sitting of those between the ages of 14 and 33 years old was FIVE HOURS!
Your business can take advantage of the power of binge-watching by creating YouTube playlists.
YouTube Playlists
Binge-watching doesn't only occur on media service providers like Netflix, Hulu, and Amazon Prime Video. This phenomenon also is quite common on YouTube, and becomes easier when you create playlists.
Think of a YouTube playlist like a show on Netflix. A Netflix show is a single topic (a particular television series) organized in a logical manner (from the first episode of the first season to the last episode of the last season) that - if you keep it the default settings - will automatically play the next video (episode) after the one you are watching finishes. Imagine if the episodes for a show were not in chronological order under the show. Or worse...imagine if they were scattered throughout the entire platform and you had to search for each one to watch it! You probably wouldn't want to binge-watch shows anymore!
Curating your own playlists on your company's YouTube channel allows people interested in your videos to very easily binge videos that you post on a particular topic that they're interested in. This can generate your videos more views, and allow your audience to discover more about your company with little effort.
As a bonus, YouTube playlists are indexed within YouTube's search function twice. This makes it more likely that a person interested in your content's topic to discover the content on your channel.
How to Create Playlists for Your Business Page
Creating playlists for your business' YouTube page is as easy as creating them for your personal page.
To create a playlist for your page, make sure you are signed into the Google account that is connected to your YouTube channel. Then, navigate to a video you want in one of your playlists. Under the video itself, you should see the "Add to" button. Choose "+ Create new playlist" from the dropdown menu, then enter the name you want for your playlist. Now, choose your channel privacy settings. Since this playlist is meant for your Business page, choose the "public" option, then click "create".
Your playlist has been created! You can now add additional videos to the playlist. You will find the playlist name under the dropdown menu under the "Add to" button.
Note that you can include videos by other channels in your playlists. For example, if your local radio station interviewed a member of your company and posted it on their YouTube channel, feel free to put it in a relevant playlist! This will allow people to more easily find and watch that video if they're starting their experience through your business page rather than your local radio station's business page.
There doesn't seem to be a limit on the number of playlists that YouTube allows you to create, or the number of videos in each playlist. However, keep in mind that too many playlists or too many videos per playlist may cause people to quit "binging" before they reach the end of your playlist.
Bonus Tip: YouTube playlists have their own metadata, which can aid in where you rank when someone searches for keyword(s) related to your playlist topic. To add basic information about your playlist, head to your Business' page and go to the "Playlist" tab. Click "Edit" on the playlist you want to change, and add a description. You can also re-order your playlist videos here to put them in a more logical order.
Featuring Playlists on Your YouTube Homepage
All public playlists that you've created under the Google account tied to your YouTube channel can be accessed through the "Playlists" tab on your channel's page. You should also choose some to feature on your page. If you don't, your page is going to look pretty blank.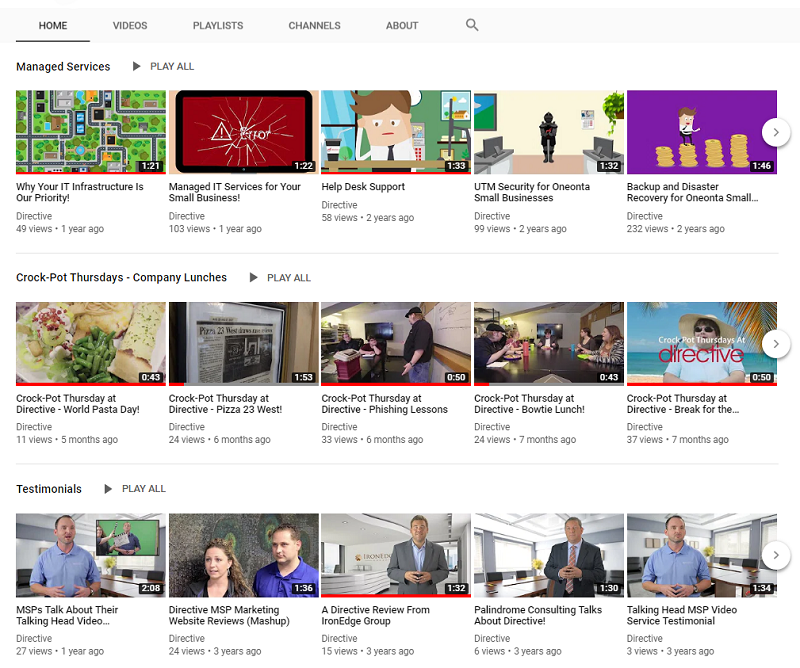 As you can see from the screenshot, we have three different Playlists featured on our YouTube page that are in three distinct categories. This way, a person interested in videos in any of those three categories could easily watch multiple videos, back-to-back, with very little effort.
To feature those playlists on your Business' channel, first make sure that you have "channel customization" turned on. This allows you to customize the layout of your channel. To do this, all you have to do is select your account icon, then "My Channel", then select "Customize channel".
After this is turned on, click your channel's "Home" tab, click "Edit channel", then click "Add a section" at the bottom. Under "Content", you would select "Playlists" from the dropdown then choose the horizontal row or vertical list layout. All you have to do is select which Playlists you want to feature, and you are all set!
Need More Help?
If you would like more information about using a particular social media platform as a small-to-medium sized MSP, whether it's Youtube or something else, you can head over here and fill out our form, or reach out to us at 888-546-4384.
We also have multiple different services that can help get you on the right track when it comes to your company's own YouTube page. Whether you need help getting your channel set up and branded, or just need to start filling it with some content, we have services that can assist you with what you need. Contact us today to schedule a demo.
Comments
No comments made yet. Be the first to submit a comment