JoomConnect Blog
JoomConnect is the Marketing Agency for MSPs. We strive to help IT companies get more leads and grow. We rock at web design, content marketing, campaigns, SEO, marketing automation, and full marketing fulfillment.
CPT: Healthy AND Delicious!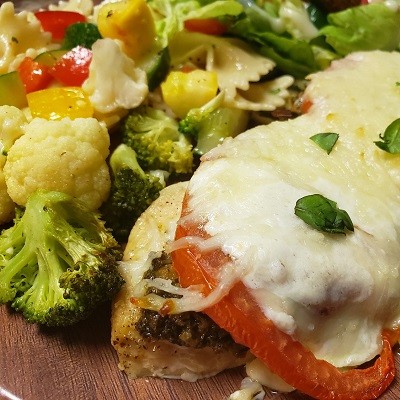 With the weather warming up and the layers coming off, everyone starts to think a bit harder about the food that they're putting into their bodies. Those of us that have difficulty doing this usually struggle because healthy foods don't always taste quite as good as fatty foods and sweet treats.
What if we told you that we have two recipes that you can eat without feeling too guilty, AND enjoy eating them? The two we are talking about - a Skinny Chicken Pesto Bake and Garden Bow Tie Salad - are packed with plenty of veggies, and are a filling, low-calorie alternative to many similar, equally tasty meals.
Give them both a try using the recipes below:
Skinny Chicken Pesto Bake
Ingredients
2 16 oz total boneless, skinless chicken breasts
kosher salt and fresh pepper to taste
4 teaspoons Skinny Basil Pesto
1 medium tomatoes, sliced thin
6 tbsp 1.5 oz shredded mozzarella cheese
2 teaspoons grated parmesan cheese
Directions
Wash chicken and dry with a paper towel. Slice chicken breast horizontally to create 4 thinner cutlets. Season lightly with salt and fresh pepper.
Preheat the oven to 400° F. Line baking sheet with foil or parchment if desired for easy clean-up.
Place the chicken on prepared baking sheet. Spread about 1 teaspoon of pesto over each piece of chicken.
Bake for 15 minutes or until chicken is no longer pink in center. Remove from oven; top with tomatoes, mozzarella and parmesan cheese. Bake for an additional 3 to 5 minutes or until cheese is melted.
Recipe courtesy of Skinny Taste
Garden Bow Tie Salad
Ingredients
1 medium cucumber
1 medium yellow summer squash
1 medium zucchini
1 medium sweet red pepper
1 medium green pepper
4 cups fresh broccoli florets
3 cups fresh cauliflowerets
1 small red onion, finely chopped
2 packages Italian salad dressing mix
4-1/2 cups uncooked bow tie pasta
1/4 cup olive oil
1/4 cup red wine vinegar
3/4 teaspoon salt
1/2 teaspoon pepper
Directions
Wash the first five ingredients but do not dry; chop and transfer to a large bowl. Add remaining vegetables. Sprinkle with dry dressing mix; toss to coat. Refrigerate, covered, 4-6 hours or overnight.
Cook pasta according to package directions. Drain; rinse with cold water. Add to vegetable mixture. In a small bowl, whisk remaining ingredients. Add to salad; toss to coat.
Recipe courtesy of Taste of Home