JoomConnect Blog
JoomConnect is the Marketing Agency for MSPs. We strive to help IT companies get more leads and grow. We rock at web design, content marketing, campaigns, SEO, marketing automation, and full marketing fulfillment.
MSP Marketing: Add YouTube to Your SEO Plan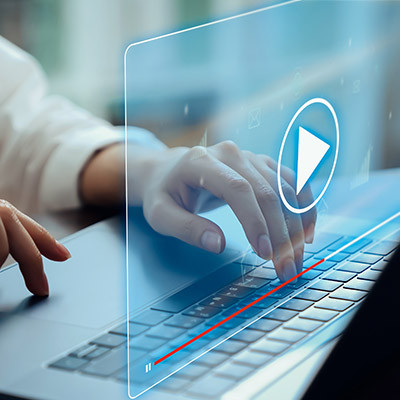 Has your MSP marketing hit a wall? Perhaps it's time to try something different? Videos have long been treated as a tool for engagement, but as Google incorporates video as part of its search results, consider adding YouTube as part of your SEO plans.
Your MSP Marketing Can Benefit from YouTube
A frequent refrain of many managed service providers regarding content creation in their MSP marketing campaigns is that they aren't in the "entertainment" business. This attitude reflects a fundamental misconception about the goal of marketing. Marketing's goal is to gain the attention of prospective customers and generate leads. How can you break through the noise of your competitors, if not by being more informative or at least entertaining than they are?
Of course, there is a difference between creating "fluff" pieces with little value and creating content that informs, and make no mistake, Google knows the difference. Google rewards websites whose content provides searchers with the information they are looking for by granting them increased prominence. With increased importance comes the increased opportunity to make conversions. Ultimately, if you can't keep the attention of your audience, then you won't be able to convert them.
Modern customers are media savvy and are becoming more comfortable with video content. In fact, they are beginning to expect to receive their information via visual mediums such as video. It is fair to say that businesses that ignore video are putting themselves at a disadvantage. This is particularly true when it comes to YouTube, for example.
According to statistics:
YouTube has over 122 million active users daily.
1 billion hours of content is watched across the world every day.
62% of YouTube users in the USA access the platform on a daily basis.
Every minute, more than 500 hours of new content is uploaded onto YouTube.
On average, a visitor spends 14 minutes and 21 seconds on YouTube every day.
One of the biggest challenges regarding marketing your services as an MSP is gaining and retaining your audience's attention. Successful marketing is a numbers game, and the longer you can keep an audience interested in your content (and on your website), the more opportunities you have to convert, and make a sale.
How YouTube Can Help Your SEO
One thing many MSPs may not be aware of is that YouTube videos can and are being shown as search results, the same way that written content such as your blogs are shown. Since few MSPs are currently investing the resources in creating videos, there is a strong possibility that you could gain a substantial foothold and be dominant in this type of marketing. Here why:
1. Posting on YouTube Will Help People Find You on Google
If you've been searching on Google, you may have noticed that there has been a significant increase in videos being shown as part of your search results. This is because YouTube is a part of Google, so it makes sense that they would incorporate it as part of their search technology. Here's an example: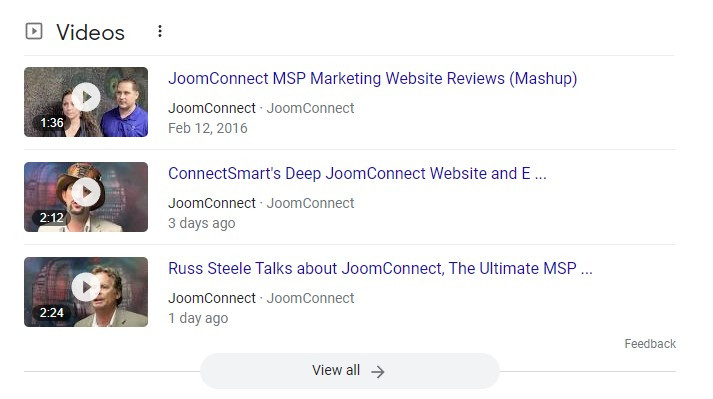 One thing to remember is that Google's goal is to provide searchers with answers to their questions, so it makes sense that the more options you give Google, the greater the chance that at least one piece of your content (blog, social media, or video) will be shown as a search result.
2. YouTube Will Expose You to a Larger Audience
Let's face it, despite the mantra of content being king, most people focus on written content. As such there are large swathes of business people who simply don't have the time or inclination to read a blog. The goal of SEO is to get your website seen by as many people as possible, and as such you have to meet them where they are.
As we have seen that video has a high engagement potential, this can make video an effective supplement to your traditional content creation. So while it is expected to create written content, your marketing should be adjusted to better serve your customers, and increasingly this is on YouTube.
3. YouTube Makes it Easier to Acquire Qualified Traffic
Marketing aims to acquire qualified leads for your MSP services, that is, leads that seek you out, as opposed to you trying to convince them to let you communicate with them. Traditionally this is known as inbound vs. outbound marketing and the advantage online marketing brings to your business.
The advantage of YouTube is that it offers a simple way to obtain qualified leads and retain them and keep them informed of your business happenings. Like your blog's subscribe option, YouTube provides a subscribe button, enabling you to give businesses interested in your services an easy way to remain informed.

4. Videos Have Higher Conversion Rates
If your website has been suffering from a high bounce rate, one option (besides increasing the quality of your written content) is to add a video to your website. Video receives 20% more clicks than images, giving your marketing a better ROI by having a higher clickthrough rate (CTR). Moreover, once visitors arrive on your website, they spend, on average, 5X longer looking at videos than other types of content. However, simply adding a video to your homepage is using video at a rudimentary level, as opposed to what we have been discussing as a tool to drive traffic to your website.
What Types of Videos Should An MSP Produce?
Now that you have decided to create some video, the next question is what kind? In many ways, your video content can mirror your written content, that is, provide different types of information. For example:
Training & Walkthrough Videos - As the title says, these videos provide educational value and training to your audience.
Q&A and FAQ Videos - This type of video gives a generalized overview of questions asked about a particular topic, and the answers to them.
Event Coverage Videos - The next time your MSP hosts or attends an event, whether it's a local one or a trade show, record it. It can help personalize your team, or let potential leads know what you are up to.
Animated Videos - Animated videos are extremely flexible, and relatively easy to produce. To understand what these videos can be like and to get some of your own, check out our MSP Marketing Videos.
Video Testimonials - Social proof continues to be one of the more powerful signals of trust and expertise. While written reviews and testimonials are great, consider asking your clients to create in-person video testimonials adding a more personal touch.
Webinars - While educational, webinars can also be used as a marketing tool. YouTube allows you to livestream your webinar, or even create exclusive content only for your subscribers. Of course, you can also place your completed webinar on your YouTube channel for repeated viewings.
Talking Head Videos - A talking head video is what it sounds like, a person facing the camera and discussing topics of interest.
Recycle Your Blogs - If you have blogs on your website (and you definitely should), you can recap a blog post in a video. Depending on the blog and the content, you could save some of the juiciest bits for the blog post and encourage people to click on a link in your video description to read the full article. If you have our MSP Blog service, you can use the blogs you get from us for this! All it takes is a little time and a webcam.
Are You Using All The Tools In Your Marketing Toolbox?
If your MSP marketing efforts no longer provide the desired results, now is the time to get out of your comfort zone and try something new. YouTube has outgrown its reputation for mindless entertainment and is now a full-fledged marketing tool, allowing your MSP to reach new audiences.
Video content doesn't have to be Hollywood-level productions with the corresponding budget. We can help you produce high-quality video content at a cost obtainable to most MSPs. Now is the time to get ahead of your competitors and gain an advantage in marketing your services. Call 888-546-4384 today to learn more about video and the other marketing tools available to your organization.