JoomConnect Blog
JoomConnect is the Marketing Agency for MSPs. We strive to help IT companies get more leads and grow. We rock at web design, content marketing, campaigns, SEO, marketing automation, and full marketing fulfillment.
Linkbait Your Way to Higher Rankings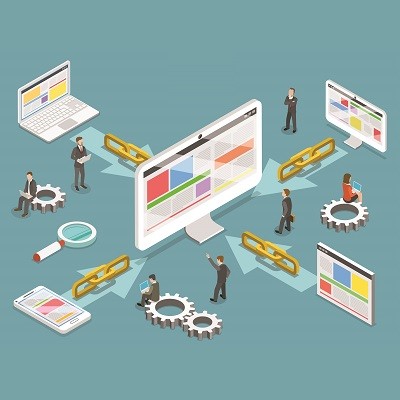 Your website can't be an island all to itself and hope to be competitive. Your site can't be considered truly engaging until other domains (websites) link to it. If variety is the spice of life, domain diversity is the ticket to page one of Google.
This actually applies to MSPs in a big way, as the trend of larger businesses that gobble up other MSPs are really pushing hard to get into the market. These businesses come in with content strategies, aggressive marketing, and engaging social media. If your MSP isn't doing that, you might find yourself buried.
Google Recently Updated its Search Algorithm to Show More Site Diversity
Have you ever performed a search and found the majority of the results from the same website? While it's good for the website, it's not so good for the consumer who is looking for options and only receiving one from the same domain. This can affect the user experience - something Google is laser-focused on and has decided to work on correcting; hence, the latest update.
While these changes are new, and this is only a minor update, Google's goal is to show (when applicable) no more than two results from the same domain, providing searchers more opportunities to find the best business for their needs as opposed to just those with the best SEO program. A side effect of this is that it may allow smaller businesses and their websites the opportunity to rank better if Google's algorithm does what it purports to do.
What this means is that larger websites and businesses which dominated market-share by filling pages of Google with their results will most likely find their click share reduced. This could result in a double-digit loss in click share. While the change may reduce the opportunity for a web site to have multiple results on pointing to their page, it also provides an opening for smaller businesses to gain a foothold... but only if you're positioned to do so.
The question is, how would you position your site?
The Other Domain Diversity
While Google is trying to increase domain or site diversity, there is another type of diversity called domain diversity. This diversity is dependent on the variety of sites that link to content on your site. If you want your MSP to rise to the top of search results, you must give Google a reason to raise it. You have to market your MSP.
Once again it comes to content. Your content needs to be good enough and provide sufficient value to give other people and organizations a reason to share it and link to it. Unfortunately, this isn't as easy as it seems. While creating engaging content is the way to go, and while using social media to increase engagement, you can speed up the process by creating content specifically for linkbait and gain the authority Google values and rewards. Your goal is to create an MSP website that Google will like to E.A.T. up!
What Does E-A-T Mean?
E-A-T is an acronym to explain what Google looks for as part of their ranking process. E (Expert), A (Authoritative) and T (Trustworthy) are the currency Google values when determining your value as a website. Websites with high E-A-T ratios tend to rank higher, and the best way to achieve this is to show yourself and/or your business as an expert in your area of expertise.
What is Linkbait?
Linkbait is content which provides such valuable information, other websites will naturally link to it as a resource to provide their own visitors. As an MSP, an example of linkbait could be a blog, an infographic, a case study, or something which can be used as a learning tool or provide a teachable moment regarding network security.
As we see in the graphic a variety of (high quality) sites, link to your blog post bringing with them their pagerank juice to your site, establishing you as an authority, and ultimately increasing your rank.
How Linkbait Works
Unlike its shady cousin clickbait whose sole reason is to collect clicks or drive traffic to a page, which can then be monetized… linkbait's goal is to create backlinks. Backlinks are important to your rank because search engines "look" at the number and quality of referring domains as part of determining your value as an authority.
Let's face it: unlike a person clicking on clickbait to see '5 Foods in Your Fridge to Throw Away Today,' very few businesses are going to impulse buy a business continuity plan or any of the services an MSP offers. They will need to be convinced, and that will take time and multiple visits to your site. Once they get there, you will need to demonstrate your competence and how you can solve their IT problems.
Your MSP marketing strategy thrives on long-term and return visitors to your site. Moreover, your rank depends on the user experience and value of the information you provide your visitors.
Interested in having custom content created for your website each month? Contact us today to learn more about our Content Marketing service or give us a call at 888-546-4384.
Comments
No comments made yet. Be the first to submit a comment