JoomConnect Blog
JoomConnect is the Marketing Agency for MSPs. We strive to help IT companies get more leads and grow. We rock at web design, content marketing, campaigns, SEO, marketing automation, and full marketing fulfillment.
How to Create Stellar Talking Head Videos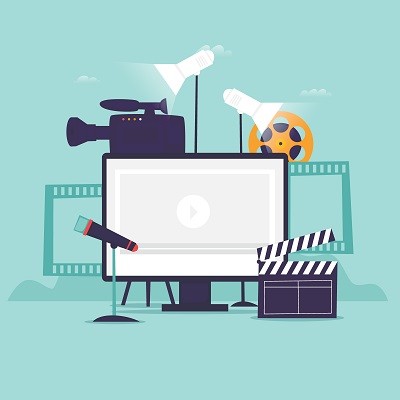 You want to engage your website visitors, and talking head videos are a great way to do this. However, you may be apprehensive about embarking on such a labor-intensive marketing strategy. We won't lie to you; this type of video is a LOT of work to put together. However, that doesn't mean it's something you shouldn't incorporate into your own MSP marketing efforts.
In this blog, we'll go over the basic steps to creating talking head videos to help you plan out your company's own videos.
But First, Why Talking Head Videos?
We already talked about this in one of our previous blogs, but to sum it all up, these videos are valuable for the following reasons:
Give a face to your company
Use your personal brand to promote your MSP
Video content is more desired and better retained
Improve your website
Garner attention on social media
Stand out from your competition
Feel free to check out our blog '6 Reasons Why Your MSP Should Be Producing Talking Head Videos' if you'd like to read about these in more detail.
Now that you hopefully understand their value, let's go over what you need to do if you want to put together your own.
How to Put Together Talking Head Videos
There's a LOT that needs to be done to put together your own set of talking head videos. We'll cover the basics of each of the steps that you need to take, but just know that there are a lot of fine details that are going to vary depending on your experience and capabilities in producing high-quality video content.
Write Your Script(s)
Before you start anything else, you need to write out what exactly you're going to say for each and every video that you plan to produce. "Just winging it" unfortunately isn't going to cut it.
Keep the following tips in mind when writing your scripts:
Plan Your Topic(s) - Before you even start writing, you need to decide what you are writing about. What services do you want to create videos for? What general topics (such as 'about your company' and 'welcome to your website') do you wish to cover? We suggest planning out multiple videos at once that you can shoot in the same day to make the setup and/or studio time you need worth it.
Pick Your Words/Phrasing Carefully - You want what you are saying to sound natural. That means that it shouldn't be too casual… but it also shouldn't be too formal. Find a proper balance between the two.
Time Yourself - When reading your script over, try timing how long each one is. You probably don't want a talking head video that is less than 30 seconds. However, it's also not usually ideal to have one 5+ minutes. These videos should be relatively short (a few minutes each).
Practice Makes (Almost) Perfect - Practice, practice, practice! Don't waste valuable recording time on the day you shoot these videos fumbling over your words because you didn't take the time to learn what you should be saying.
Enunciation, Speed, and Voice Inflections - Once you have the content more or less down, take the time to ensure that your words are easy to understand, are said at a reasonable pace, and don't sound too robotic. You can do a practice recording using your phone to determine what areas you need to work on.
Before you proceed onto the next step, ensure that your scripts are finalized. Making changes to the script while shooting your videos isn't ideal, and you'll waste a lot of valuable (and, often expensive) time doing this.
Pick A Location to Shoot At
Ideally, your talking head videos should be shot in a professional studio (like our own Directive Studios). If you desire to shoot your own, you can look for local studios to partner with and rent studio time for a day.
If this is not something you can afford, you can find a location in your office that has a decent backdrop to use and good lighting in the room.
Acquire the Equipment and Tools Needed to Edit and Shoot Your Video
If you're not shooting at a professional studio in which you get exclusive access to all of the equipment you need to put together a video like this, you're going to need to acquire various types of equipment, including:
Video camera
Microphone/boom mic
Camera support stabilization (e.g., a tripod)
Lighting
Color and calibration tools
A teleprompter or cue cards
Green screen (optional)
Video editing software
Note that some of the above is technically optional (but recommended) if you want to produce high-quality videos.
Another piece to keep in mind is stage makeup. This isn't something that you necessarily have to use, but it can help to cover up any displeasing features you may want to hide such as blemishes, uneven skin tones or shine from the lights. It's easier to hide these features with stage makeup than trying to fix things when editing your footage!
Dress for Success!
Depending on your company culture and brand, you may decide you want to wear your best suit/dress clothes. Or, you may wear a company shirt with khaki pants. Both will work! We just recommend not being too casual - meaning, the jeans and t-shirts can stay at home.
Regardless of what outfit you pick, we suggest ensuring this clothing is free of wrinkles, lint rolled thoroughly if needed, and NOT patterned (this can produce a moiré effect when filmed).
Hair is another important piece to consider. Consider heading to a salon or barber shop a few days before shooting if it's needed, and bring gel to resolve any unruliness and fix any last-minute issues.
Record
The time has come to actually shoot your videos! Hopefully with all of the practice and planning that you've put in, this part will go smoothly.
Something important to note before you leave the studio or take your equipment down for the day is you want everything to be how you like it before you leave and that everything that you needed recorded is. You don't want to get to the editing stage and realize you forgot to shoot a section of video, or a section of video has audio and/or video-related issues. Trying to fix a small part on a different day may cause continuity issues with your videos.
You may decide to shoot some b-roll as well that you can use to add a unique touch to your video. This b-roll should be shot using the same or similar equipment as to not cause any visual continuity issues.
Edit Your Video Together
Now comes the time to edit your videos in your chosen video editing software. The process in which you go about this is going to be different depending on your chosen software, if you shot in front of a green screen, and whether or not you shot at different angles and/or want to include some b-roll.
Before you render your videos, we suggest branding them and watching them through a few times to make sure that there are no "choppy" audio/video elements. You should watch after rendering is complete as well.
Get Your Video Posted On Your Website and Social Media
Once your videos are finalized and rendered, you need to get them posted! They should be added to:
Your YouTube Channel
Your website on relevant pages
Landing pages (as needed)
Shared out through other social media accounts
Promote It!
It's not enough to just publish your videos, you should be promoting them! In addition to posting them on your website and social media accounts, you can announce them via email and/or direct mail pieces too.
Sound Like a Lot of Work?
You don't need to do it alone. Instead, rely on the professionals at JoomConnect. Through our Talking Head Video Service, we handle everything from start to finish, including:
Professional shooting at our own Directive Studios
Script writing/customization
Recording equipment
Professional makeup styling (optional)
Full-scale post-production including editing, custom branding, audio mixing, and more
Videos posted to your YouTube channel and on your Ultimate MSP Website on appropriate pages
We can assist in additional promoting as needed
Check out some examples here of previous videos we have shot, and reach out to us at 888-546-4384 to get started with your own!