JoomConnect Blog
JoomConnect is the Marketing Agency for MSPs. We strive to help IT companies get more leads and grow. We rock at web design, content marketing, campaigns, SEO, marketing automation, and full marketing fulfillment.
Facebook 101 - Facebook Pixel [Social Media 101]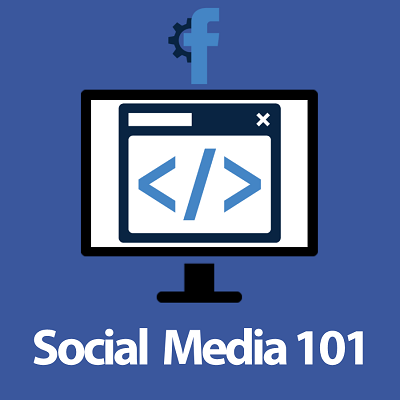 Facebook Ads are a great way to promote your company. The targeting capabilities that you can take advantage of allow you to get in front of those that you're trying to reach. These capabilities only increase if you take advantage of Facebook Pixel.
What is Facebook Pixel?
According to Facebook, Facebook Pixel is "an analytics tool that allows you to measure the effectiveness of your advertising by understanding the actions people take on your website." The Facebook Ads Help Center goes on to list the following things it can help you do:
Make sure your ads are shown to the right people
Drive more sales
Measure the results of your ads
Additional features it can do listed in the Facebook Business article about Facebook Pixel include:
Measure cross-device conversions
Optimize delivery to people likely to take action
Create custom audiences from website visitors
Learn about your website traffic
But What is it Really?
In our opinion, Facebook doesn't do the best job actually describing what the Pixel is, and what it can do to improve the marketing that you do through Facebook. It's great that it does all of those things, but how does it do so? What is it actually doing to help you achieve better results with your Facebook ads?
Let us tell you; we'll try not to get too technical.
Facebook Pixel is a code that you install on your website that links the behaviors that your website visitors take on your website to their Facebook user profiles. After monitoring the actions that these visitors take, it drops a cookie. This cookie keeps track of information about their activity that they took when visiting your website.
You can use this information to retarget users with Facebook ads after they visit your website, and then see what they do on your website after returning there from your ad. With it, you're able to gain more insight into your audience, send targeted ads to those who are familiar with your company after visiting your website, and better track your paid Facebook marketing efforts.
If you are familiar with using Google Ads (formally known as Google AdWords), you can equate it to the Google Ads tag, also known as the global site tag, that you need to install on your website for any remarketing efforts that you run.
How Do I Use This in My Facebook Marketing?
Facebook Pixel is a tool you use for Remarketing, which is when you target people who have visited your website with ads related to what they were doing (referred by Facebook as an Event) when on your website. The current actions that Facebook can track include:
Key page views, such as an article, landing page, or product page
Specific searches on your website
When someone becomes a lead by filling out a form or signing up for a free trial
When someone completes a registration form
When items are added to cart if you have an eCommerce site
When items are added to wishlist
When people enter your checkout flow
When people add payment information during the checkout flow
Purchases or checkout flow completions, like landing on a purchase confirmation page
As an MSP, you may not have an eCommerce website, so some of these might not apply to you. However, the other options are still a great way to take advantage of Facebook Pixel.
How Do I Set Up Facebook Pixel?
First, you need to go to Facebook Business Manager, and go to your 'Pixels' tab under 'Events Manager'. Then, click on the 'Create a Pixel' button.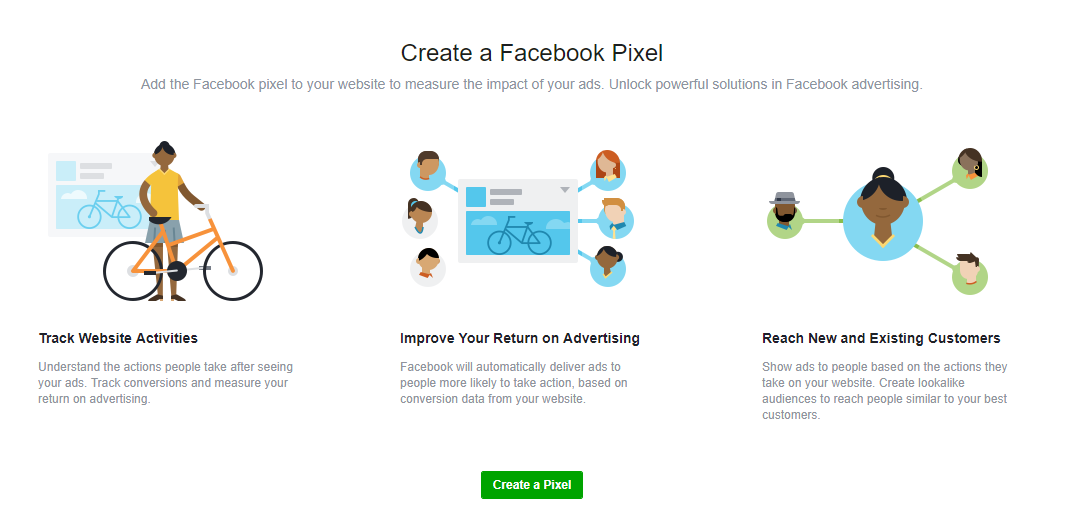 Clicking on that will bring up a popup which allows you to name your Pixel and enter your Website URL, then click the 'Create' button. Once it has been created, it will take you to a new screen.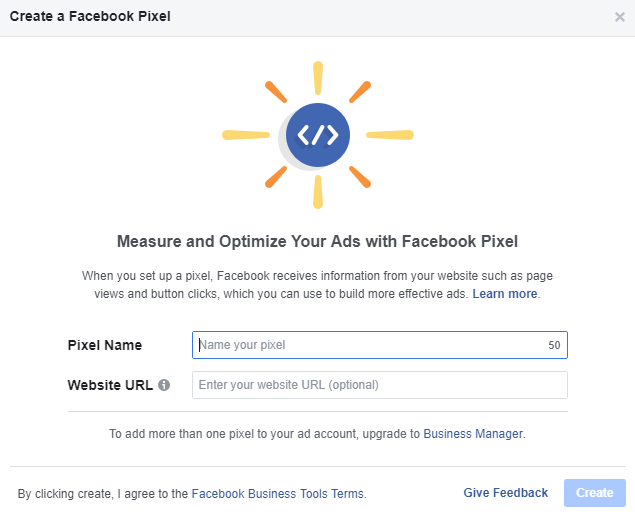 You'll now need to install the Facebook Pixel on your website. You should get the options to "Use a partner account to set up the pixel" which allows you to use a partner that you use that's detected by Facebook. Current Partners that do the work for you include:
3dcart
Bandzoogle
BigCommerce
Drupal
Ecwid
Eventbrite
Google Tag Manager
HubSpot
Jimdo
Joomla
Kajabi
Magento
OpenCart
PrestaShop
Segment
Shopify
Squarespace
Storeden
Ticketmaster
Webflow
Wix
WooCommerce
WordPress
Or you can choose to install it yourself manually by selecting the "Edit your website's code to set up the pixel". You'll be installing the code in the header of your website. Feel free to use the Facebook Pixel Helper, an extension available through the Chrome web store, to make sure that it is working properly.
If you're having trouble installing Facebook Pixel and have an MSP Website Agreement with us, we'd be more than happy to do it for you.
After the code is installed, you can add the events that you want to track. Note that if you want Facebook Pixel to work for specific button clicks, you will need to update your code to tie an event to the action taken. See the Track In-Page Events section on Facebook's Developer's site for more information on doing this.
Remarketing with Facebook Pixel Insights
To actually run a Facebook ad that targets people who have taken specific options, go to the Audience page on Facebook Business Manager and create a Custom Audience using Website traffic.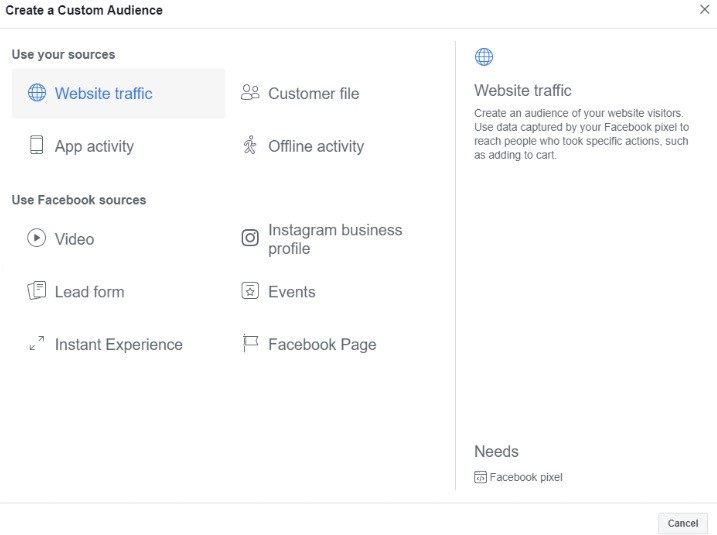 Once you select this option, you can set the parameters that the person who visits your website must meet for them to see remarketing ads. If you save this audience, you can make it an audience choice to have when running ads or boosting your posts.
Improve Your Facebook Marketing Efforts
Check out the rest of our Facebook 101 blogs for more information on using Facebook to market your company. Feel free to reach out to us if you need additional assistance.
Comments
No comments made yet. Be the first to submit a comment