JoomConnect Blog
JoomConnect is the Marketing Agency for MSPs. We strive to help IT companies get more leads and grow. We rock at web design, content marketing, campaigns, SEO, marketing automation, and full marketing fulfillment.
5 Essential Parts to a Quality MSP eNewsletter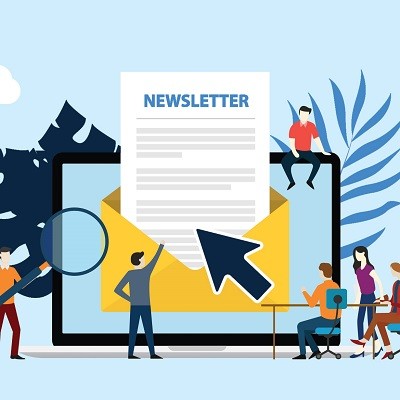 Digital newsletters are a common marketing tactic used by small, medium, and large businesses alike due to the low cost and ease of putting one together. Because of this, it's likely that the contacts on your list are already receiving multiple eNewsletters in their inboxes each and every month.
If you want to make sure that your MSP email marketing efforts don't go to waste, you need to make sure that your own newsletter isn't lacking.
What Every MSP Digital Newsletter Should Include
The following are things that need to be included in your MSP Newsletter if you want your MSP marketing efforts to be worth it.
A Good Subject Line
If you want people to open your eNewsletter, you need to draw them in with a subject line that will catch their attention and make them want to read more. This subject line should also reflect the content in your digital newsletter.
A tip to make your newsletters stand out in recipients' mailboxes every month is to pick a standard format for your subject lines and stick to it. For example, if you receive our JoomConnect eNewsletter (head here to sign up to receive it if you don't!), you may have noticed that JoomConnect's newsletter subject lines always end with "- Tips from JoomConnect". This lets our subscribers know that this is our monthly eNewsletter and not some other mass email communication.
Proper Branding
The general design of your eNewsletter should reflect your brand. Specifically, it helps to have a header with your logo and the respective month. You can also update text colors and accent colors to match your primary and secondary branding colors.
From month to month, this branding should stay relatively consistent unless you're redoing your entire digital newsletter design or rebranding.
Blog Articles
Your blogs are the main part of your digital newsletter. As such, you need to make sure that this part is done right.
For every blog that you include (4-6 is a good number), you should be including the title of your blog, its cover image, the first few sentences of the content to draw them in, and a call-to-action that encourages them to continue reading on your website. To make the most out of that, consider the following advice:
Pick the Right Articles - People aren't going to want to read the blogs you feature in your eNewsletter if you write about topics that they aren't interested in. Check out our MSP Blog Topics series if you need help with picking topics and writing about them.
Link Everything - Aside from establishing expertise, the ultimate goal of your MSP newsletter is to get recipients of it to your website. Because of this, link everything related to that particular blog to the digital version of the article on your website. This includes the title, the image, and the call-to-action.
Use Ellipses - After your blog snippet that you preview, finish with a "..." to indicate that there's more to read.
Links to Your Social Media Accounts
You should be including links to your social media accounts on most - if not all - of your email communication; your eNewsletter is no exception. A good way to do this without taking up too much space would be to include a small section in a sidebar or at the bottom of your content with icons of the platforms that you are on. You can then hyperlink those icons to direct those who click on them to the appropriate account.
CAN-SPAM Compliance Requirements
It's very important that any email communication that you are doing, including your eNewsletters, are compliant with email regulations. The CAN-SPAM Act requires you to do the following:
Don't use false or misleading header information - Ensure that your "From", "To", "Reply-To" information is accurate to your business, as well as your routing information (originating domain name and email address).
Don't use deceptive subject lines - The subject line of your email address should accurately reflect the content of your eNewsletter. As mentioned previously in this article, it can help to develop a standardized format so that those who continue to receive your newsletter every month can recognize it.
Tell recipients where you're located - The email marketing platform that you use will likely put this in by default for you in the footer of the emails that you send out, but just know that you must include a valid physical postal address in your commercial email communications.
Tell recipients how to opt out of receiving future emails from you, and honor their opt-out requests promptly - This is another thing that your email marketing provider will likely include by default for you - an 'Unsubscribe' option for those on your list. This opt-out mechanism is required, must be free, and requests must be honored within 10 business days.
Check out the FTC's CAN-SPAM Act Compliance Guide for Business for more detailed information about what you need to do to avoid violating this law.
What Email Marketing Platform Should You Use to Send Your MSP eNewsletter?
Our top two picks due to cost, flexibility, and ease of use are Mailchimp and Constant Contact. Both of these email marketing platforms are great for digital newsletters as well as other email communication you might be interested in doing. Feel free to check out our blog that compares them to help you decide which is right for you: Comparing B2B Marketing Management Systems (1 of 3): Email
BONUS! If you use Mailchimp or Constant Contact, you can use our email marketing integration Quick Campaign Pro to sync subscribes/unsubscribes and metrics like opens and clicks in your PSA. Check out our service page for more details.
Get Started Sending Out Monthly MSP eNewsletters!
We can build you a digital MSP newsletter that meets - and exceeds - these essentials, and send it to your list every month, through our MSP eNewsletter Service. Check out our service page for more details.