JoomConnect Blog
JoomConnect is the Marketing Agency for MSPs. We strive to help IT companies get more leads and grow. We rock at web design, content marketing, campaigns, SEO, marketing automation, and full marketing fulfillment.
If You Want To Market Your MSP, You NEED to Participate in Social Media—Period.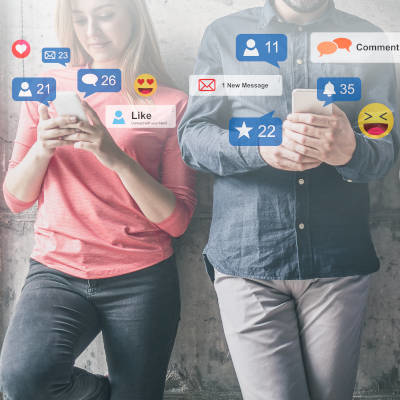 It's been almost 15 years since Facebook opened itself up for the public, and not long after that, it gave businesses the opportunity to use the platform to communicate with customers, clients, and prospects. If you aren't using social media as a part of your online presence, you are extremely late to the game.
We get it though—there are countless excuses to ignore social media (and we have our fair share of complaints about some of the most popular platforms) but it's time to buckle down and get on there and do it anyway.
Why Wouldn't an MSP Use Social Media?
We've heard a lot of excuses over the years. At first, business owners would ask us, "Is it really worth it?"
Of course, for the first few years, Facebook was the main game in town. It was also where people played games, shared pictures of their dinners, and spent their free time. It definitely didn't seem like a place businesses could interact with users—but it was.
The overall buzz of social media shifts over time, but it's still a great way to stay connected with clients and prospects.
If your business is like most, the last year has forced you to make many unexpected changes to adapt to change. It isn't uncommon for companies to have made extensive changes to their organization in order to remain productive since the pandemic started. These changes could include the number of employees in the office, the office's layout, operating hours, and of course, if your business visits clients, etc.
People, including ideal prospects, are spending more time on social media. Online marketing strategies require a social media component. After all, that's where the audience is. That's also where other businesses are putting their marketing efforts, so like anything else, you need to be willing to apply pressure in order to stand out.
Social Media Can Be a Solution For Your MSP
Yes, we have heard all the excuses MSPs make why not to use social media, but the reality is social media is a useful communication tool. Not just for marketing and messaging, but for keeping your MSP top of mind to potential leads. Moreover, while social media is usually part of an MSP marketing plan to help drive traffic to your website, it can be much more than that for your business.
Social media can take up the slack during these trying times due to the lack of word-of-mouth marketing created by social distancing and help you continue to interact with clients, potential, and existing. As a tool designed for communications and engagement, social media should be one of the first places you look as a method to reach out to your customer base.
How the Ultimate Social Media Rig Can Help Your MSP
While social media is all the rage, there are still many businesses—particularly small and medium-sized organizations—who aren't taking full advantage of it.
Our Ultimate Social Media Rig is the solution to this issue and is designed to kickstart your professional social media presence. The Ultimate Social Media Rig gets your initial social media accounts created, organized, and optimized. Our team searches for existing social media accounts that aren't under your control... due to, for example, a former employee setting it up or an automatically-created, but unclaimed, Facebook page.
Once all your social media accounts are created, we link everything together with Hootsuite. Hootsuite is a social media management tool that gives you a single dashboard to manage and measure your day-to-day social media progress. Management and measurement of your social media are critical components of your marketing and messaging strategies. Doing so allows you to understand better what topics and issues clients and potential customers may be interested in learning more about. Once you understand your customers' needs, you're better positioned to leverage content to provide them with solutions to their problems.
Some features of the Ultimate Social Media Rig include:
Setting up and optimizing your business Facebook, Twitter, LinkedIn, and YouTube pages
Creating branded graphics for social media page images and banners
Providing social media and networking best practice training
Social media offers some of the most potent marketing capabilities available and during these times it can be your best chance to be heard and noticed. It's time your business took advantage of it and gained the attention of your customers. If you're interested in investing in social media but are unsure of how to begin, you don't have to learn as you go. If you're trying to launch your business' social media presence, we can help.
Grow Your MSP by Growing Your Audience
We understand that you have had to make an incredible amount of adjustments to your business operations during these trying times. These compromises have had the side-effect of separating you from your customers, and without customers, you can't grow your business. The best way to attract customers to your business is to meet them where they are, and that is social media. Let's help you remain in-the-know and top-of-mind with your audience.
In addition to the Ultimate Social Media Rig, we offer MSP website design, MSP marketing, and lead generation services for your MSP. Call 888-546-4384 today for more information or to schedule a meeting.