JoomConnect Blog
JoomConnect is the Marketing Agency for MSPs. We strive to help IT companies get more leads and grow. We rock at web design, content marketing, campaigns, SEO, marketing automation, and full marketing fulfillment.
MSP Marketing: How To Use Word of Mouth to Find Leads During Social Distancing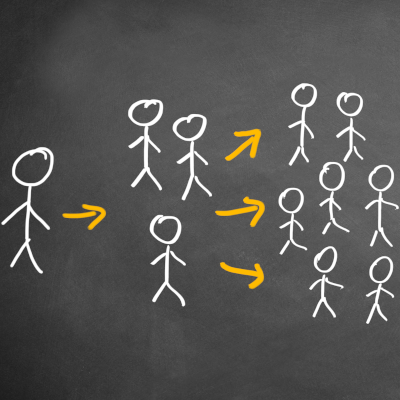 It's not uncommon for professionals in the MSP industry to treat the formal marketing of their business as an afterthought. However, during the current crisis, where social distancing reduces the opportunity for face-to-face contact, and many business owners are focused more on keeping the cashflow going rather than improving and upgrading their IT, having leads fall into your lap may be difficult. It doesn't have to be. Now is the time to develop your online persona and drive lead generating conversations.
Are You Relying on Word of Mouth to Market Your MSP?
When we consult with potential clients about how they find leads, the number one method they usually depend on is via word of mouth. Clients, colleagues, family, and friends tell other people about your managed IT services, and with any luck, someone will eventually give you a call. To mix it up, sometimes you go to your local chamber meetings, hold a presentation, and collect business cards. If you're ambitious, you may sign up for a trade show and try your chances there and hope to generate some interest. Obviously a lot of events have gone digital, and interfacing face-to-face with prospects has become much more of a challenge.
Fortunately, social media offers a means not only to keep 'talking' but to use social media as part of your marketing strategy to generate leads.
Why Word of Mouth Marketing (WOM) Is Important
While word of mouth marketing seems to be a quaint notion people use to sell tchotchkes at community social events, WOM is, in reality, one of the most potent lead generators your business can utilize. For this reason, you still need to use it to promote your MSP, even if you aren't having face-to-face meetings. Here are some reasons why word of mouth marketing is so useful:
92% of consumers trust recommendations from people they know
50% of word of mouth recommendations are a leading factor to a purchase
72% of people trust online reviews as much as personal recommendations
84% of B2B decision makers start their process because of a referral
MSP Marketing in the Age of Social Distancing
One of our ongoing goals is to help MSPs grow and thrive, but now that we are in the "new normal," contactless interactions are the standard, not the exception. This means that face-to-face communication opportunities may need to be curtailed, reducing opportunities for traditionally generated leads. Fortunately, the digital age has provided a wealth of opportunities to still take advantage of word of mouth marketing by updating it. Here are seven ways you can use social media to continue to communicate with potential clients and generate leads.
Five Ways to Market Your MSP Using Word of Mouth
User-Generated Content (UGC): Content created by users of your services. Think testimonials and reviews, but social media comments are also found under this. This content is often a topical, real-time discussion of your business, services, or other topics of interest. Social media platforms such as Facebook, Instagram, Twitter, and others are well designed to provide UGC. When you put the social in social media, your ability to generate leads will grow.
Share Customer Testimonials: Customer reviews provide the type of social proof your MSP needs and can help vouch for your expertise, value, and trustworthiness. Testimonials can help potential customers be more willing to take a chance on you. Here are ten tips for getting more testimonials.
Put Reviews of Your Services on Your Site: Reviews aren't just for pizza and burger joints. They can provide a rating for specific services you offer, such as cybersecurity or backup and recovery, allowing potential customers another reason to take a risk on you. It would be best if you made an effort to manage your online reputation.
Offer an incentive: Like how a deliverable can encourage a lead to complete a form and provide their personal information on your website, it can also encourage customers to participate in your social media accounts. Remember, your content doesn't always have to be MSP-related; it can be about anything your audience may find useful or interesting.
Develop a referral program: A high-performing referral program will pay for any incentives you decide to offer. Here are some tips to drive more leads and make your referral program a success:
It is essential to formalize your referral process.
Make it easy for customers to learn about your offer.
Offer something of value. Make it worthwhile for both parties to take your offer. If you cheap out, then chances are neither parties will bite.
Measure your ROI. Make sure you have a way to monitor and measure how your referral is performing.
Connect with industry leaders: While social media influencers are often associated with fashion divas, they are, in reality, any well-established individuals or organizations whose reputation and opinion are trusted. As an MSP, you work with some of the most well-known and trusted brands in the world. When you leverage those connections, you add more value to your brand and expertise.
As always, content is king: Blogs and social media work well together. Social media thrives on unique and exciting content, just as your blog does. While it is common practice to only link to a blog post, real engagement demands a much higher level of communication. Instead of just posting a link to a blog on your social media, you need to share why you think it is important and encourage readers to join the conversation.
Ultimately, You Must Continue to Market Your MSP
We know during this trying time with so much uncertainty, it is tempting to slow down or even stop your marketing efforts; however, we recommend that you don't do that. Your competitors will not stop their marketing, and they will happily scoop up any potential customers you leave on the vine.
If you're not sure what MSP marketing entails or are interested in finding more leads, updating your website, or developing your social media presence, give us a call at 888-546-4384 and schedule a time to talk.