JoomConnect Blog
JoomConnect is the Marketing Agency for MSPs. We strive to help IT companies get more leads and grow. We rock at web design, content marketing, campaigns, SEO, marketing automation, and full marketing fulfillment.
What to Keep in Your MSP Marketing "Go Bag"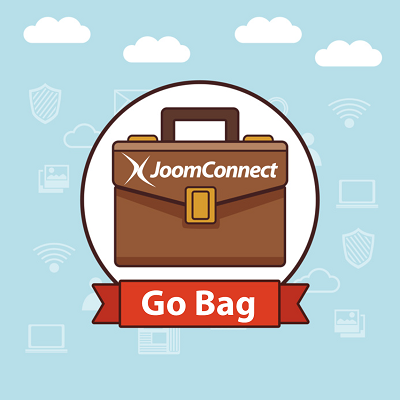 In case of emergency, it is recommended that people pack what is often referred to as a "go bag." This package contains the supplies and provisions they will need to make it a few days without access to other resources.
Of course, you never know when a marketing opportunity may arise, so why not be prepared for that ahead of time, too? Today, we'll review why you should have a marketing go bag, and what you should include in it.
What's the Point of a MSP Marketing Go Bag?
The purpose of a marketing go bag is essentially the same as the purpose of any 'go' bag: to ensure that you are never caught unprepared for the circumstances. This is an especially important consideration to make for marketing initiatives and strategies, because you are trying to make a good impression. A marketing go bag makes that much easier to accomplish.
Let's break down a scenario. Put yourself in the shoes of your prospects for a moment - you are a business owner at an event, looking to fulfill a particular need. Who are you most likely to take more seriously and actually consider - the person with a list of names to email later on a scrap of looseleaf, or the person who has a booth and materials to distribute, plus a printed sheet to take email addresses?
In most cases, it's going to be the person who came more prepared because they appear to be more professional.
Furthermore, having a go bag planned out allows you to also make slight changes to your materials to better suit the venue you are to appear at, or add a custom piece that ties your message more closely to the event's theme. Let's face it: you'd otherwise be too busy trying to figure out what you should bring to put something new together.
What Should You Include in Your MSP Marketing Go Bag?
There are quite a few items that should be ready to go whenever an event or opportunity arises that will help you attract and hold your audience's attention.
Printed Sign-Up Sheet - You want to be able to collect the emails of interested parties without having to wait for them to reach out to you first. Have a sheet ready so people can write down their contact information. You could also bring a tablet or laptop and have them type it in, but that may not be preferable due to the extra time it would likely take for them to give you information. You also might not want that many people touching your device!
Business Cards - These networking standbys are still an invaluable addition to your materials, as they can provide an in-pocket reminder that you have services to offer the recipient. Your go bag should have plenty to disperse at whatever venue you may appear at. Going along with this, have the cards you bring in a professional business card holder.
Brochures and Service Briefs - These are useful materials to give to people who are most interested in a particular offer that you have. Make sure these materials have all of your contact information and link to the appropriate pages on your website so the person you give them to can find out more if they desire to.
IT Playbooks - IT Playbooks are a foundational piece that all managed service providers should include in their marketing strategy. They are essentially small booklets with easily absorbable summaries about your IT solutions; each summary paired with a QR code and shortened URL that link back to the corresponding pages on your company's website.
Other Educational Content - In addition to brochures and service briefs, you can bring some other educational content with you as well. You may have some printed newsletters to bring, some checklists, a short case study, a small promotional flyer with information about a webinar you will be holding, or some other deliverable. Whatever these items are, don't have them be a large stapled packet! Stick to no larger than a single or double sided 8.5x11 inch sheet or a 11X17 inch sheet folded in half.
Company Swag - Having some branded items to give away can help people remember you at later dates. Make these items something tangible that they will actually use, but are small enough where you can carry a decent number with you. Pens are great because they will likely get used, but other small office supplies can be just as effective. Keep in mind that it might not be feasible to bring in multiple large items like mugs or t-shirts to EVERY type of event, but you may want to for some.
Technology - Depending on the event you are going to, you might want to show people a bit more information about your company and service offerings. Sure, you could pull things up on your phone, but we recommend bringing with you a laptop or tablet and any charging cables needed. That way, you can pull up an informative PowerPoint or even your website. Remember that you might not have Internet connection where you are, so try to make as much of what you would show an interested prospect saved to your device for offline viewing.
Note that there are plenty of other marketing-related items to have with you, but they are more event-specific. For example:
If you are hosting a presentation to your Chamber of Commerce, you may want to have a deliverable to hand out that summarizes your presentation and has a special promo on it.
If you are attending a trade show, you may want to have a banner and/or tablecloth made to make your booth stand out.
You may have some larger promotional items you would want to bring such as branded mugs, or have a special giveaway that those who provide you with a business card are qualified to participate in.
The bottom line is that anything that you can pre-prepare, you should.
Whatever event that you do, be sure to follow up with those you come in contact with as soon as you are able to after coming in contact with them. This follow up is the most important part of all of this, so make sure your sales team does follow up after returning from the event. To help stay on track, it might be helpful to draft a templated follow-up email so that you don't have to create one after every event attended.
If you would like any additional help putting together your own marketing go bag, reach out to us!