JoomConnect Blog
JoomConnect is the Marketing Agency for MSPs. We strive to help IT companies get more leads and grow. We rock at web design, content marketing, campaigns, SEO, marketing automation, and full marketing fulfillment.
Technology We Are Thankful For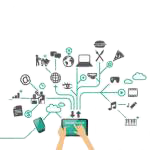 For so many of us, daily use of technology has become a major part of our lives. Between computers, smartphones, laptops and other mobile devices, technology is rarely more than an arm's length away.
When we asked our staff what technology they're the most thankful for, we got some genuinely thoughtful answers, reminding us that technology has changed our lives forever - and it isn't all text messages and CandyCrush.
Nook and Kindle Applications - We started our office survey of technology we're thankful for in the marketing room - and this was the very first response! eBook applications allow users to access their library using nearly any device. While some people might find it preferable to curl up on the couch with the real thing, nobody enjoys carting around heavy, space-hogging books. Having an app on your smartphone when you're stranded at the airport during a flight delay or while waiting at the doctor's office is not only convenient, but offers flexibility you couldn't get before the app.
Health Related Applications - Our human resources manager offered the next cool technology: Health Applications! From the popular Fitbit to Follow My Health applications, monitoring your health has never been easier. You can set exercise goals and track your progress, as well as challenge your friends. Other applications allow users to safely store medical records, view test and lab results, request prescription renewals, communicate securely with your physician, schedule appointments, and more.
Online Education - Our web design team is thankful for online education, specifically the availability (and major advances) in digital art classes. Online universities are more popular than ever - but there are many other educational options out there. Website's like lynda.com, Coursera, and Digital Tutors allow professionals access to webinars, courses, how-tos, skill assessments, and more for a fraction of the price it would cost to take a course through a university - and some are even FREE. These sites allow you to develop your skillset when it is convenient for you. You learn at your own pace and repeat lessons when necessary.
Workflow/Productivity Applications - This was a suggestion from a few different team members, all who use applications to help them organize their life, both in and outside the office. Whether you want to organize your life or make better use of your downtime, applications that help streamline your life are very popular. If This Then That (IFTTT) is an application allowing you to connect all of the technology in your life onto a single dashboard. It has reminders and notifications, allows you to connect with the Internet of Things, and allows you to schedule your activities. Other productivity applications include Evernote, a workspace that unites devices, allowing you to write, collect, discuss and present from one application. Habitbull, is an application used to help you break bad habits, like nail biting, and build good ones, like going to bed at a reasonable time.
At times, technology can be frustrating and distracting. But for the most part, it's made life easier. We'd love to know what technology you're thankful for! Sound off in the comments below.
Comments
No comments made yet. Be the first to submit a comment