JoomConnect Blog
JoomConnect is the Marketing Agency for MSPs. We strive to help IT companies get more leads and grow. We rock at web design, content marketing, campaigns, SEO, marketing automation, and full marketing fulfillment.
New Year, New You! Don't Forget Your Business Too!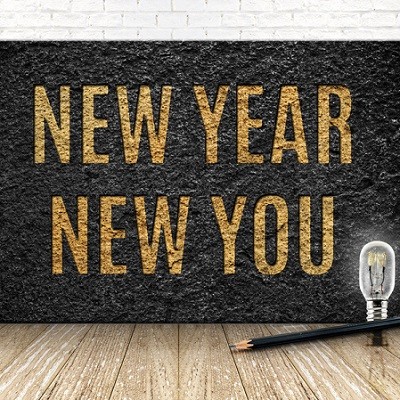 Happy New Year! Welcome in all the New Year's Resolutions: finally losing those 10 extra pounds, eating better, saving money, etc. Whichever you've chosen for yourself, don't stop there! Resolutions should be made for your business too because there's always something we could be doing better or more of. Whether you're looking to increase website traffic, sales or expanding your reach, a New Year's resolution to focus on your marketing can help you achieve any of these things. Without marketing, your business stands little chance of becoming the best it can be. Take a look at 5 of our top marketing resolutions suggestions for 2017.
Resolution 1: "My marketing will be more transparent."
Fortune magazine defines transparency as: "making the practices, policies, algorithms, and even code, operating data, and future plans available to customers, employees, or business partners — runs counter to traditional business practices." Remember the old adage, "actions speak louder than words"? Allowing clients and potential clients to see the inner workings of your company shows them you have nothing to hide. People want to work with reliable and trustworthy people. Utilizing social proof, such as testimonials and reviews, is a great way to do this and allows current client's honest opinions and stories to show who you are and what your company can do to help other companies and retain those that you have currently. You can make video or written testimonials, post these reviews and testimonials on your site, add excerpts in your deliverables or even use them in social media and any of your advertising ventures.
Show your audience your company's personality. This can be easily done in the "About us" section of your webpage. People want to know why you exist and why you decided to start your company. Include pictures of your staff (in our case, we use photos from things like Puppy Tuesdays and Crock-Pot Thursdays), mention charities you're involved with and explain who you are.
Keep in mind, education is key! Show these potential clients that you are the expert in your field and that you know how to solve their problems. People are coming to your site to find answers to their problems, you need to convince them that you can help them resolve these issues. Be open. IT decision makers are more likely to work with you if they connect on a personal level and feel confident that you're an expert on business technology solutions. It will not take long for your audience to figure out if you aren't sincere.
Resolution 2: "I will improve my social media presence."
Social media is a huge asset to all marketing. It's inexpensive and relatively easy to manage, but it is rather time consuming. In order for your social media to work for your marketing, you need to remain active on it. Posting, following, liking and sharing allows you to connect with your audience in a personal but not overbearing way. You need to build your audience and then use social media as a communication tool to continuously touch and engage your followers. Keep track of your posts that get the most responses, likes, shares, retweets, etc. Try to make more of your posts go along the same route as those you get a lot of activity on. Believe it or not, most prospects are 70% of the way through their buying cycle before they will fill out a form or give their information. They've already Google-stalked you and checked your site and social media account to make sure you seem like a legitimate company, before they will sign-up for your services. Make sure what you're presenting about yourself is accurate and educational. Facebook, Twitter, LinkedIn and Instagram are all great platforms and can hold a lot of information on what your company provides - use this to your advantage! Want more proof?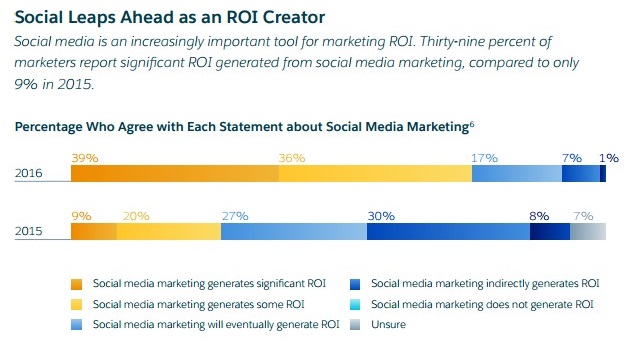 2016 State of Social Marketing Report
For PR professionals and SEO link building considerations, more than half of U.S. journalists – 58% – say social media is "very important" for interaction and 62% feel it's a critical channel for publishing and promoting content. (- 2016 Global Social Journalism Study)
63% of marketing organizations now have social media teams (up from 49% a year ago). (- 2016 State of Social Marketing Report)
82% of marketers agree that social media marketing is core to their business. (- Salesforce's 2016 State of Marketing report)
With so many people using social media, why wouldn't you want to include it in your marketing arsenal? While you're posting and sharing blogs and informative and educational pieces, you also want to allow these social media platforms to showcase your company in a humanistic light. Show off the fun in your company.
Did you have a holiday party? Share the photos!
Did your company do something charitable over the holiday season? Show your audience.
Did you recently attend an event or training? Share what you learned.
Use pictures! Image posts get 179% more interaction than an average Facebook post, a Tweet with an image receives an 18% higher click through rate and 98% of posts on Linkedin with images get a higher comment rate. People want to know they're not dealing with robots on the other side of the computer or phone. Did you notice a client who did something on their social media account that you thought was a great idea? Tell them! Like their post and tell them it was a great idea. Personalize your company by engaging with others and sharing yours. This will allow you to connect and be appealing to these clients and potential clients. You don't want to be just another company, you want to be THEIR company, and social media can help you get there.
Resolution 3: "I will define my target audience so I know who my customers are."
You should be able to clearly define who you're trying to reach with each marketing venture you pursue. How do you do this? Well to start, you must thoroughly understand everything about your company, from where you're expertise lies to the problems you solve, to your client's problems and both their competition and your own. This allows you to get a grasp on what they're doing to find you and what you can actually do for them and how they're being approached by other companies to get their business. This is how you know who to market to and will better help you catch their attention and stand out from your competition. Make sure you can answer the questions in this blog about your company to make sure you're not missing your target.
Once you have a good idea of what the answers to these questions are, you can start figuring out how you should develop your marketing and who you should be directing it to. Try to paint a picture of your customers. You should know the people you're marketing to and be able to group and define them in as many relevant ways as possible, and remember you want to connect with them, so be specific. You must know who will gain from the value you offer - who needs you and your services the most? Think about your market - the who, where and what of your desired market will affect your marketing greatly. Do you want to focus on geographical locations, market sectors or particular types of people? Reflect on your company - showcase what you're good at and make it a highlight of your marketing. Also, be aware of what else is available and what sets you apart from the rest, and use these things to your advantage.
Resolution 4: "I will track and improve my metrics."
Before you do anything else, you should know what reports, statistics, and measurements you'll need and where to find them. Leads, traffic, content effectiveness, new contacts per landing page, CTA click throughs, etc. Where will you find these metrics? A lot of social media platforms have their own ways to track and measure your metrics. Facebook's Advertising Metrics are pretty easy to understand if you read through our 7-part series on Facebook Advertising.
You want to pay attention to your Return on Investment (ROI) and know how you will measure that to make sure that what you're doing is worth it and how to correct it if it's not. If the amount of time it takes to run the campaign or event costs you more than you've collected, then you have a problem you need to remedy. Maybe one part wasn't that necessary or something could have been shortened up. You want to be able to analyze this.
JoomConnect is a great tool that can help facilitate the tracking of your ROI, by automating much of the incoming information that you'll need to determine the success of the campaign. With JoomConnect, It's possible to automatically generate a sales opportunity that has client information, lead source, and can all be tracked back to the appropriate marketing campaign in ConnectWise. For more information on this, check out this blog, because a little math is definitely better than losing a lot of money.
Resolution 5: "I will use better content in my marketing."
Your content is essentially the foundation of your marketing. If you're building a house you don't start with the attic, you need to first pour a good solid foundation. The same idea goes for your marketing. If what your content is saying and showing isn't applicable, educational, reader-friendly or supportive to the rest of your marketing, then your marketing will crumble. Make sure your content on your site, in your campaigns, on social media, in your deliverables, etc. is relevant and of value to your audience. Whether this be with how to's, product reviews, specific subjects, or whatever else you choose, knowing your audience and what they need is crucial to making sure that your content is valuable and effective. This doesn't necessarily eliminate the use of syndicated content either, but using it along with your own custom content is a good plan for marketing.
Blogs can be a great addition to your marketing because they allow you to write and share information as frequently as you'd like. You can share your blogs in email blasts, newsletters, social media, on your website or all of these options. Educational blogs are a great way to demonstrate your knowledge on a subject and give you the perfect opportunity to showcase yourself as the perceived expert on the subject. You can alert clients in a blog to a new threat or tell them about your office holiday festivities where you had an ugly sweater party with employees and also volunteered at the local soup kitchen. Content that demonstrates who you are and what you do will make the rest of your marketing much easier to handle.
So, while you are planning for the new you in 2017, be sure to do the same for your company's marketing strategy. While most everything you do for your company could be considered marketing, without a direction to your marketing efforts you won't have any control over the impression you make to prospective clients. This inevitably defeats the entire purpose of marketing in the first place. So have a plan for yourself and your marketing this year, stick to it and see success for you and your company! What are your 2017 marketing resolutions? Leave us a comment below. If you need help coming up with a resolution or plan for your marketing, don't go without! Reach out to the marketing team at JoomConnect with a call or hit us up on live chat.
We'd love to help you reach your goals for the new year!