JoomConnect Blog
JoomConnect is the Marketing Agency for MSPs. We strive to help IT companies get more leads and grow. We rock at web design, content marketing, campaigns, SEO, marketing automation, and full marketing fulfillment.
MSP Blog Topics (Part 3) - Worst-Case Scenarios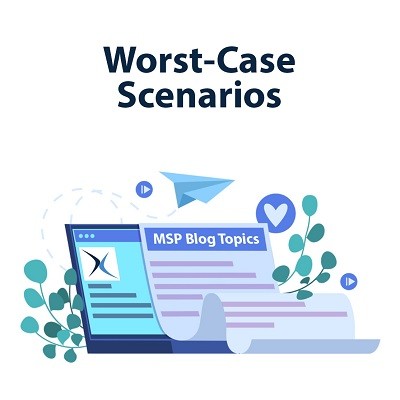 To have a well-rounded company blog on your MSP's website, you need to write about a variety of topics if you want your audience to stay engaged and see your company as the local IT expert.
One of the MSP blog topics that you should be writing about is a blog that educates and prepares your target audience for the worst - specifically, the "worst-case scenario" situations that can occur when they themselves or their business makes a technology-related mistake.
This blog will cover why you should write about worst-case scenarios as blog topics, and how to properly write a blog like this.
Why Write About This MSP Blog Topic?
You might be thinking, "Why should I write a blog that is such a Debbie Downer?" It's a valid opinion to have, and it's true that you don't want ALL of your blogs to be framed in this way.
This is actually a good topic to write about because it:
Evokes Emotion, Specifically Fear - Facts aren't always enough; sometimes, you need to incorporate a bit of emotion into your content (and, your marketing in general) to really get your point across. Fear is an especially powerful advertising appeal to use!
Is Convincing - You can drill the importance of having a strong infrastructure, a secure network, and a data backup in place. Is everyone going to listen? Unfortunately, the answer is no… until you show them what might happen if they don't.
Proves That the Worst Can Happen - We'll get more into this in the next section, but these blogs often feature real-world examples through a story-like structure. You're not just blowing smoke; there are actual, real-life consequences to failing to properly set up, update, and protect your technology.
Again, it's not what you want to write about for all of the blogs on your website, but they are a good thing to have to mix things up a bit and keep your audience on their toes.
How to Write About This MSP Blog Topic
Like any blog, you first have to pick the topic(s) that you're going to focus on. We've already mentioned a few of these throughout the blog, but let's get them in a list for you:
Data loss due to failing to properly back that data up
The large, unexpected costs that occur with break-fix IT
Hackers infiltrating your network and compromising your data
End of Life/End of Support events
A small business closing due to not recovering from a large, unexpected IT-related cost (usually after a disaster)
The actual structure of a worst-case scenario blog is going to vary quite a bit; there's not necessarily a 'right' order to write things in. However, there are certain things that will make your blog stronger if you include them! The following are some general best practices to take when attempting to write a blog presenting a 'worst-case scenario' type of situation:
Draw Them In With Your Title and Cover Image - Like any blog, you need an intriguing and engaging title to actually capture people's attention. The title and the image you choose to pair with your blog should really exemplify the direction your blog is going.
Frame It With Real-World Example(s) - There's probably a business out there that has experienced the worst-case scenario that your blog's topic is centered around. Tie that event into your story! The more well-known this event, the stronger your message will be, so pick a recent national news event or a local catastrophe that your target audience is going to be familiar with. When you do this, make sure you connect the example to your target audience. Don't just tell them about the event - explain how a similar event could happen to them, too!
Capitalize on Facts Too - Yes, this type of blog will often be rooted in fear appeal, but that doesn't have to be all that it is. Use statistics in your blog to drive your point home. It isn't that a scenario is likely to happen, it's the fact that it is a certain percentage likely.
Be Their Savior - There's no point in writing a worst-case scenario blog if you don't present a way for that business to avoid that scenario. Ideally, the solution to keeping their business running as it should will be related to your MSP's service offerings. Tie in your service(s), and provide them a way to get in touch with you to wrap things up.
Make Sure You Do Your Research
One of the most important things to do as you write a worst-case scenario blog based on an actual event is to keep your facts straight. This means you need to do some research. Find out as much as you can from as many sources as you can find. This isn't always easy, but local news sources usually allow you to piece together a reliable chain of events. The most efficient way to undermine your point is to get the facts wrong, so do your due diligence to get them right.
Let Us Write About This MSP Blog Topic (And More!)
We write blogs that talk about what can happen when things go bad - weather damaging your technology, hackers infiltrating your network, and the like - as a part of our MSP Blog Service. Get blogs like this, and many other topics, by submitting an order here.
Comments
No comments made yet. Be the first to submit a comment