JoomConnect Blog
JoomConnect is the Marketing Agency for MSPs. We strive to help IT companies get more leads and grow. We rock at web design, content marketing, campaigns, SEO, marketing automation, and full marketing fulfillment.
MSP Blog Topics (Part 1) - Product Reviews, Comparisons & Recommendations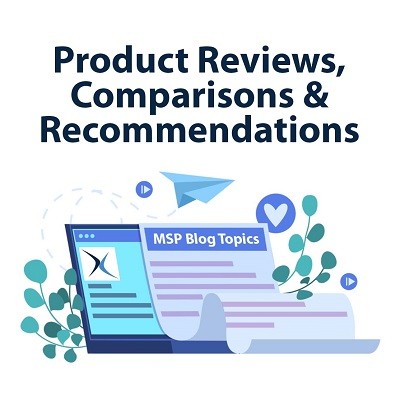 To demonstrate your expertise as a managed service provider in your local area, you NEED to have a company blog. The problem is, once you create one, what are you supposed to write about?
We created this blog series to give you some ideas on what general topics your MSP should be writing articles about on your company blog, and walk you through the general process of writing a blog on that topic.
To kick it off, we'll start with the topic of product reviews, comparisons, and recommendations.
Why Write About This MSP Blog Topic?
Technically, these are three different topics, but there can be some overlap depending on how to decide to write the blog itself (we'll get into that in the next section).
This is a good topic to write about because it:
Is Often Searched - This topic showcases one of the five main types of search queries: commercial investigation. Having an article that does this can help improve your ranking!
Shares Well - This type of content is sought after by consumers. We've found that when sharing this type of blog content in our own marketing (particularly, on social media), we get more engagement compared to many other blog content topics.
Provides Value - Of course, ALL of your blog content should be providing value. This type definitely does because a lot of your audience won't necessarily want to put in the time and effort to research different technology-related products. Simplifying things for them in a blog on your website instead of pointing them to a blog written by and hosted on another website makes your MSP look good!
How to Write About This MSP Blog Topic
To start with, you're going to have to determine what product or products you are going to look at. For a product review blog, it's probably only going to be a single product. A product comparison will look at multiple similar products and compare the features and benefits of them. A product recommendation blog may combine aspects of the two.
Here are some technology products that make for good MSP product reviews, comparisons, and recommendations blog topics:
Mobile applications
Mobile phones or tablets
Software
Desktop computers or laptops
Operating systems
Web browsers
Social media platforms
Management styles
You may be wondering why you'd write about some of those when they're not related to your actual service offerings. It's okay that they aren't! You're still writing an educational blog related to technology and/or small business management that - like we already mentioned - is often searched, shares well, and provides value. The real value of your blog is that it provides evidence of your particular expertise - and it doesn't hurt that it also proves that this expertise can be useful to your audience.
Instead of doing a product review, comparison, or recommendation, you can also do it with a service! For example, you could compare managed services to. break-fix IT, or cloud storage to on-premise storage.
After you decide what you are doing, it's time for the 'research' stage. Here are some good places to look:
Trying the product(s) yourself (if possible)
Product information on the company's website
Objective customer reviews of the product(s)
Blog articles covering the same or similar subject from reputable sources
Next is the writing part! We won't go into general blog-writing best practices. If you need information on that, please check out our blog How To Write a Blog That People Will Read.
In terms of the content you include in your blog, here are some things that are specific to this type of blog.
Keep Things (Relatively) Simple - Try not to overcomplicate things too much. Sure, you can talk about the technical specs of what you are comparing or recommending… but at the same time, explain what those specs mean in layman's terms. In order to provide value, you need to provide the information in language that means something to your audience.
Limit Your Number - There may be 20+ mobile applications that do essentially the same thing. Don't compare them all in a single blog! Pick 2 to 4 of the most popular or most frequently used and compare those.
Test When You Can - When you're writing about something that you have the capability of trying out yourself, actually do so! You can write a more authentic blog doing that versus reading other product comparison blogs then putting your own spin on them. This also gives you the opportunity to write a more personal blog that showcases the fact that working with your company is to work with real people.
Give Your Opinion, But Back It Up With Logic - If you are comparing two or more things and one (in your opinion) stands out above the rest, let your readers know! This is especially important to do when you're guiding your readers toward a specific conclusion… for example: managed services over break-fix IT. However, you shouldn't outright attack the alternate option. Don't say "break-fix IT SUCKS!". Talk about it from a more logical standpoint by presenting facts rather than projecting your emotions.
Let Us Write About This MSP Blog Topic (And More!)
This is only ONE of the general topics that we write about in our MSP Blog Service. To get technology-related blogs published to your MSP's website three times every week, place your order here.
Comments
No comments made yet. Be the first to submit a comment