JoomConnect Blog
JoomConnect is the Marketing Agency for MSPs. We strive to help IT companies get more leads and grow. We rock at web design, content marketing, campaigns, SEO, marketing automation, and full marketing fulfillment.
It's Time To Build an MSP-Focused Website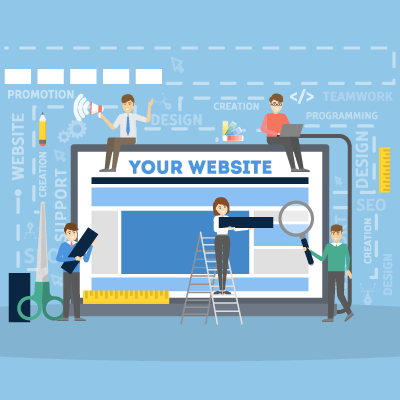 Making a website is easier than ever. Not only are there a myriad of companies offering pre-built websites, but you can also use a number of drag-and-drop, WYSIWYG ("what you see is what you get") website builders to create your own website with little-to-no web design training.
Despite these conveniences, you risk your website failing to perform because a generic design that will work for a clothing manufacturer, a dog groomer, and a plastic surgeon isn't effective for an MSP. The fact is, as an MSP, you have a unique business and your website needs to convey that.
The Fundamentals
First and foremost, your MSP website should provide the information searchers are looking for. It should encourage visitors to remain on your site and explore it. The ultimate goal is being able to keep them on your site long enough (blog and video content are well-suited for this) for them to take an action such as complete a form, download a deliverable, or make a call.
It's not a stretch to note that all businesses should try to achieve this goal. However, all businesses achieve the goal of conversion differently. An MSP's message, brand, and user experience relies on different cues than that of, say, a law firm, and your website should reflect this.
Simply put, an effective MSP website requires more than just taking a template and sticking the word MSP on it with a stock photo of a guy with a laptop. Your business is more than that, and certainly deserves better.
There's Nothing Wrong with Templates
We're not saying that there's anything wrong with using a template. If you do, it just needs to be the correct one for your business, provided by a company that understands your business and what it does. Content and context is everything, and for your MSP website to be successful, it needs both.
Ease of Navigation
It's not unusual for an MSP to offer services ranging from managed IT, cloud computing, network security, business continuity, and a variety of business technology solutions. There is a risk, due to your large range of services, that you may build so many pages that your visitors can't find what they are looking for. Add the use of confusing tech jargon or clever service names and we can see how laymen can be confused when they land on your site.
As an MSP, your job is to help businesses leverage their technology. Your website should reflect this goal by providing information in a way that makes it easier for them to find solutions to their problems. This is why it is critical to work with a designer or marketing agency that understands what your business is all about. It's a fairly complicated pitch for agencies outside of our industry.
When an agency truly understands your business, they will present your services in a way that will provide ways to display your value as an MSP, increase your rank, and ultimately turn your website into a marketing tool that converts.
Show, Don't Tell
There is a wealth of IT service offerings, and with them, an equal number of abbreviations: MSP, VDI, BDR, UTM, and so on.
It takes working with a marketing agency that not only understands what these terms mean, but more importantly are able to translate them in a way that the average business person can also comprehend. Sometimes it's about cutting out all the jargon and just getting to the end result.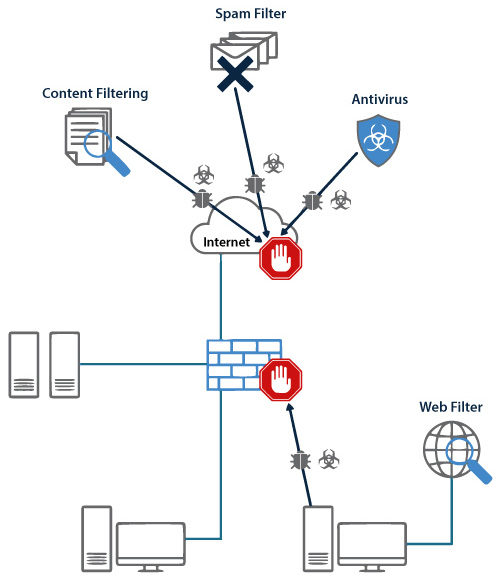 Equally important is the ability to distill complex concepts into something easy for visitors to absorb. However, the only way to this is if you have an intimate understanding of what an MSP does and how they do it. For example, when describing what a UTM (Unified Threat Management) does, you can tell by writing a 5,000-word service page which explains what, why and how... or, you can show what a UTM is with an effective graphic like the one here or, better yet, a video.
Finally, the ability to organize your services in a way that is accessible is key to providing your visitors with a good experience when they come to your site looking for solutions to their concerns. The worst thing that could happen is that they can't find what they are looking for and leave; not just because you may have lost a potential customer, but the resulting increase in bounce rate can adversely affect your rank.
Content is King
When it comes to having an MSP website that converts, content is critical. In fact, it's fair to say that your content is the driving force to establishing your online presence. Can you afford to let a web developer who views all businesses as interchangeable, and provides a one-size-fits-all template steer the direction of your business? Never forget, your website is a marketing tool, it is and may be the first and only opportunity you will have to convince a potential client to give you a chance and a call.
Your MSP website needs content which supports your authority as an expert in your industry, and the only way to ensure this is by working with an agency that understands what you do. Some required content includes blogs that focus on your services and the value you offer. The addition of white papers and case studies reinforces your knowledge and experience, providing real-world instances of you using them to help businesses be successful.
Designed for MSPs from the Ground Up
In today's digital landscape your website is going to be your primary marketing tool (but it shouldn't be your only MSP marketing tool), and you should consider utilizing a marketing agency who is attuned with the unique needs of the MSP.
Some things you should ask your web designer or marketing agency:
Have they ever worked with an MSP before?
Are they using templates? If so, how much customization is available?
Do they have a dedicated marketing team who is familiar with what an MSP does?
Can they provide examples of their MSP-focused content?
Quite frankly, only a website designed for MSPs can do this. Better yet is a website designed for MSPs, by an MSP. Call JoomConnect at 888-546-4384 today to learn the difference working with a partner who knows your business, as opposed to one who knows everyone else's.
Comments
No comments made yet. Be the first to submit a comment