JoomConnect Blog
JoomConnect is the Marketing Agency for MSPs. We strive to help IT companies get more leads and grow. We rock at web design, content marketing, campaigns, SEO, marketing automation, and full marketing fulfillment.
How to Design the Perfect MSP Print Newsletter from Scratch (Part 1)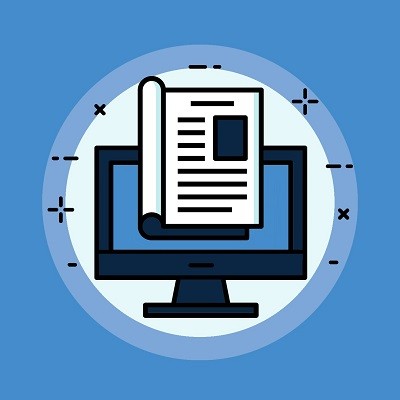 These days you may think that direct mailers are a thing of the past. However, we would like to point out some great reasons to add a print newsletter to your MSP marketing strategy. With most businesses moving to digital marketing, we like to remember how important it is to send out direct mailers - in this case, printed newsletters - when you can.
Why Print Newsletters Are Still Valuable
Print newsletters are a great marketing effort that most small businesses have stopped utilizing due to the cost and effort they take to do. Printed newsletters allow you to share material on multiple topics and educate recipients, unlike other direct mail types (letters, postcards, brochures) that tend to focus on one singular topic.
Starting to use print newsletters will get your MSP to places that other businesses that only do digital marketing can't go. People have something tangible to look at, and can look at their leisure. Not only that, but you can send mail to ANYONE that you have a valid postal address for. There are no restrictions to whom you can send to like there is with sending out emails. With sending emails, you can only send to those that have opted in. With a print newsletter, you can send to suspects, leads, prospects, and clients!
Building a Print Newsletter from Scratch
Initial Design Considerations
To start you will want to pick a program that builds print newsletters. Some good options include Microsoft Publisher, Adobe InDesign CC, QuarkXPress, LucidPress, and Scribus. Make sure you consider what programs/file types that your intended printer is able to work with when making this decision.
Once you have decided on a program to use, you will want to decide on a template to use. Many of these programs provide you with templates that you can edit to fit your needs. You could also choose to build one from scratch or find one online to use. Regardless of how your template comes to be, you need to take the time to ensure that your print newsletter is branded to your company colors and logo.
After picking your general template design, you can decide how you want your print newsletter laid out. This might take some time to figure out what best fits your business' needs. You may want to print it out to see what it looks like on paper rather than on your computer screen since the paper version is the one that your reader will see.
How We Do Ours: We use Microsoft Publisher to design and build our newsletters for the Printed Newsletter Service. Ours are printed on a 11 x 17 piece of paper and folded in half, which allows for easy building, space for a lot of content, and (when folded once more) is easily mailed.
General Content Considerations
Now that you have your layout of your newsletter, you will have to choose how many articles you would like. Here is where you take into consideration who you are sending your print newsletter to, what you have to put in it, and how can you make it more personal. This ensures that the recipient knows that you care and that you are taking the time to meet their needs. You may want to take time to look up a few print newsletters to get an idea of what type of content to include.
Once you decide to build your own print newsletter, take into account that we have an entire content team that writes our content every month. If you don't have this kind of staff, don't shy away from this marketing tool, just look for us. Or if you have the staff to write your own content have them get started while you move on to get the template started. This gives them time and you time to see what content they produce and how long it will take them. Once you have your content written you will want to review the content that was written, as we know people are human, and humans unfortunately make errors.
The next step is finding your lead article that will catch the reader's attention and bring them to your business.. The front page is where the recipient decides if they want to read further or file it in the circular filing cabinet (trash can). The lead article, which will be on the front page, should be material that is important to local businesses in your area and will make the reader interested and want to read more - this is how you get them engaged in your newsletter.
We suggest including two articles on your front page. The purpose of this is to get the reader to want to read more and opening the newsletter and getting them to look further into your newsletter, even if to just finish the one article. Once they finish the article hopefully you have another article inside the newsletter to get them to read more or to check out your website because they liked what they read.
How We Do Ours: We use six articles for each newsletter. There are usually four articles that are written specifically for that month's print newsletter, and two relevant but popular blogs from your website that your audience would be interested in reading, but they might have missed. If you had a particular article that you wanted to include - one of your own, one we've written as a part of the MSP Blog Service in the past, or one tailored to promoting a particular service - we can include that one!
We also include space on the front page of your newsletter to add a table of contents and some more room on the side for other things that you want to immediately call attention to. We'll talk more about these things in part 2 of this blog.
Getting Readers from Your Content to Your Website
One of the main goals of your printed newsletter, like most of your marketing, is to get those who view it to your website (your central marketing hub) to learn more about what you do and make a purchase.
Each of your newsletter articles needs to also be published on your website, and recipients of your printed newsletter should be able to go from your printed newsletter to the article that they are interested in fairly easily. Doing so allows them to thoroughly read the article and gives them a way to share the content if they so desire. Unfortunately, this isn't a digital newsletter - readers can't just click on a link to get to where they want to go. You have to get creative.
How We Do Ours: At the end of every blog article included in our clients' newsletters, we include a call-to-action, a QR code, and a shortened URL that encourages recipients to head to your website. The call-to-action is going to vary depending on if the entire blog article fits in your newsletter or not. If it does, we include a "Share this Article!" call-to-action paired with a QR code and shortened URL that leads to the blog. If it doesn't, there is a call-to-action like "Read the Rest Online!" with those same pieces.
We'll discuss other ways to get readers to your website, including how we do it, in the next part of this blog.
Don't Forget Your Envelope!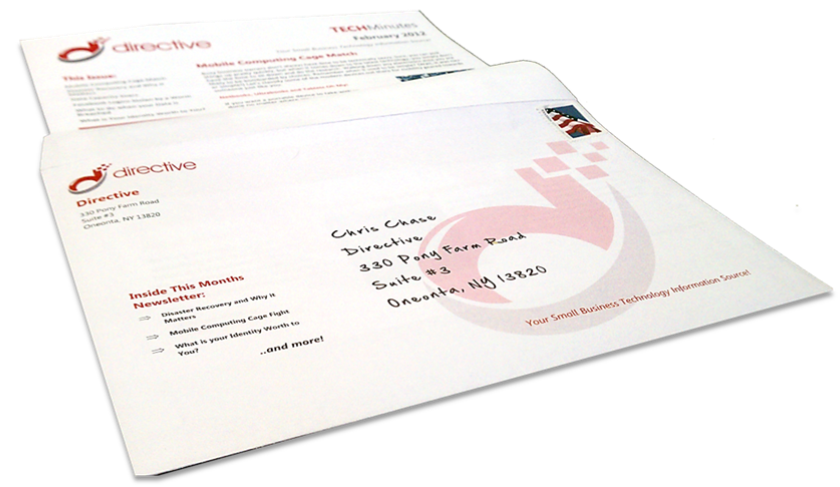 Not only do you have a newsletter to build, you will also need an envelope to send it in. This is much easier to complete than the print newsletter, but it also should be inviting to open as this is the first thing that will make the sendee want to open your print newsletter.
The program you are using to build your printed newsletter should also have templates for an envelope to use that you can customize with your branding and any other information that you want to include.
How We Do Ours: In addition to information needed like the return address and address sending to, we include your logo (as a watermark and at the top of the envelope) and the first three article titles when building your envelope to catch recipients' attention and make it clear about what they are receiving.
Stay Tuned for More Information!
Part 2 of this blog will cover ways you can personalize your printed newsletter to go the extra mile as well as the importance of the proofing process, and some tips on going about it so you don't send out printed newsletters riddled with mistakes to your mailing list.
In the meantime, feel free to check out our Printed Newsletter Service, where we take care of all of the above work for you!