JoomConnect Blog
JoomConnect is the Marketing Agency for MSPs. We strive to help IT companies get more leads and grow. We rock at web design, content marketing, campaigns, SEO, marketing automation, and full marketing fulfillment.
How to Write a Successful MSP Marketing Blog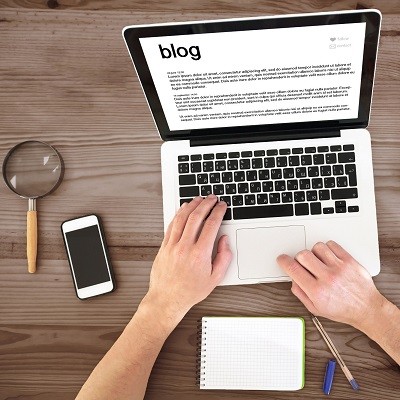 Creating content for your MSP marketing blog doesn't have to be an area of trepidation. You're the best advocate and resource for what makes the services you provide as an MSP unique, you just need to give your audience a reason why they should choose you. Your blog is the perfect opportunity to show your experience, ideas, and why you're the best at what you do.
When MSP clients ask about ranking, the first thing they focus on is keywords. While keyword consideration is important, the most effective thing you can do to increase the Google rank of your MSP over that of your competitors is to provide good content. Your blog is one of the major forces driving traffic and therefore rank position and lead generation. However, for many MSPs, blogging is an incredibly underutilized marketing resource. It doesn't have to be! Here are some tips to take advantage of blogging as part of your promotion and advertising goals.
Don't Be Afraid to Write
You don't have to have a Master's in creative writing to create interesting content. The goal here isn't to win the Pulitzer, but give a visitor useful information and a reason to either learn more about your services or even better, complete a form or make a call.
That being said, while your article may not be a direct reflection of your abilities as a writer, it can be used to determine whether you're an expert in your field and how you handle your business. Your blog may be your first and only chance to make an impression on a potential client. It needs to be done correctly.
This isn't to scare you, like we said, you shouldn't be afraid of writing something. Just take your time, run it through spell check, and make sure your ideas are fleshed out carefully. A typo-ridden, uninspired and - worst of all - uninformative blog will say as much about your business as a bad review of your business practices would. A poorly constructed blog tells potential clients you lack attention to detail, aren't interested in finding innovative solutions to their problems and, overall, just don't care. That is never a good way to begin a relationship.
5 Basic Steps to Get Started Writing Your MSP Blog
1. Pick an MSP service which you're interested in promoting and are knowledgeable and confident in talking about. Take a moment to think about what you want to write about. What is the purpose? Who is your audience? What information will the reader get from the article? How will this article further promote your abilities and services? Most importantly, will it help establish your MSP as an expert in your area?
2. Create an outline that allows you to focus on your target keywords, pain points, and solutions.
3. Write your blog, and if you do divert from that outline, make sure everything continues to flow and your points still come across clearly.
4. Spell check and grammar check. Have someone look it over. Our content team always relies on other team members when proofing. Your brain will fill in any gaps that it thinks should be there, ignoring any mistakes.
5. Put your blog 'down' for a day or two and revisit it, giving yourself the opportunity to see it again with fresh eyes. Make adjustments as needed.
Remember, your blog is a marketing tool, but nobody wants to read a blog that is overly sales-y. If your blog post doesn't have value on its own and it only exists to broadcast a service or product you sell, it needs to be taken back to the drawing board.
Once you have your content in a condition that you are comfortable with, now it's time to focus on some SEO, SERP, and promotional optimization.
Utilize Your Meta-Tools for Better SEO Optimization
Header Tags
Header tags are used to tell the search engines which part of your article is important and use them to recognize which concepts (keywords) are important. Let's say we are writing a blog about Outsourcing IT.
H1 tags should focus on targeted keywords. For example:
Why Outsource your IT?
H2 tags are great for acting as a subheading and to reinforce the main keywords of the H1.
10 Reasons Outsourcing Your IT Can Increase Productivity
Simple, no? However, resist the urge to make all your keywords H1 or H2 tags, and avoid stuffing keywords into your article that don't make sense. The goal is for the content to read well and resonate, not use every term you think you want to rank for. Your story needs to flow naturally and organically. Sticking keywords in every header or paragraph will not only seem unnatural and provide poor user experience, but it may also be a flag to Google...and no one wants that.
Meta Descriptions
Meta descriptions are used to tell searchers what your article is about before they click on the link. Think of a meta description as a marketing tagline whose goal is to entice a searcher to click on the link. As such, it needs to be informative with a call to action, providing a compelling reason to be clicked on. In other words, it's a synopsis in less than 160 characters.
An example of a meta description for your article on outsourcing IT could look like this:
Considering outsourcing your company's IT, but are unsure of the benefits? Here are 10 reasons outsourced IT can increase productivity and your bottom line!
Incorporate Your Keywords
Your blog should contain not just one of your targeted MSP keywords, but many of them. The goal of multiple keywords is to develop an overall theme of the services you offer. Developing a deeper depth of keywords allows you to attract additional traffic by providing searchers opportunities to read your content, even though the main theme of your blog may not necessarily be what they were initially searching for.
This is an effective keyword strategy because as an MSP, you offer a variety of services, some of which the average users may not know they need. However, once they see how they relate to each other, may be inclined to invest or at least investigate additional services.
For example: Network security often needs email security as well as security training for your team in order for it to be fully effective. Because of this, it makes sense to add some content about these other services to create a realistic image of what is required for a company's security plans to be successful.
Keep in mind you aren't trying to "stuff" keywords in. Here's a poor example where content is overstuffed:
If you are a small business looking for business IT services in Cooperstown, computer repair services in Oneonta, IT consulting in Norwich, and your business computers and laptops are slow or don't have good IT security, you should call the Upstate NY Managed IT services experts.
That felt about as uncomfortable to write as it did to read.
More is Less?
How long should your article be? While there is no hard and firm rule, the minimum should be around 300 words. However, as an MSP, you have a ton of services to discuss, so you would be hard pressed to keep it at 300 words. Google does prefer longer articles, but you may be writing for people who may not have the time or inclination to read a longer piece.
The goal of your blog should be to provide information in as concise a manner as possible, whether it takes 300 words or 1,500. You need to focus on providing the most informative content you can. Unsure of the quality of your content? Take advantage of your resources and ask a variety of people what they think. Our clients are more than welcome to reach out to the SEO and content teams at JoomConnect to take a peak and provide you with guidance.
Additional ways to optimize your article include adding internal links to other content on your site, dynamic graphics, and use other methods to encourage your audience to stay and engage with your site.
Posting Consistently is Key to Success
For your blog to be effective, it can't be random; you can't post when the mood strikes you and expect your blog to be successful. It needs to be consistent, not only in your posting scheduling but the quality of your content. You don't have to post every day, but you do need to post consistently. We would rather see you post high-quality content once a month, every month, than posting poor quality content every week.
However, blogging shouldn't be just another box to check. In reality, blogging should be treated as part of your overall MSP marketing strategy. It needs to be something that will push the needle in regard to establishing your authority as an expert. The next question you have to ask yourself is once you build it, will they come?
You Need to Promote Your Blog
Your blog is written, proof-read, and has interesting content... now what? Posting your blog to your website is just the beginning. How will potential clients know that you posted new content? How do you get your blog in front of an audience? You can't assume that people will just stumble upon it even if it's in the results of a SERP (search engine results page).
Your blog is not only a tool to provide information, it is also one of your primary marketing tools, but if no one sees it, then it may as well not exist. Some tactics to increase engagement of your blog includes: posting to your homepage, utilizing social media, sending email blasts featuring your article, and promoting it through direct mail pieces (like a postcard)!
Some of the benefits of using these different methods to advertise your MSP blog include:
Keeping your audience informed of your new content
Another opportunity to 'touch' potential customers and remind current ones of your value
Ability to track which subjects are of interest to your audience, allowing you to personalize how you interact with them
Remember, you can promote the same blog multiple times. There seems to be a stigma around trying to share a blog again on social media or in another newsletter, but if it is still relevant, there is no harm. You can also make a few tweaks and include a little more content in an existing blog to give yourself a reason to promote it again.
As competition to rank on Google increases, content becomes critical to separating your MSP from the pack, yet it is also one of the most accessible and cost-effective tools you have to market your MSP. We hope we've helped provide the tools and the confidence to create your own content and develop the message you want your audience to see.
If you feel you do not have the resources to create and promote your MSP blog, don't hesitate to reach out to JoomConnect. As MSPs ourselves, we understand your business, the industry, and offer a wide variety of tools designed specifically for MSPs to market, promote and grow their business.
With MSP-centric content ranging from our subscription service to custom content, we are ready to help you get your message across. Contact us today at 888-546-4384 to get started.
Comments
No comments made yet. Be the first to submit a comment