JoomConnect Blog
JoomConnect is the Marketing Agency for MSPs. We strive to help IT companies get more leads and grow. We rock at web design, content marketing, campaigns, SEO, marketing automation, and full marketing fulfillment.
How to Achieve Success with Your Company Website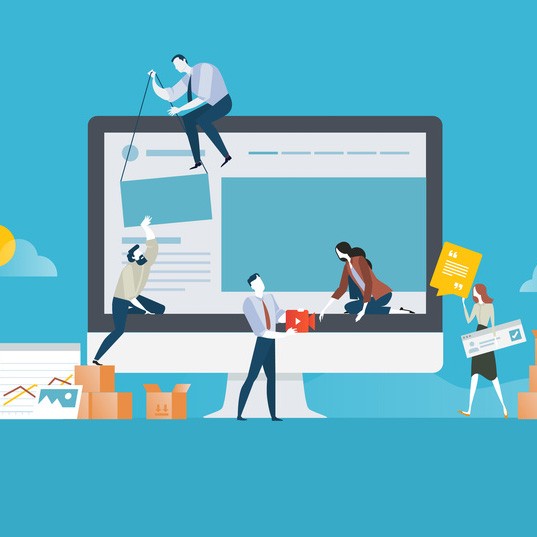 When business decision makers are attempting to look for an MSP in their local area, they are not picking up a phone book like they would have 30+ years ago. As you probably already know, they are using the internet instead. Specifically, more than 70% are starting the process through a simple Google search. Assuming you set up your SEO right, your website will probably be somewhere on the first page of results.
After reading the description Google provides for your company, that decision maker clicks on your website. Based on his initial impression he sees when arriving on your homepage, he decides to click the back arrow and select a different MSP provider from Google results.
Where did you go wrong?
The Importance Of Your Website
Your website is the online face of your business. And, when 89% of B2B researchers use the internet when making a purchase decision, you want to make sure that the 'public face' of your business is looking good.
The convenience of browsing online ensures that business decision makers can access information 24 hours a day, 7 days a week, versus having to wait to contact a sales representative during business hours. They can digest that information at their own speed instead of being forced to rapidly jot down notes when your sales representative is giving them an overview of the services you offer packed with a lot of details.
That also means that they want to be able to find all of the products and services that you offer on your website quickly, with as little effort as possible, on whatever device they have with them. If what they see when they first enter your website is either a disorganized mess or a website that looks as if it was designed by a high school student, they aren't going to think very highly about your company's expertise.
To these decision makers, first impressions are everything.
How to Make A Good First Impression
The Looks
The phrase "looks aren't everything" doesn't necessarily apply to your business' website. In fact, nearly 60% of consumers worldwide prefer a website that is both engaging and beautifully designed compared to one that is simple and plain.To keep people on your website, you need to have an attractive, but professional design that is consistent throughout your entire website.
And, this design better be responsive enough to work across all browsers and devices. Nearly 50% of B2B researchers are conducting product research through their mobile device. If your website isn't responsive through a smartphone or isn't compatible with a particular browser, you will miss out on individuals trying to access your website through that device or browser.
The Content
All of the content on your website should be easy for customers to digest. This means being descriptive, but not overly descriptive. Close to 90% of website visitors will leave your website if it doesn't meet their quality, length and formatting expectations. These expectations come down to this: if the content is missing the type of information they are looking for, is too wordy, or doesn't display properly on the device they are using, you've just lost a potential lead.
Best practice is to try to break up your content in a way that is easy to read, include bulleted lists when applicable, and make your content concise, but descriptive.
Improving Your Chance of Success
Navigation
Your website visitors want to jump from page to page on your website in a seamless manner. It shouldn't take each individual more than 30 seconds to locate the desired page they are looking for, whether it is to your About Us page, your company blog, the pages to the various products and services your company offers, your Contact Us page, etc. Customers who cannot find what they want in an instant are likely to become frustrated and give up.
Including internal links on your pages is a great way to keep visitors happy and keep them on your website for longer. For example, if you write a blog that touches upon a particular customer pain point, provide a link within that blog to one of your service pages that can solve that problem for them.
Personalization
There should be content on your website that is designed to target each type of website visitor you want on your website. Your potential leads wants to be able to conduct research on the type of company you are and the products and services that you offer. Your current customers, on the other hand, want to access information that is specific to the products and services they have through you. They may also want to access other things that potential leads do, such as your service pages, if they are thinking about adding another service.
An easy way to decrease some of the clutter on your website is to make the pages that are only applicable to current customers hidden unless the person on your website is logged in. That way, potential leads are less likely to be scared away from your website.
Overall, focusing on offering solutions to customer problems versus trying to impose your company's sales agenda is a good way to help your website visitors feel like more than just a dollar sign to you.
Ease of Use
Make it easy for your website visitors to do what they visited your website to do. Your website is providing much of your customer service for you, or at least giving your website visitors a way to access you so that you can provide that customer service directly.
On your service pages and any other applicable pages, embed forms so that potential leads can provide their information to you at their own convenience. Include a 'FAQ' page so that they can possibly find an answer to their question instead of having to contact you about it. Include multiple ways for them to contact you if they have questions. This should include (but is not limited to): phone number, email, and your address. You can also include other options like a live chat, a help desk, and video chat, which you can choose to limit to customers with a login if you desire.
Again, make sure this ease of use you include works well across all web browsers and devices.
What You Want to Happen
After going through all of that, let's go through another example. A business decision maker is unhappy with her company's current MSP provider, and wants to see what her other options are in the local area. Again, she Googles "MSP providers near me" and happens across your company. Once she is on your homepage, she quickly browses the content on that page, then jumps to your 'About Us' section in your menu.
Good so far.
Now, she wants to see what specific products and services you offer. So, she hovers the Services option on your menu and takes a look at what appears in the dropdown. After looking at a few service pages and watching the videos you have embedded into those pages, she follows an internal link on your Backup & Disaster Recovery service page that leads her to a blog article that you wrote on that topic.
She is impressed that you seem to be so knowledgeable on this particular subject, and decides to subscribe to your blog stream so that she will receive updates when you post a new blog.
After skimming through a couple of more blog articles that were relevant to her company's pain points, she decides to check out your social media accounts to get a better feel for your company. And, she is able to get to them easily through the social icons you include at the top and bottom of your website.
From here, she has left your website.
After deciding she was happy with the research she did of your social media accounts, she follows the link in the description on your Facebook page back to your website, and easily navigates to your Contact Us page. Since she is doing this research outside of typical business hours, she fills out the form embedded on that page, submits it, and then closes out of her internet browser.
You did it!
Obviously, not every person visiting your website it going to follow this process in this order. But, having a well-designed, easy to navigate, and informative website definitely helps.
The Road to Success
We can help you increase the number of successful conversions on your website. Contact us today to learn more.
Comments
No comments made yet. Be the first to submit a comment