JoomConnect Blog
JoomConnect is the Marketing Agency for MSPs. We strive to help IT companies get more leads and grow. We rock at web design, content marketing, campaigns, SEO, marketing automation, and full marketing fulfillment.
4 Steps To a Successful MSP Marketing Campaign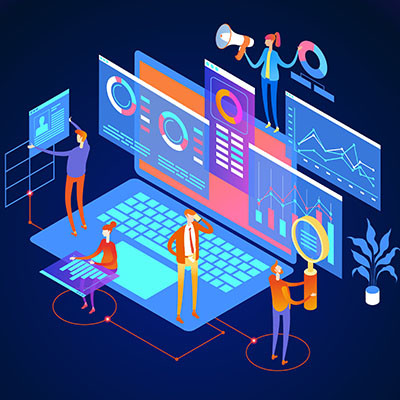 MSP marketing is different from how most other businesses market their services. First and foremost, when someone considers contacting an MSP, they usually do so when something goes wrong. MSPs don't rely on impulse buyers. No one wakes up deciding they need a server and a service agreement. So, how do you convince them that they do?
4 Steps to a Successful Online MSP Marketing Campaign
Step 1. Create an MSP-Themed Website
While many marketing agencies offer website design as part of their overall marketing plan, the reality is that generic business-themed websites won't work for an MSP. The simple truth is, and as an MSP, you know this; most businesses don't know what a managed service provider is, let alone what you do.
They know that they're having issues with spam, or their workstations seem to be getting slower every day, and they want someone to help them solve their technology problems. To make matters more challenging is that most marketing agencies don't know what an MSP is either, so how can they market your MSP if they don't understand what you do?
The goal of your MSP website is to inform people of what you do and how you can help them solve the technology problems that plague their business. If a picture tells a thousand words, what are you telling potential leads if your website is full of generic "business casual" people and nothing related to the benefits managed services can bring to their business?
Moreover, unless the marketing agency specifically has or had MSPs as clients, chances are they don't have any content to get you started. They may even lack the resources needed to create the MSP-centric content you need to attract visitors to your site. Content designed specifically for MSPs is critical because Google and the other search engines rely on your content to determine whether or not your website is a good fit and can provide the answers searchers are looking for.
Step 2: Develop your SEO Strategy
SEO (Search Engine Optimization) is the primary tool driving traffic to your website. The more traffic you have, the greater your chances are of converting and making a sale. This is why SEO needs to be treated as an essential component of your MSP marketing strategy, not an afterthought. Finally, SEO takes time to gain traction; unfortunately, so many try SEO for a couple months and give up, saying that SEO doesn't work for MSPs. Having a website isn't a marketing plan. The plan comes when you decide how you will get people to see and visit your website.
It doesn't matter how great your website is If no one can find it. With millions of searches daily, you must ensure your website can break through the noise. This is where SEO comes in. SEO aims to place your business in front of potential clients by having your website as close to the first page of Google as possible. Page position is vital because if you're one of the first businesses seen in a search result, you increase your chances of making a sale.
A good SEO plan involves both on-page (also known as technical SEO) and off-page SEO. Off-page SEO is usually where most MSPs fall flat. We're all technical people, so this makes sense. That being said, technical on-page SEO can only get you so far. Even the most perfectly optimized websites won't necessarily rank very well without other stuff going on.
Having good relationships with your local Chamber of Commerce and other local groups can help with this, as well as ensuring that you have captured all of your business directory listings. A strong social media presence is important too. The most important aspect of all, however, is content.
Step 3: Create Your MSP-Themed Content
Having your website show up on Google has grown to be less about individual keywords stuffed on your website. The goal of most search engines is to determine whether or not your website provides the answers searchers are looking for. An individual keyword devoid of context can't do that. As we mentioned, context matters. This is why your website needs to have content based on your services as an MSP, and not just a series of keywords. Google and the other search engines read your content to understand better what services you offer, as part of their goal to provide searchers the best resources to solve their problems.
One risk you have to consider when working with marketing agencies unfamiliar with what an MSP does is that their content will not represent what you do. This means that when Google reviews the content on your site, they may decide it doesn't really fit with their understanding of what an MSP does and therefore not show your website as a search result.
We see this all the time, with MSPs often blogging about consumer electronics and social media much more frequently than they should be, as opposed to talking about business-related technology and content that other business owners may find useful or entertaining. It's okay to go a little off topic every so often—nobody likes to feel like they are being marketed to, and off topic blogs are a fun way to show off your company culture and expertise, but there is a big difference between the content an MSP should be building and what many marketing companies dish out for MSPs.
This is why your content must be designed to understand user intent, show you're an expert, and be of high quality. Your content is critical to separating yourself from the pack of other MSPs vying to get their websites in front of an audience.
Step 4: Increase Your Social Media Presence
One of the most common missteps many MSPs make is underestimating the importance of social media. A common refrain is, "I'm not in entertainment; why should I invest in social media"? The days of social media being the sole domain of "influencers" are long gone. Social media is essential to any marketing strategy because it is the most effective way for a business to get its message to an audience as quickly as possible.
When thinking about why social media is an important tool for your MSP marketing, one thing to consider is that, for the most part, your website is static. How often do you change your service pages? Even if you blog regularly, you won't be publishing more than a few blogs a month. Keeping customers, existing and potential, informed about interesting events on the fly can be challenging.
On the other hand, social media is designed to be engaging and topical. Another benefit of social media is that it can connect with potential leads many times a week, if not a day. For example, you can instantly create polls, contests, surveys, and even team up with local businesses to increase your brand and word of mouth and get your message out. The bottom-line is, if you're marketing your MSP, you need to invest in social media.
Is Your MSP Marketing Working?
Is your website driving the type of traffic that converts? Many MSPs' websites are an afterthought, just a box to check. However, your website needs to work for you in today's competitive environment. If you're not satisfied with the current state of your MSP marketing and feel your competitors are outpacing you, maybe it's time for a change. Interested in getting up and running as soon as possible? Our Ultimate MSP website offers a turnkey solution chock full of ready-made service pages, modern and responsive web design, and the option to have access to technology-related blogs.
We are the premier MSP marketing agency, partly because we understand the challenges of trying to explain what Managed Services are. We're confident we can help you because we've been exactly where you are, and we're not afraid to share the secret sauce. Call 888-546-4384 today to learn more about us and what we can do to help you get your phones ringing again.