JoomConnect Blog
JoomConnect is the Marketing Agency for MSPs. We strive to help IT companies get more leads and grow. We rock at web design, content marketing, campaigns, SEO, marketing automation, and full marketing fulfillment.
MSP Marketing: When You Should Unpublish a Blog Post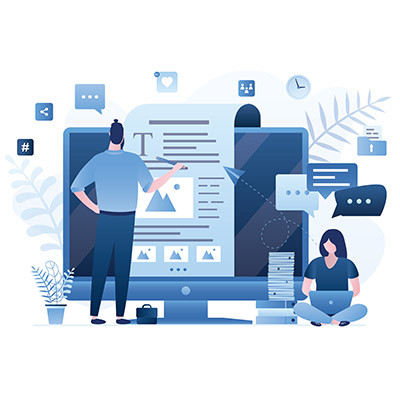 One of the biggest pitfalls MSPs have when attracting leads is that many small businesses don't know what an MSP is, let alone what it does. Your MSP blogs are crucial because not only do they answer the questions potential leads have, but they also introduce them to what an MSP does.
We have written in the past about the importance of incorporating blogs as part of your SEO strategy. The reason is that unless you give Google a reason to crawl your site continuously, Google will essentially "forget" about you, and focus on your competitors who are actively posting content. Eventually, your website won't be offered as the answer to a searcher's question, and your position will drop.
However, there comes a time when some blog posts aren't performing as well as they should and in some cases hinder your ability to attract the quality and quantity of traffic your business needs to continue to grow. When this happens you should evaluate your blogs and reduce the number of poorly performing blogs. This doesn't always mean deleting older content though…
When Should You Unpublish a Blog?
The most common reason a blog should be unpublished is when its content is out-of-date. As a technology expert, it is critically important that you provide up-to-date and current information. Your reputation as a reservoir of knowledge depends upon it. The primary purpose of your blog is to provide your audience with information they are searching for to solve their problems.
If the information is no longer valid, your blog fails in its primary purpose, to inform. Moreover, visitors will leave if your blog isn't providing reliable information. Remember, Google monitors how many visitors leave your site (this is your bounce rate). Depending on how many people go, Google may decide that you're not providing valuable information for that particular page and, therefore, reduce its ranking. This is why your MSP content should be treated as an essential part of your SEO strategy and not an after-thought.
Note: the age of a blog doesn't determine its value. While it is true that technology is in a cycle of innovation and obsolescence, there are some best practices that remain valid, even if the underlying technologies have evolved. For example, the importance of a business having a backup and recovery system in place hasn't changed even as the industry has grown from magnetic drives, to solid-state to cloud computing. In a case like this, an older blog discussing the value of having a business continuity plan in place still has value.
That being said, there are times you should consider unpublishing a blog. Here are three such times:
If you have too much redundant content. Let's face it; if you've had a blog for a substantial amount of time, chances are you've touched on a topic more than once. If this is the case, you should take the time to review similar topics and combine them into one or two high-performing blogs. Once done, you can remove low-performing versions on similar topics without affecting the user experience, or flow of information.
The blogs are receiving no traffic. The reality is most blogs don't catch on and you can find your website bogged down with dozens or more blogs with zero clicks. Moreover, after a while, you may have so many blogs that your website may even begin to show speed issues. This is why it is important to perform an SEO audit and evaluate which blogs are receiving no traffic and shut them off to streamline your processes.
Your blog is delivering the wrong traffic. In a perfect world, every blog that catches on will be directly relatable to your service. Unfortunately, that isn't always the case, and an off-brand blog can drive traffic to your site. The problem is that most of this traffic will never convert; they are there to read your blog and leave once done. The side effect of this is a high bounce rate and confusion as to what services are driving traffic.
Here's the important takeaway though—you aren't just removing posts that fall under these scenarios. You want to consolidate. If you have 10 blog posts about the importance of data backup, talking about your BDR solution, you want to evaluate each one. See which has received traffic over the last year, and determine what points in each blog are unique. Does one favor the importance of cloud backup, or does one cover the importance of quick recovery times? Maybe all of that should go into a single, ultimate blog post. Then, make sure the two older URLs redirect to the newer blog post. After all, unpublishing a piece of content on your website will make it 404. That's fine, 404s aren't bad, but older social media posts, newsletters, and other external and internal links might still point to that blog, and you want to avoid drawing any of that traffic to a dead end.
Is Your Content Working for Your MSP?
The content on your website is the primary driver of traffic to your site. If it doesn't provide your audience with the information and experience they expect, you won't generate the leads you need to grow your business. Providing optimized content is a critical component to increasing your page rank, and your position as an expert in your industry is essential.
Top SEO signals such as having your business show in the local three-pack, being the first business seen on a page, and becoming a featured snippet, are all content-driven. This is why taking the time to ensure that your blogs are up-to-date and provide valuable information is essential to the success of your MSP.
We get it; creating good content can be challenging, especially when good can be subjective. However, there are best practices you can employ to provide your audience with a rewarding and informative experience when they visit your website. We have the blueprint to help you create MSP-focused content designed to highlight your organization's services. Call 888-546-4384 today to schedule an appointment with our content marketing team and watch your traffic grow.
Comments
No comments made yet. Be the first to submit a comment