JoomConnect Blog
JoomConnect is the Marketing Agency for MSPs. We strive to help IT companies get more leads and grow. We rock at web design, content marketing, campaigns, SEO, marketing automation, and full marketing fulfillment.
MSP Marketing: 5 Items to Prioritize When You Update Your MSP Website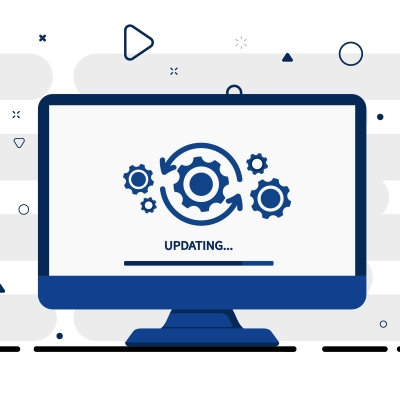 Websites, particularly older websites, can be outdated to the point where it hinders an MSP's ability to attract customers. If your MSP website has been around for some time, it probably needs a refresh. The underlying structure may make it challenging to adhere to current best SEO or marketing practices. Here are five mistakes you should avoid when you change your website.
First, How To Know If It's Time To Change Your MSP Website
When was the last time you redesigned your website? Five years, ten years, never?
Your website shouldn't be treated as a static entity. Your MSP website is, in many ways, a living document, reflecting the changes in your business and things that make you stand out from your competitors. Despite this, the reality is that most companies treat their websites as if they were trapped in amber, forever unchanging, despite the changes in the business environment.
One way to determine if it's time to update your website is by putting your customer hat on and looking at your competition. Are they modern and follow best practices? How do you feel when you use your competitor's website instead of yours? User experience is essential in determining whether or not potential leads will stay on your site long enough to convert. If you feel your user experience is lacking, then it may be time to consider an update.
5 Things To Prioritize as You Update Your MSP Website
1. An SEO Audit of Your Website
While it's tempting to migrate all of your content to your new website, now is the time to evaluate which content you should bring. An effective way to determine which content to keep is by deep diving into your analytics. Despite your best efforts, some content may not have jived with your audience. Instead of bringing underperforming content to the new site, use your analytics to filter out underperforming content and leave it behind. Doing so can allow you to streamline your content, focusing on the pages most likely to convert.
2. Real Changes to the Design of the Website
It's normal to be comfortable with the familiar; however, modernizing your website requires more than changing colors or renaming menu items. These are superficial changes to your website, fundamentally retaining the same design and problems a redesign is supposed to address.
A redesign should be a significant change in the look and feel of your website. Believe it or not, there can be significant changes in web development even after only a few years, and your updated MSP website needs to reflect them.
3. A Focus on Usability
While the occasional facelift is important, it's also important to not get yourself stuck on the flashiest visuals and graphics you can find. Even if your competitors have some super unique look, it doesn't mean their users appreciate how hard it is to navigate their site.
Don't rely on scrolling banners to convey important information (users tend to ignore them), and don't try to hide away important pages just to organize the menu in a way your users won't be able to figure out.
4. 301 Redirects
A redirect is just what it sounds like: an old URL from your previous website is redirected to another URL on your new site. In other words, the unpublished URL directs searchers to a new page. Ideally, you will want the new page to "make sense"—for example, if you're unpublishing a low-performing blog about spam, you would like to redirect the URL to a recent spam-related page instead of a random page.
Redirects are essential because when you remove a page (internally) linked to others, you break the attachments (links) to the other pages. This broken link will count as a 404 error and can result in a poor user experience, as searchers click on links searching for information, only to find it's not there. Additionally, Google monitors 404s. If there are enough of them, Google can reduce your page rank because your website is not delivering the information searchers are looking for, resulting in a poor user experience.
5. An Effective Way to Announce Your Changes
The basic tenet of marketing is that if you don't let people know what you're offering, they won't know that you're offering it. Now that your redesign is complete, take the time to let everyone know. Utilize social media and your email list to update your existing customers and potential leads about the update. It's vital to take this moment to remind them of the benefits managed IT brings to their business and remind them that you can help support their business.
Social media is the perfect tool for this due to its ability to target and engage an audience quickly. When using social media, it is vital to encourage engagement. Some things you can do to increase engagement include creating a poll or survey asking if they like the new design and what changes would they want to see. Make sure to give them an incentive to participate. People are sophisticated and reluctant to share their contact information unless they see a benefit.
Ready to Get Your MSP Website Noticed?
If your website doesn't have the "look and feel" potential leads expect, there is a strong possibility they will leave without engaging. The assumption is that if your website isn't modern, there is also the possibility that your technology solutions may be out of date as well. This is where the Ultimate MSP website comes in.
We understand that your website is the primary tool for MSP marketing. We also appreciate that MSPs are unique and need unique solutions for marketing their services. This is why we offer several options. The Ultimate MSP website is designed from the ground up for MSPs. We can offer custom design, copywriting, and MSP marketing, all in one convenient bundle. We also provide a unique turnkey MSP Website, that includes MSP-focused content, metadata, and keywords built-in and ready to go.
Call us today at 888-546-4384 for a consultation. Now's the time to bring your MSP the attention it needs to grow.