JoomConnect Blog
JoomConnect is the Marketing Agency for MSPs. We strive to help IT companies get more leads and grow. We rock at web design, content marketing, campaigns, SEO, marketing automation, and full marketing fulfillment.
5 Steps to Reduce Your Bounce Rate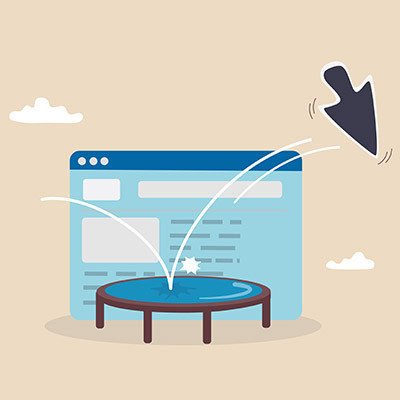 If you've ever received an SEO audit or looked at your analytics, a portion should measure your bounce rate. Your bounce rate can reflect engagement, and if it is too high, it may mean that your content is not resonating with your audience and they are leaving your website before they have a chance to convert. Here are five things you can do to reduce your bounce rate.
What is "Bounce Rate?"
There is quite a bit of confusion as to what a bounce rate is. It's not surprising that most people assume that based on the name, it has to do with visitors leaving the website. While this is, for the most part, an accurate assessment, there is some nuance that needs to be understood. For this, let's use Google's definition of bounce.
Google describes it as when a visitor leaves or "bounces" from a webpage, they have not just left that page; they have left the entire website after viewing that page. Every single user bounces eventually. Nobody stays forever.
In other words, a bounce occurs when a visitor hits a particular page and then completely leaves the website. With this definition in place, it should be fair to say that a high bounce rate isn't something to ignore. It can indicate a more significant problem, the inability to retain or attract qualified visitors. Keeping visitors to the site is vital because the longer a person stays on the site, the greater the opportunity for them to be converted. If you have many visitors leaving the entire website after one page, you will have no chance of converting them.
Note: while the most focus is on a bounce rate that is too high, don't assume that a very low bounce rate is beneficial. If your bounce rate is low, around 20% or lower, the chances are that your Google Analytics isn't configured correctly. Most likely, you have duplicate sets of code on your site, which can distort how Google collects your data.
A good place to be is around the 40% to 60% mark. A little higher is okay too, as long as you feel like you are getting phone calls. It's also worth noting that some MSPs will often set their website up as the default browser homepage for their clients. That's fine, but keep in mind that your bounce rate will go way up since all those users probably aren't sticking around your homepage to click around every time they open their browser.
If you're finding your bounce rate is more than 60%, chances are you aren't retaining visitors long enough to convert them. If you find that to be the case, here are some corrective steps you can take to reduce your bounce rate.
Five Ways to Reduce Bounce Rate
Examine Data Using Your Google Tools
Google Analytics and Search Console can tell you which pages resonate with your audience and what topics (keywords/search terms) they are interested in learning more about. This gives your business insight into what drives visitors to your site and which topics aren't holding their interest.
Write Good Content Based on Search Interests
Once you know the type of information most likely to attract an audience, you can better tailor your content to fill the need. By taking advantage of the information you can glean from Google, you can develop content to attract and keep visitors to your website. The most effective method to do this is by providing answers to their questions. Consider that the main reason people search online is to find a solution to a problem.
Continuously Publish New Content
There's nothing worse than going to a website that looks like it was abandoned years ago. Blogging inconsistently reduces the incentive for visitors to return to the site. Imagine writing a great informative blog and having someone subscribe or bookmark your website, only for them to return to find nothing new. It shouldn't come as a surprise that they would see nothing new and leave. What's worse is that after a while, they will stop visiting your site altogether as they assume you don't have anything more to offer them.
Steer Traffic with Internal Links
Adding internal links is a great way to keep visitors engaged and remain on the site for as long as possible. The benefit of internal links is that they encourage visitors to dwell deeper into your website. This can increase their time on the site and your opportunity to convert them. Internal links provide your audience with a means to learn more about the subject matter they are interested in by providing additional content.
Make sure the links go to relevant content and not random pages, or you will find visitors leaving because they aren't being shown the information they are expecting. For example, a blog about ransomware could have links to other blogs about phishing, or your cybersecurity services, or team training, all of which can help businesses understand how a combination of methods can prevent a ransomware attack.
Finally, while external links (links to other websites) have a place, you should limit how many you use in your content. While they can enhance the reader's experience, similar to an internal link, they also cause the visitor to leave your site and go to another website. Once there, they find a better source of information and do not return.
Add Enticing Calls to Action
Once your visitor finishes reading your content, they need something to do or they will leave your website. A call to action provides directions as to what the next steps should be. That should be something that leads to a conversion; sign up for a consultation, download a free resource, or set up a trial for dark web monitoring, etc. A call to action allows a visitor to give you their contact information, which is essential to generate leads.
Don't just slap a form on the page and think that will do it. If they read an article about phishing, offer a flier to teach their staff how to spot a phishing attack. Give them something with added value to the content they just read.
Some other incentives to entice them could be:
Gift Cards to local businesses
Exclusive access to a service you offer, such as a complimentary IT audit
Entrance into a sweepstake to win a prize
A call to action should offer them something of value as an incentive, as most visitors are aware of the value of their contact information and are reluctant to share it unless they see a benefit to doing so.
Is Your Website Attracting Good Leads?
Your website serves a variety of purposes: developing and defining your brand, providing a means for interested leads to contact you, and ultimately as a way to promote your services. However, the reality is that if no one knows about your website, they won't be able to find you. This is the purpose that your content—in the form of blogs, social media posts, and more—serves; to get your website in front of an audience. However, once they get there, you must keep their attention.
If you're having problems attracting and keeping visitors to your website and aren't sure how to correct the issue, it's time for a change. We can help!
Call 888-546-4384 today to develop a content marketing plan optimized for your unique business and customized to attract local traffic. Your website is your greatest marketing tool, but only if you're able to take advantage of it. Call today to learn more.
Comments
No comments made yet. Be the first to submit a comment