JoomConnect Blog
JoomConnect is the Marketing Agency for MSPs. We strive to help IT companies get more leads and grow. We rock at web design, content marketing, campaigns, SEO, marketing automation, and full marketing fulfillment.
Understanding Metrics Series (2 of 6) - Video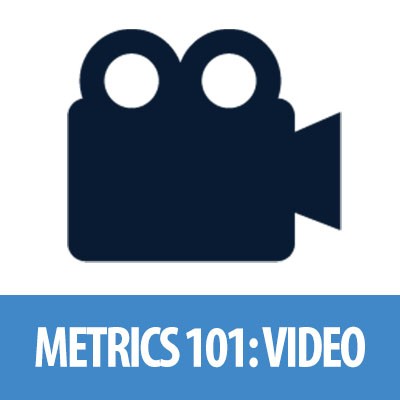 In this six-part blog series, we're taking a look at the key metrics we recommend monitoring when trying to determine how to improve your marketing. Here, in part two, we'll examine the top five metrics you should be looking at in regards to your video marketing efforts.
Video Metrics
(1) Reach: This is one of the simplest video metrics to measure, and is indicated by the view count that your video received. However, it's important to keep in mind that platforms calculate this differently. For example, a person only has to watch a video for 3 seconds for Facebook to count it as viewed. In the past, YouTube would only count a view after the video had been watched for 30 seconds, but they have since revised the way they count views in an attempt to reduce view count manipulation.
How to improve your reach:
Share your video with your target audience: You should always be sharing the videos you create on social media. You can also run various campaigns that push your videos to your audience. However, it's important to note that sharing videos from one platform to another isn't as effective. So, for example, when you want to share one of your videos to your Facebook audience, upload it to Facebook instead of sharing a YouTube link.
Use your website: You should be embedding your videos on your website where relevant.
Pay to promote your video: You can boost your post on social media to ensure more people are aware that you have a new video.
Keep sharing your video: You can keep resharing your video and reusing it for your marketing as long as it's relevant. Just uploading it and marketing it once isn't enough.
(2) Play Rate: The play rate of a video is the percentage of visitors to a page who started watching the embedded video. This metric is important when you are embedding a video into your website.
How to improve your play rate:
Rearrange your page: Position the video in a different location on the page that it is on. You could also change the size that the video appears as on your website.
Change your thumbnail: If your thumbnail isn't eye-catching or relevant, page visitors might not click it.
Move your video: If you still don't seem to be having any success with your play rate, it might be time to consider embedding the video onto a different page on your website that is more relevant.
(3) Engagement: Engagement refers to the likes, comments, and shares that your video receives. More importantly, it shows you how appealing your video is to your target audience.
How to improve your engagement:
Just ask: It's sometimes enough to just remind viewers that they have the ability to like, comment on, or share your video.
Engage back: If someone leaves a comment or question on your video, answer it. If someone shares your video on social media, like their post. This encourages more people to engage with your posts.
Host a giveaway: Announce a giveaway that viewers of your video can participate in. This can vary depending on what you are looking to increase specifically in terms of engagement. For example, you could award a prize to the "best" comment left, to a random person who likes your video, or to the # person who shares your video.
Change your accompanying text: If you have a title that isn't appealing to your target audience, they're likely not going to click on your video to watch when on YouTube. Add a more interesting message to accompany your video when sharing it on social media.
Evaluate your subject material: The reason you're not getting much engagement could be because the video itself doesn't interest them. Make sure that the video's content is relevant to the audience you're sharing it with.
(4) Audience Retention: Audience retention depicts the percentage of your audience that watches your video from beginning to end, displayed as a line graph on both Facebook and YouTube.
How to improve your audience retention:
Evaluate your graph: Your graph will likely look similar to a downward sloping curve. Take a look at the place(s) in the video where your audience appears to drop off. Try to determine why they stopped watching at that point, and make changes to your video.
Provide an incentive to watch until the end: If you have something special at the end of your video (for example, a promo code that will give the viewer a discount on a particular service you offer), let viewers know there's something special at the end so they are more likely to watch until then.
Keep your content concise, and clear: Viewers may be dropping off because their attention span is too short, or the topic that the video is covering is not explained well. Shorten your video by explaining your topic in a more concise way. You can link the viewer to a place that provides more detailed information if you're worried about leaving things out.
Make it visually interesting: A talking head on a brown background just reading a script is not going to exactly keep people's attention. Use multiple video angles and edit them together seamlessly, make things colorful, and overall, focus on making your video aesthetically pleasing.
(5) Click-Through Rate: Your click-through rate (CTR) is the percentage of people who click on the call-to-action (CTA) that you include with your video. This metric is important if you are trying to trigger a specific action with your video.
How to improve your click-through rate:
Make it relate to your CTA: Don't let your video be an orphan. The video should reflect the service you're trying to promote. This way, the viewer will watch the video, see the link or content which the video just discussed, and be more prone to click-through.
Create a more engaging CTA: If your CTA doesn't pique the viewer's attention, they probably won't act upon it.
Change the placement of your CTA: If your CTA is placed at the end of your video but you know that most people stop watching your video about halfway through, you may want to consider placing your CTA earlier in your video. This helps ensure that more people see your CTA.
Understanding Metrics
Knowing what metrics you should be looking at in your marketing efforts is the first step to improving your video marketing efforts. Check back for the next installment of this blog series, covering social media metrics, and reach out to us for more assistance if you have any further questions.